NFL Survivor Pools Strategy Advice and Predictions: Week 8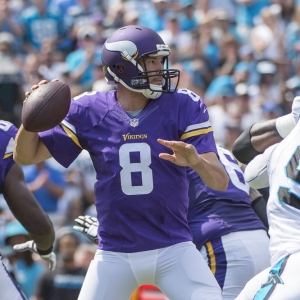 Last week was supposed to be the last week for this column for the year. Seven weeks -- my editor decreed it so before the season, and I agreed. But then we heard from a reader that she wasn't done with us yet. So, Wendy, this one's for you. With thanks. And, for everyone else, if you follow these picks and they don't work out for you then it is all Wendy's fault.
Here's the thing, though, Wendy -- I hate this week. It's the ugliest week from a Survivor Pool perspective we have seen yet this year. I'll find us some picks, but it won't be fun. It's almost as if, I don't know, I wish last week was the last week I had to write this article. So thanks Wendy. Thanks a whole lot.
New England at Buffalo: You probably can't pick the Patriots by this point in the season. Surely you have taken them by now. If you haven't, though, then this is probably the time to do it. Buffalo showed some vulnerability last weekend when their win streak ended in Miami. It wasn't a horrible game, but it showed that they aren't perfect -- and that they can be run on. New England just kept rolling along, winning their third straight game since the return of Tom Brady in dominating fashion. They are a very strong team, and they have been showing it. That, of course, isn't the biggest reason to pick them, though. That 16-0 loss to the Bills when Jacoby Brissett was playing banged up has left a very bitter taste in the mouths of the Pats -- a single blemish on an otherwise stellar season. Losing is always rough for New England. Losing like that is worse. Losing like that to Rex Ryan is worst of all. They are going to be playing very angry, and when they play angry they are the most dangerous team in football. Playing on the road is tough, and Buffalo does several things quite well, but I would be shocked enough to eat my boot if the Patriots don't not only win this game but win it with a flourish. If you can pick this team then do it.
Seattle at New Orleans: That Seattle and Arizona game on Sunday night set the game of football back by about a decade. Totally and utterly unwatchable. Just trash. At the heart of it though -- aside from the worst kicking we have seen since Tampa Bay's preseason -- was a strong defensive showing by both sides. That defense should be able to have another solid day on Sunday. New Orleans relies heavily on their offense, and they could struggle to do what they need to do against this defense. Seattle, meanwhile, should be able to establish a somewhat-more-competent offense than they did against Arizona. I'd feel better if this game was in Seattle, but even as it stands I feel like the Seahawks are a fairly comfortable pick -- at least relatively for this week.
Minnesota at Chicago: There was a lot there that was ugly for the Vikings, but what stands out most of all is their offensive line - they just couldn't protect Sam Bradford. It has been a problem all year, but never to that extent. This should be a chance for them to exorcise some of the demons from last week, though. The Bears aren't nearly as stout defensively as the Eagles are. They also don't really have a quarterback at this point - they will either go with someone likely still injured or someone just unprepared. It's not going to go well for them. The Vikings are a much better team than they showed last week. If they truly want to be an elite contender then they know that they have to bounce back strong from a dud like that. This is an opportunity to flex their muscles and show that last week didn't matter at all. I would happily take the Vikings this week.

Green Bay at Atlanta: I'm not actually interested in playing this game at all. I don't trust either team. Mostly, I just wanted to take any opportunity I could to laugh at the Falcons. Two weeks ago the headlines were all about how this edition of the Falcons was different. How they were for real this time. About how they were finally going to achieve their potential. I laughed. Being soft isn't something that goes away in a hurry - not when the core leadership of the team is largely unchanged. Since then they have lost at Seattle and against the Chargers. The first loss is okay - though if they were truly reformed then they should have won that against a Seattle squad that isn't what they have been. Losing at home to the Chargers, though, is just plain pathetic. So, to Matt Ryan and company I have one very eloquent message - ha ha ha. Never quit being you.
Great offer! Doc's Sports has been a leader in NFL handicapping for more than four decades, and we are offering new clients $60 in free picks for any NFL handicapper on Doc's Sports Web site. You cannot afford to miss out on this great offer - click here.
Read more articles by Trevor Whenham