NFL Survivor Pools Strategy Advice and Predictions: Week 9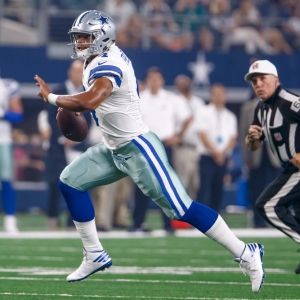 It was a week of serious carnage in the world of Survivor Pools last week. The most popular pick by a wide margin last week was the Vikings over the Bears - well over half of all remaining players took Minnesota and suffered as a result. The Vikings offense is suddenly nonexistent, and their defense isn't as sharp as it once was - if it was then the Bears wouldn't have been able to score enough to win. It was an ugly and frustrating situation. In other words, it was just your typical Week 8 in a Survivor Pool. On paper at least this is a more straightforward week coming up than last week. There are two clearly comfortable plays and a third that you could easily make if the first two aren't available. Between the three you should be able to find something that works for you:
Dallas at Cleveland: This one doesn't exactly take a rocket scientist to figure out. The only perfect winning strategy this season has been to pick whoever is playing against the Browns. The only thing they consistently do well is find ways to lose. They just aren't good, and there are several reasons to think that they aren't going to get any better. It's another lost season for a lost franchise. Dallas, meanwhile, is in the midst of a heck of a season. They have been blessed with quarterback depth beyond what they could ever have hoped for. The offense is well-rounded. The defense is sound. They are a very solid team - the best in the underwhelming conference at this point in the season. Most things they do well correspond with things the Browns don't do well - not that that is particularly surprising. This is about as comfortable a pick as you can get in a Survivor Pool and the only thing that would make it better is if it was being played in Dallas.
Kansas City vs. Jacksonville: I came into the season expecting quite a lot from the Jaguars, they were in a division in which they could shine, and I looked for big steps forward from Blake Bortles, the rest of the offense, and the young core of defensive potential superstars. It just hasn't turned out that way at all. This team only bothers to show up and play after they have ensured that they have no real chance of winning a game. They dominate the closing minutes of blowout losses like no one else can - and they have a lot of practice doing it. They just aren't good, and it really isn't going to get any better now that head coach Gus Bradley is the walking dead and the season is lost. Kansas City sits at 5-2 and is immersed in a very tight three-way battle in their division. They need to win to keep pace, and they know it. That will motivate them. It sure looked like they had a wise offseason, and the wisdom of it was proven last week - Alex Smith went down with a concussion, but they didn't miss a beat. Nick Foles entered in relief and looked as good as he ever has. We don't know who will be quarterback for the Chiefs in this one, but it doesn't matter. This is the kind of game that the Chiefs are fully capable of winning, and I expect them to do so.
New Orleans at San Francisco: There are a lot of things I don't like about the Saints. The defense is problematic as it usually is in New Orleans, and they have issues with depth elsewhere. They have won three of their last four, though, and the one loss was a reasonably-tight game at Kansas City. They are playing much better football right now than you would guess from their 3-4 record. You can't say the same about the Niners. They have lost six straight and just don't seem to have anything going for them on either side of the ball. They are coming off a bye, and there is a risk that they could have gotten their act together a bit in that time. I'm not too concerned about that. Trusting a team like New Orleans is never a comforting thing, so I don't like this pick nearly as much as the first two. It would be a fully acceptable pick if needed, though.
Doc's Sports has been successfully handicapping the NFL for years - more than four decades in the business - and wants to give new clients a chance to try our service for free. Click here for the hassle-free sign up and get $60 in free NFL picks today .
Read more articles by Trevor Whenham