NHL Handicapping: Betting Against Taking Teams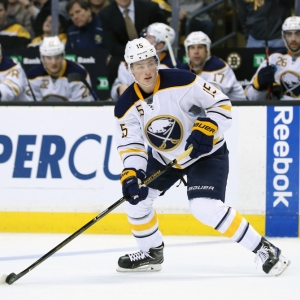 Last year the Buffalo Sabres made an art form of tanking. They traded away anyone with a pulse. If they had a goalie playing well they shipped him out and replaced him with someone less competent. They hung head coach Ted Nolan out to dry and then fired him after the season. It was a work of art, except for one thing - they still didn't wind up with the top pick thanks to bad lottery luck. Missing out on Connor McDavid stung, but Jack Eichel was a heck of a consolation prize.
There is no team replicating what the Sabres of last year did this year. Not even close. There are, though, currently six teams within two points of last place in the league. With that much competition for the most balls in the lottery, you can be sure that some teams are going to become 'less actively focused on winning' as the season winds down. There is no Connor McDavid at the end of the rainbow this year - he's a once-in-a-generation talent. The top of this draft is very deep and promising, though. Auston Matthews, an American currently playing professionally against men in Switzerland instead of playing against boys here in junior hockey or college. A duo of right wingers from Finland - Patrik Laine and Jesse Puljujarvi - have impressed at every corner and seem destined to both be picked in the top three; and one could pass Matthews if everything goes their way. Those three tower above the rest, but there are four other elite players who are worth dreaming about, too - left winger Matthew Tkachuk, the son of great American player Keith, along with two other sons of former NHLers - Jeff Chychrun's Canadian/American defenseman son Jakob and Michael Nylander's Canadian/American/Swedish son Alexander - and another Finn, defenseman Olli Juolevi.
The draft is far off still, but by looking at the teams in the cellar, and how determined they may be to stay there, we could find some good value down the road in betting against the teams consistently. So, let's look at these six underwhelming teams shall we?:
Buffalo Sabres: The Sabres are in a different place than they were last year. They have Eichel and a core they are happier with. They aren't going to be as shamelessly devoted to losing as they were last year - they are no longer the 76ers on ice. Their problem, though, is that they just aren't good yet. They are trying to be, though, and that is going to hurt their chances of winning the lottery this year. They are losing a lot, but not because they are tanking.
Toronto Maple Leafs: This team comes closest to being the Buffalo of last year. They are rebuilding aggressively, and they make no secrets about it. There were about two players on their roster that seemed to have a chance of being there for the long term - and somehow on Tuesday they managed to trade one, captain Dion Phaneuf, and his contract that I was sure was untradeable. That blockbuster deal proves that any deal is on the table and that this year is irrelevant. They have thrown in the towel on the season. They have no interest in winning - and it isn't tough for this team to tank because they aren't good enough to win consistently. Their eyes are firmly on the Auston Matthews prize, and they are going to lose a whole lot down the stretch.
Columbus Blue Jackets: This team has already tried everything they can - firing their coach, making a blockbuster trade - and still aren't getting anywhere. They were supposed to be a playoff team this year, but they just aren't good. Bad, really. They have shown a bit of life lately - they are 6-3-1 in their last 10 - but they are unlikely to sustain that given the general mindset and roster issues. I don't expect them to actively try to tank, but they are bad enough right now that they can stay in the race for the top pick even if they don't try to.
Winnipeg Jets: The team eliminated one massive distraction on Monday when they extended pending free agent star Dustin Byfuglien for five more years. That opens up even more questions about the future of captain Andrew Ladd with the team, though, and that will be a distraction down the stretch. Like the Blue Jackets and Flames on this list, the Jets entered this year expecting to be a playoff team. The expectations are very high in Winnipeg, and the fans aren't going to tolerate tanking right now. This team will be playing hard - for what that's worth.
Calgary Flames: This is my hometown team, and I am confused by them - like pretty much everyone else in the city. After winning a playoff series last year and having a very strong offseason, expectations were very high this year. Most everyone who had career years last year has regressed, though, and their very talented core isn't deep enough to carry the team. They are bad, and they can't do much about it right now. The issue, though, is that the team can't decide what they are. They should be aggressive sellers at the trade deadline, ditching every piece that isn't in the long-term plans for whatever asset they can get. That would let them give youngsters an extended look - which allows them to assess their future, and as a bonus it makes winning tough, too. Publicly, though, management seems earnestly committed to getting back into the playoff race - something that will never, ever happen. If they wanted to they have every ingredient to tank brilliantly. If they don't commit, though, they might just be frustratingly underwhelming instead of truly lousy - and wind up with a mid-range pick instead of a future star. Alas, that would be very much a Flames thing to do.
Edmonton Oilers: A couple of games back I would have suggested that this team was going to finish strong. Connor McDavid had finally returned from injury and had been excellent in his first two games. Over the weekend, though, the Oilers not only lost two games, but they played easily the worst 120 minutes any team has played all season. It was embarrassingly awful. The team should be better than they are, but they have struggled, and the holes in their roster remain many and significant. Trades could be coming at the deadline, and the rebuild continues - as it has seemingly forever. They are certainly contenders for yet another top pick, and there seems to be a chance that the team could quit and collapse down the stretch - a practice they have perfected in recent years.
Read more articles by Trevor Whenham