2016 Philadelphia 76ers Predictions and NBA Futures Betting Odds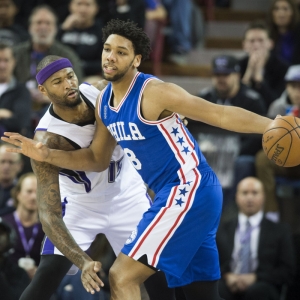 Last year this team was tanking. They proved to be very good at it. Few squads have ever been better, really, but then few have ever had so many years to practice. Now they aren't likely to be good, but they are going to be playing at their full capacity, and they are finally clearly building towards something. After trying for so long to get the picks to build a core, we finally get to start to see if that core that they have built is any good at all. Aside perhaps from the Knicks, no team has gone through more significant changes than the Sixers roster has this year. The changes should make them better. But how much better?
2016 Philadelphia 76ers Betting Storylines
We have to start by looking at Ben Simmons. Landing a No. 1 pick is a big deal, and Simmons has the tools to be special. He's very versatile and dominates games in more than one way when things are going his way. He still needs some polish in aspects of his game - he doesn't shoot like he should, for example - but he can play all over the court, and he's going to come out of the gate running. He makes this team better right away, and it will be interesting to see how quickly he develops into a dominant NBA player.
Beyond Simmons we have to look at the young guys who are finally arriving to join him. It's like the Sixers have the biggest draft class ever because Joel Embiid (injuries) and Dario Saric (playing in Europe) are finally going to play as well. Saric has a couple of years of pro experience to his credit already, and he didn't look out of place at the Olympics. He's going to be good. Embiid has dealt with endless injury woes the last couple of years. If he is finally healthy, though, he could be the best big man the team has.
I don't know if this makes you feel as old as it makes me feel, but the Sixers have only three players who weren't born in the 1990s. They are ridiculously young. They are also very deep up front - Saric and Jahlil Okafor share a position, and so do Embiid and Nerlens Noel. They will wait to see if Embiid can stay healthy and if Saric can adapt to the NBA game quickly, but if that happens then you could see the team deal some of that young and talented strength up front to address their issues in the backcourt. They are also well under the salary cap - at this point they are well under the salary floor. That opens up their options as well. A guard who can play and add a veteran presence would be a big asset here.
2016 Philadelphia 76ers Additions and Departures
Aside from the additions we have talked about already, and new role players with some upside like Jerryd Bayless and Gerald Henderson, the guy that stands out is Sergio Rodriguez. An NBA vet, the point guard had often frustrated fans and headed back to his native Spain. He played very well there and has signed a one-year deal to come back and slay his NBA demons. The price is right and the risk is low. He has a whole lot of athleticism, length and speed to work with up front. It could turn into a pretty good fit for the squad, They certainly need it because the guard group as a whole isn't much.
For the most part the departures weren't much to worry about. Ish Smith made a big impact in his short time back with the Sixers last year and will be missed. He should do some nice things in Detroit.
2016 Philadelphia 76ers Futures Odds and Trends
Philadelphia won 10 games. Just think about how bad that is for a second. They were better at covering spreads at 37-44-1 ATS, but there was still a slight profit to be made in betting against them regularly. They went "over" in 43 games and "under" in just 38, so again there was a small profit available betting the over.
Philadelphia 76ers Futures Odds (from Bovada)
NBA title odds : +50000
Eastern Conference title odds : +15000
Ben Simmons MVP Odds : +30000
Ben Simmons ROY Odds : +450 (favorite)
Joel Embiid ROY Odds : +900 (fourth best)
Season win total (from Westgate): 27.5
2016 Philadelphia 76ers Predictions and Futures Odds Picks
I've respected the process they have gone through in Philly more than most and look forward to seeing what can come of it. There is a whole lot to like here. They are going to struggle at times - you can't be that young and not do stupid things all the time. I think Simmons will quickly prove how special he is, though, and will win ROY as a result. I like the direction and hope that they have the courage to address the guard issues intelligently. I'm bullish, and would even be tempted to take the over in the season win total. Above all, this will, for the first time in eons, be a really fun team to watch.
Doc's Sports has been established as the best in the business for well over 40 years. We want you to see why! That is why new clients can get $60 worth of member's picks free by clicking this link for a no-hassle signup.
Read more articles by Trevor Whenham