Seeking the Soul and Forever d'Oro 2016 Belmont Stakes Preview for Bizarre Entries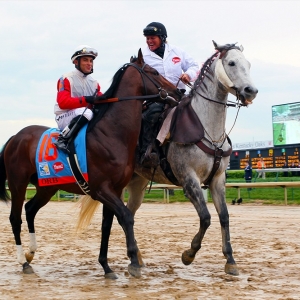 Dallas Stewart is at it again. The master of entering long shots in Triple Crown races to get a piece has not one but two long shots that he has confirmed he is entering in the Belmont this year. Both are so similar, and frankly so equally bizarre, that we'll just include them in one preview. Frankly, given the careers they have had it's not like there is enough to write a whole preview about either one by himself. Can Stewart recreate his magic?
Last race: Both of these horses are coming into this race on short rest after having just broken their maiden. Both races happened on May 29 - a day short of two weeks before the Belmont, and more than a week after the Preakness. Needless to say, bringing these horses back in this spot is unconventional. Seeking the Soul beat eight at Churchill Downs over a mile. Forever d'Oro beat just six at a mile and a sixteenth. At least his race was at Belmont, though, so we know he likes this surface - even if we have no idea about the distance. It was his first time at Belmont, and Seeking the Soul has never been there. Have I mentioned that this is a really odd spot for these horses?
Career highlights: Both these horses had run just twice before, and neither had won, so it would be a stretch to say either has a career highlight. Seeking the Soul was second in his debut in February and then fifth coming back in early May at Churchill Downs. Forever d'Oro had been fifth twice - first in April and then later on the same card in which his stablemate also finished fifth on May 7. So, neither has seen stakes company - or anything like the caliber of opponent they will see here. The only positive you can find in their past is that May 7 was Derby day, so both have been exposed to the masses of drunken humanity and chaos that surrounds that day on the track. At least the surroundings at Belmont won't come as a shock. Have I mentioned that this is an odd spot for these horses yet?
Jockey: Seeking the Soul will be piloted by Florent Geroux, and Jose Ortiz gets the nod on Forever d'Oro. Both are very good riders, but I give a not insignificant edge to Forever d'Oro here. Geroux is a jockey on the rise, but he rides primarily at Churchill Downs right now, so he isn't as familiar with the very challenging Belmont track as he could be. Ortiz is a better overall rider at this point in their careers, and along with his brother Irad, who is also riding in this race aboard Creator, he is tearing up the standings both at Belmont and nationally. He is a truly elite rider, and the horse is in the best hands he can be. Of course, it's not perfect - Ortiz has not ridden the horse before, and the horse has had three different jockeys in his three races. They haven't been slouches, either - Velazquez, Castellano and Rosario are all on different horses in the Belmont and are all among the very best in the country, and none of them have made this horse look like a Belmont contender yet. Both of these riders have a massive task ahead of them, but if they could somehow pull of a miracle they would be heroes.
Trainer: Like so many other prominent trainers, Stewart began his career with a long stretch as an assistant for D. Wayne Lukas. As such, he is no stranger to Triple Crown horses and what it takes to contend in these races. He hasn't had truly elite horses to bring to the dance yet, but that hasn't stopped him from making some noise. In 2013 Golden Soul was second in the Kentucky Derby at a big price. The next year it was Commanding Curve, who finished second at a huge price. It's not just the Derby where Stewart can drop bombs - in the 2006 Kentucky Oaks he won with Lemons Forever, who returned the biggest price in the history of that race.
Pedigree: It's Charles Fipke, a very wealthy diamond prospector from northern Canada, who owns these two horses. It's no surprise, then, that Seeking the Soul is a homebred. Perfect Soul, who also sired Golden Soul, was the Canadian champion turf horse of 2003. He brings stamina to the table. Damsire Seeking the Gold was very good on the track, winning or placing in several major races of distance, including a second in the Breeders' Cup Classic. He was also excellent in the breeding shed, with his most relevant of many successful offspring here being 2006 Belmont winner Jazil.
Forever d'Oro, like fellow Belmont entrant Stradivari, is a son of Medaglio d'Oro. That's a good thing here - at least if this horse wants to finish second. Medaglia d'Oro not only finished second in his try at the Belmont but was also second two years in a row in the Breeders' Cup Classic and was also second in the Dubai World Cup. His most notable offspring is the great filly Rachel Alexandra, who won the Preakness along with so much else. Damsire Lemon Drop Kid won the Belmont in 1999 when Charismatic broke down in the stretch in his bid for a Triple Crown. It was no fluke, though - he finished that season strong and was the champion older horse the next year. He's been a decent stud, and Lemons Forever was his daughter. Both horses have solid breeding for this test - which is the only somewhat defensible reason for them to be entered here.
Running style: In their wins they both ran similar styles - Forever d'Oro at the back of the pack early, with Seeking the Soul towards the back. Neither was leading entering the stretch, but they kept moving forward to find the front. In other words, their style isn't dissimilar to most of the field in this race.
Belmont outlook: I like a long shot story as much as anyone. And Fipke is a fellow Canadian, so I feel the urge to stick together with him. I just can't get behind this ridiculous decision, though. The breeding is sound, but neither horse has nearly enough experience to shine in this spot. I don't understand why you would take two promising young horses and push them this hard this soon. Crazy. I guess either could get a piece of the action. If they did they would pay crazy prices. I just can't justify including them in the exotics in any way, though. If you are determined to bet on them just throw your cash in a pile and light it on fire instead - and then roast a hot dog on the flames. At least you won't be hungry that way.
Read more articles by Trevor Whenham