Stanford vs. North Carolina Sun Bowl Expert Picks and Predictions with Betting Odds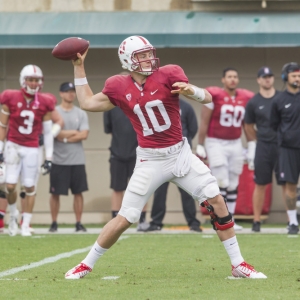 Stanford Cardinal vs. North Carolina Tar Heels, Friday December 30, 2 p.m. ET
This is the second time I have written a Sun Bowl preview this year. I had to scrap the first one almost entirely. There is only one guy that could have caused that to happen in this game and only a few in the whole country that could single-handedly change a game like this. Stanford's all-World running back Christian McCaffrey has made the decision to skip this game to prepare for the draft. He's following in the footsteps of LSU's Leonard Fournette, who announced the same decision last week. Both guys are likely first-rounders, and an injury in a bowl game that ultimately won't decide much for the team could cost them millions.
As a fan it's a tough situation. I love college football, and hate that the bowl season is harmed by the departure of coaches and, increasingly, these decisions by players. Football is more of a business than ever, though, so we ultimately can't get down on the players for making a business decision. It's not like the NCAA will replace their lost income - or even a single cent of it - if they are hurt in their bowl game. I wish it wasn't the case, but I get the decision. Don't like it, but I get it.
So, why is the decision by McCaffrey so important? Simply put, he is the Stanford offense. The team really struggled to move the ball, and he was the lone bright spot. His 1,600+ rushing yards were well over 60 percent of the team's total. He was within 120 yards of being the team's leading receiver as well and was a rare trusted target for a team that does not throw well at all. And he shortens the field, which is crucial for an offense this challenged, with his punt and kick returns. I am hard pressed to think of a player in the country who is more central to the success of their team offensively. And now he's gone. And Stanford doesn't have long to figure out how to live without him.
Given this massive change, the early reaction in the odds has been surprisingly muted. Stanford was favored by 3.5 points over the weekend. When the news broke on Monday the hook disappeared, but Stanford is still up by a field goal. It is quite possible that the odds will change as the public reacts to the story closer to the game, but for now the response is not significant.
Sun Bowl Betting Storylines
McCaffery isn't the only future NFLer, or potential first-rounder for that matter, involved in this game. North Carolina QB Mitch Trubisky, despite limited starting experience, is in the mix with guys like Deshone Kizer and DeShaun Watson to be the first quarterback off the board in this weak QB class. Depending on how things set up and where teams choose to address their QB needs, Trubisky definitely could be a first-round pick as well. Trubisky passed for 3,468 yards and had 28 touchdowns with just four picks, and he completed 69 percent of his passes. Those are more than solid numbers for a guy who isn't playing in one of the video game-style offensive systems that inflate QB stats. He has a nice group of receivers to work with, too - Ryan Switzer eclipsed 1,000 yards, and Bug Howard and Austin Proehl, son of long time NFL receiver Ricky, are strong as well. Stanford has a defense that qualifies as average against the pass - at best - so North Carolina has a chance to score some points through the air. And you can be sure that they are going to work from the outset to establish the pass and set the tone. Stanford is just awful through the air - 116th in the country in passing yardage - so if the Tar Heels can make this a passing game then they will win.
With McCaffrey in the game, defensive strategy was easy to plan but tougher to execute. They needed to figure out a way to stop him and make others do the work. That obviously wasn't going to be easy - especially because while North Carolina has been a strong team against the pass, it has been just awful against the run - 112th in the country in yards allowed. Now the Tar Heels face an offense that will be far less predictable but also far less effective. It should be good news for North Carolina.
Sun Bowl Odds and Betting Trends
The Cardinal are, as mentioned earlier, favored by the key number of three here. We have seen a huge shift in betting patterns, though - before the news nearly 70 percent of bets were on Stanford, but now a small majority are on North Carolina. That tells us a couple of things - first that some sharp money is on Stanford or the line would likely have moved more by now, and second that more line movement is likely. The total opened at 54 and is showing slight movement up - it is at 54.5 in some spots. It has not moved as of yet after the news, but it could fall as McCaffrey accounted directly for 16 of Stanford's 33 offensive touchdowns this year, and he did the work to set up several others.
The Cardinal are 7-1 ATS in their last eight neutral-site games and 6-1 ATS in their last seven bowl games. They have covered the spread in their last four against the ACC and are 20-9 ATS in their last 29 games overall. The Tar Heels are 0-5 ATS in their last five neutral-site games and 1-4 ATS in their last five in December. They are 4-1 ATS in their last five against teams with winning records.
Stanford vs. North Carolina Sun Bowl Expert Picks & Predictions
I don't have a ton of respect for the Pac-12 this year, and Stanford was a step or three below the top of that conference. I don't like anything about their offense beyond McCaffrey, and I don't like the matchup their defense has against this team. I really didn't feel like Stanford was a legitimate favorite with McCaffrey, so I am very happy to take a North Carolina team that is very well coached by Larry Fedora to win in this one now. North Carolina is the pick, and I'll jump on it as quickly as possible before the line drops to maximize value.
Got free picks? Doc's does. And for new clients we would like to offer you $60 in free member's college football picks from Doc's Sports Advisory Board of college football handicapping experts. Click here to sign up today. We never require a credit card for this offer, and you will never have to deal with a salesman.
Read more articles by Trevor Whenham