Wild About Deb Odds to win the 2016 Belmont Stakes with Expert Predictions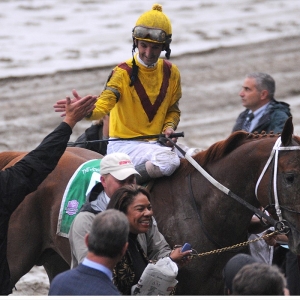 Every so often a horse is entered in a race that just makes you pass and scratch your head. Sometimes it is because the horse is so clearly and massively out of place that it just seems ridiculous. Other times, though, it's just because a horse seems to have some talent but doesn't seem at all ready for the spot he is aimed at. Wild About Deb certainly fits into the latter category. There is a lot to be intrigued about by the horse, but the news this week that he was heading to the Belmont bordered on bizarre. I guess the connections must feel like you never get a second chance to try the Triple Crown so you might as well embrace it - even if it seems well beyond where you horse is actually at right now. So, can Wild About Deb shock the world at a big price in the Belmont? Stranger things have happened - this is the race that Da' Tara once won, after all.
Last race: Wild About Deb has seen the track at Belmont before. The week before the Preakness he ran in the Peter Pan. That is somewhat of an unofficial prep race for the Belmont, though not a hugely successful one - Tonalist won the Peter Pan and the Belmont in 2014, but he was the first to do so since A.P. Indy in 1992. It's only run at a mile and an eighth, so it isn't a perfect indicator of ability in the Belmont, but it usually draws a solid field. This time around Wild About Deb finished third, behind undefeated Unified, who is headed for shorter races this summer, and Governor Malibu, who is also pointed at the Belmont. He found himself way too far outside on the final turn but overcame that to mount a mild charge to get up from sixth to third. It was a solid effort, though not a breathtaking one. As we will see in the next section, though, he had a good excuse for the somewhat tentative performance.
Career highlights: It's tough to have too many career highlights when a horse has run only three times. For a horse to be in a race like this in just his fourth start is rare - and there is good reason for that. They don't have experience, and there is no substitute for experience when it comes to getting a horse ready for a race like this. Not only has he run only three times, but the peter Pan is his only stakes race and was also the longest race he has run. Further, his only win - a dominating six-length win in his second maiden outing in April at Santa Anita - came on a sloppy track, so we can't know if it was because he was really good enough to win by that much or because he liked the track conditions when no one else did. He has done so little and been tested much less than more experienced horses in this field. It makes assessing his true quality exceptionally tough. There are signs that he could be a nice horse, but we have to speculate rather than extrapolate - something that handicappers hate.
Jockey: Trevor McCarthy has won a lot of races lately - nearly 500 combined in 2014 and 2015, which puts him in the Top 15 nationally. Those races have come largely on lesser circuits, though, and they have rarely included graded stakes - he has won just four in his six-year career and none have been Grade 1 races. He's a competent rider but a young and inexperienced one. In a race that has as many excellent jockeys as this one does, McCarthy is not an asset to a horse that could seriously use one. With guys like Jose Ortiz not currently on a horse in the race, it's all but indefensible to stay with McCarthy.
Trainer: Phil D'Amato was a key assistant to trainer Mike Mitchell in California for more than a decade before taking over the stable in 2014 when Mitchell retired. Mitchell never won a Triple Crown or Breeders' Cup race, but he won nearly 2,700 races on a very tough circuit, so D'Amato's foundation is solid. D'Amato has had solid success so far on his own, but he is new to this highest level of racing. He is obviously fearless, though - it takes a fearless trainer to enter a horse like this in a race like this. Or a delusional one, I guess.
Pedigree: Wild About Deb is a son of Eskendereya, one of the more heartbreaking stories of missed chances in the history of the sport. In 2010 he won the Fountain of Youth and Wood memorial by an average of nine lengths each and was poised to be a very heavy, very imposing Kentucky Derby favorite. A week before the Derby, though, he hurt his leg and not only missed the Derby but never raced again. We had only seen a hint of how good he might have been. Gutting. His early offspring have not been hugely successful, but the breeding is sound and there is still time for him to emerge. Eskendereya is a son of Giant's Causeway, who sired this year's Belmont entrants Brody's Cause and Destin. His damsire is Smart Strike, who sired Classic winners Curlin and Lookin at Lucky, among many others. This is a solid pedigree.
Running style: It's hard to know because the sample size is so small. In two of his races he has run well off the early pace and has acted like a closer. In his win he was closer to the pace. My guess here is that he will be mid-pack in this race or further forward than that. There is a chance that the connections will look to press the pace because of the absence of early speed. With so many closers in the field, this could be his best opportunity to shine.
Belmont outlook: I like some things about the horse, but he just doesn't fit here. Bovada has him at 33/1 in early betting, but even at that price I can't justify considering him seriously. He seems like a horse that will peak - if at all - later this year or at four.
Wow! Free Belmont Stakes picks. And it could not be easier. Follow the link and sign up (no credit card required, and no salesperson ever), and you can have your free Belmont Stakes picks in minutes. Click here for the no-hassle sign up.
Read more articles by Trevor Whenham