Will there be a Triple Crown Winner in 2016? Expert Predictions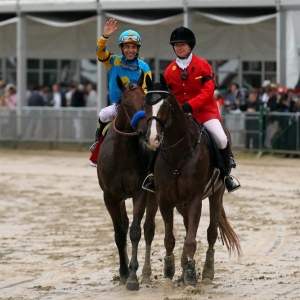 I have been a huge sports fan for most of the last four decades. Nothing in that time has been as special or memorable as last year's Triple Crown win by American Pharoah. I had waited for a truly special horse to do the almost impossible when I was old enough to appreciate it - I was alive for Seattle Slew and Affirmed, but still in diapers - and had had my heart broken so many times by close calls. I wanted a Triple Crown win more than anything, and it was even better than I imagined it would be. So, now I'm greedy and I want another one. And I don't want to wait another 37 years to get it. More like 12 months. So, will be see another Triple crown winner this year?
No, because…
It's rare: American Pharoah's win was the first since 1978. The first winner of a Triple Crown came in 1919, and we have had just 12 in total. It is exceptionally hard to do - especially when it comes to winning Belmont. It's only getting harder, too, as horses are less and less used to racing as much as you need to to win it. It's not likely to happen most simply because it is never even remotely likely to happen. That's why last year was so special.
There is no American Pharoah: Last year we knew that American Pharoah was an extremely special horse. He was the two year old champion and had been very impressive early on. He had made his opponents look ridiculous in his prep races. He was bred regally, and he had trained like a star. There was no denying his opportunity to be special. The only horse that could seem to match him in some regards was stablemate Dortmund, but the bettors clearly favored the eventual winner. American Pharoah was a generational talent. There is not one here.
Nyquist has issues: There are some who will take exception to my last statement. They will point out that Nyquist was also the two year old champion, that unlike American Pharoah he was also the Breeders' Cup Juvenile winner, and also unlike American Pharoah he is undefeated. All of those are obviously true. The difference, though, is that while I was a firm believer in the greatness of American Pharoah last May, I am highly skeptical of Nyquist this May. He is not bred to handle the distance, he favors a pace scenario that isn't always ideal in the Derby, I don't trust his jockey, and I truly don't believe he can win the Belmont even if he can make it that far. A lot of very nice horses have been unable to win the Triple Crown - or even come close. Nyquist is a very nice horse that won't do it, either.
This is a deep field: Though I don't love the favorite, and I don't think there is a particularly special talent in this group, there are a lot of horses that seem like they could be good enough on a given day to win this race. It's like a 15-way coin flip when it comes to handicapping this Derby. There are a couple of nice horses waiting on the sidelines for the Preakness, too. When things are so deep and competitive then it's tough for anything but a really special horse to step up and win three times in a row.
But maybe, because…
Espinoza is riding: Victor Espinoza has won five of the last six triple Crown races - all three last year and the first two the prior year on California Chrome. He has headed to the Belmont three times with a shot at Triple Crown glory - he was also aboard War Emblem. The guy has a magic touch when it comes to these races. Secretariat, Seattle Slew, Affirmed, American Pharoah and… Whitmore. It doesn't seem to fit right now, but anything is possible with Espinoza involved.
It's not always the obvious horses heading into the Derby: We have had only the one Triple Crown win since 1978, but we have been close many times - horses have made it through the first two legs, and many have come up just short in the Belmont. Several of those heroes of May - who became heartbreakers in early June - were not very well regarded heading into the Derby. Real Quiet, who came closer than anyone, was more than 8/1 in the Derby. He was heavily bet compared to several others, too. Charismatic won the Derby at 31/1. War Emblem was at more than 20/1. Funny Cide was almost 13/1. I'll Have Another was 15/1. It is quite possible that a horse we aren't paying much attention to right now could have the spring to remember and again head to Belmont with a shot at history.
These things cluster: Seattle Slew's 1997 Triple Crown was followed by one a year later. Triple Crowns were won in 1935, 1941 and 1946, and in each case they were won again two years later. It seems like the racing gods like their Triple Crowns in pairs.
Free Derby picks? Doc's Sports has been a leader in Triple Crown handicapping for more than four decades, and we are offering new clients $60 in Kentucky Derby picks - there is no obligation for this offer. Click here for more details and to get your $60 in free picks.
Read more articles by Trevor Whenham