2017 Belmont Stakes Expert Predictions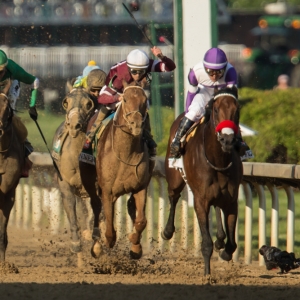 The field is set for this edition of the Belmont Stakes, and it wasn't without setbacks. Classic Empire, who was set to be the strong and deserving favorite in the field, was scratched on Wednesday morning with an abscess in his foot - the same issue he has dealt with once already this year. That takes a race that already was fairly wide open it and has turned it into a true coin toss. There are 12 horses now entered, and at least half of them have a strong chance of being a factor here - perhaps more than that.
It's a very tough race to handicap, but we are here to offer our Belmont Stakes expert predictions anyways. For starters, there isn't a horse in the field that isn't packed with questions. Epicharis is new to North American racing and coming off a very long layoff. All of the horses that ran in the Derby and then skipped the Preakness are working against a strong trend that hasn't been kind to their type in recent years. Lookin at Lee is the lone iron horse this year, but he's as tough to judge here as he has been in all his other races. The horses that joined the Triple Crown at the Preakness and are here again are, at best, flawed. And the new blood here is largely raw and full of questions. Sometimes a race has a fairly straightforward answer for handicappers. That's not the case here.
It will take a while to sort through this mess and make a definitive decision about how to bet the race. What we can do, though, is make three 2017 Belmont Stakes predictions that are pretty easy to feel solid about:
A horse is going to do something crazy on the lead: Classic Empire was likely to keep things honest up front. He drove the pace in the Preakness and burned out Derby winner Always Dreaming in the process, and he still had enough left to almost win the race. He was the class of this field, and it would have likely been seen as too risky to try to outrun him up front. There are a lot of horses in this field that want to be on or near the pace, though, and with the favorite gone it seems very likely that one will make an early move in an attempt to run away with the race. It won't likely work, but it's far from the worst strategy here. What will be interesting is how the other horses will respond. If they sit back and let him go then there is a risk that he will run away from them. If they engage with the leader, though, then there is a good chance that the pace will be much faster than it should be at this distance, and the race will be set up for the large group of closers here. Either way, a horse who takes the race into his own hands will have a serious impact on how the race turns out.
The jockeys are going to really matter: This is always true in a race, but it's especially true here. This race is always brutal because of the distance, and it is even more tough when you get a full field like this contesting the race. This is a really, really strong group of jockeys here. The top jockeys in the ridiculously strong New York colony are here, and the outsiders aren't too shabby, either. Victor Espinoza is a Triple Crown winner, and all Mike Smith does is win a major race every time he gets on a horse - and he used to ride in New York, so he knows the track well. In a race this deep and wide open, the jockey that makes the best decisions and finds the best trip is the one who is going to come out on top. We should see a really great ride on the winner - as we have in the first two legs of the Triple Crown. The problem for handicappers, though, is that this is as useless as it is certain - with so many good riders on so many capable horses it's all but impossible to differentiate the riders in a meaningful way.
The winner will be in the first half after half a mile: As much as the defection of Classic Empire changes this, and as solid as some of the horses from the back of the pack are, I still think the real class of this field is nearer to the front than the back. Epicharis, Irish War Cry, Twisted Tom, Gormley, and likely Tapwrit and J Boys Echo will be the first half of the race at four furlongs. It would be very far from surprising to see one of them win it all.
Want free sports betting picks? Doc's Sports has you covered - get $60 worth of picks free from any of Doc's Sports expert handicappers. Click here for free picks (new clients only) .
Read more articles by Trevor Whenham