2017 Blue Grass Stakes Picks with Odds and Expert Betting Predictions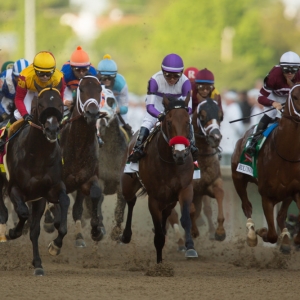 I have to start by saying how great it is to have the Blue Grass Stakes actually mean something again. From 2007 to 2014 Keeneland was a synthetic track, and a quirky one at that, so the race produced Kentucky Derby entrants but none that were particularly relevant. This is the third time they have run the race since returning, mercifully, to dirt, and now again this is a very important prep race. And it should be - this is the race that has produced some historic heroes over the years.
Many Derby winners have won this race - Tomy Lee, Shut Out, Northern Dancer, Chateaugay, Lucky Debonair, Forward Pass, Dust Commander, Riva Ridge, Spectacular Bid, Strike the Gold. And countless other great horses have been in this race over the years - like foundational sire Bull Lea, Alydar, who was runner-up to Affirmed in all three Triple Crown races in 1978, three year old champs Prairie Bayou, Skip Away and Holy Bull, top contemporary sires Pulpit and Harlan's Holiday, and on and on.
It long mattered, and it matters again. And that's a very good thing for the sport of horse racing.
This year's edition is an interesting one. We are now just a month away from the 2017 Kentucky Derby, and we know very little about what to expect. Again and again top horses have been given a chance to shine, and they have refused to - or in the case of Mastery, they were absolutely brilliant and then were seriously injured just past the finish line.
The Derby field so far is shaping up with no shortage of contenders but so far not a star. These last two weekends of major prep races will, hopefully, reverse that trend. There are just seven horses entered in this race, but the absence of quantity sure doesn't hurt the quality. Three runners - Wild Shot (15/1) and it's your Nickel and Irap (both 20/1) - are fine enough, but if they win they are going to beat me. They are a clear step or three behind the top four contenders, so I'm not going to worry about them here. The other four, though, all have the chance to make a real statement and head just down the road to Louisville with serious momentum behind them.
There are 100 Derby points on the line for the winner, with 40 for second, 20 for third and 10 for fourth. That's not as relevant for the big horses in the race as it often is, though. Tapwrit, Practical Joke and J Boys Echo already have enough points to get in, and McCraken is on the bubble right now but would be fine with just a top four finish. So, for all connections here, then, this is more about getting the horse ready for the Derby than just getting him in the race. (Odds are morning line odds):
McCraken, Brian Hernandez Jr. (7/5): He's probably viewed as the top three year old right now, but that's by default as much as anything - every time a horse rises to that level he seems to find a way to disappoint this year. His path hasn't been perfect this year, though. After winning the Sam F. Davis impressively, a minor ankle injury delayed his return until this point. The fact that he has run only once this year, and four times overall, are both concerns, but a lot of that could be eased by a big win here.
It is a real positive that he hasn't lost yet and that the first three of those wins, including his first graded win, all came on the same Churchill Downs track as the Derby. He's a son of Ghostzapper, so the distance isn't a real concern, either. He has massive potential, and if he again flashes that potential here he has a very good chance of being the Derby favorite.
There is some secondary drama around this horse, too. Hernandez already has a Derby mount secured in Louisiana Derby winner Girvin. If McCraken does well then Hernandez will have a choice to make, and there will be an attractive saddle up for grabs heading into the Derby.
I don't like this price much for McCraken, but I'll back him - he's worked well at Keeneland, he has raced great so far, and we really need someone to shine.
Tapwrit, Jose Ortiz (5/2): This son of Tapit was second to McCraken in the Sam F. Davis and then benefitted from his injury to win the Tampa Bay Derby impressively. He's trained by Todd Pletcher, which is a very good thing this spring - Pletcher has been having a very strong prep season this year. He's a nice horse with strong connections, but I'm not convinced. He wasn't nearly as good as McCraken when they met, and he beat a bunch of nothing in the Tampa Bay. I couldn't justify betting a horse which is, at best, second best unless the price was much better than this.
Practical Joke, Joel Rosario (7/2): Jose Ortiz had also ridden this horse last time out, so the fact that he chose to ride Tapwrit here is interesting. This horse was spectacular last fall, winning the Hopeful and the Champagne. His last two outings have been minor disappointments, though. He was third in the Breeders' Cup Juvenile when many expected more and then was second in the Fountain of Youth in his three year old debut. Second isn't bad for a first race of the year on the surface, but the issue is that he was absolutely crushed by Gunnevera in that race, and that colt went on to disappoint in the Florida Derby next time out. I don't love this horse's distance capabilities and don't see him as viable at this price.
J Boys Echo, Robby Albarado (4/1): Horses like this make my head hurt. Two races back in the WIthers he looked just lousy - totally underwhelming. Then he came back in the Gotham against many of the same horses on the same track and was a very strong winner. So, which of those efforts was the fluky one? Did he finally figure things out and mature last time out? Or is he just an average horse who had a good day when others didn't? I like his breeding - a son of Mineshaft - but nothing about him changes my mind that if McCraken is as good as he seems to be he will win this race.
Want free sports betting picks? Doc's Sports has you covered - get $60 worth of picks free from any of Doc's Sports expert handicappers. Click here for free picks (new clients only) .
Read more articles by Trevor Whenham