2017 Boston Red Sox Predictions and Odds to Win the World Series
by Trevor Whenham - 3/30/2017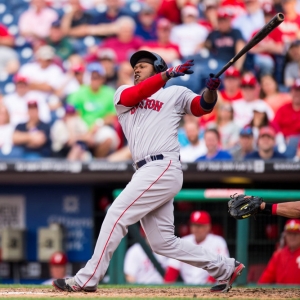 It's going to be very strange watching the Red Sox without David Ortiz. More than any other player in the league right now, Ortiz defined his team. It would be different if he had faded away - Jeter was the Yankees, but by the end Jeter wasn't Jeter. Ortiz was brilliant last year, and now he's gone. It's jarring from where I sit, so I can only imagine what it's like in that clubhouse.
Luckily for the team, though, they are going to be too busy winning to get too depressed about it. This team is good. Very good. They are fully capable of winning not only the AL East but the American League pennant. At least. They have massive potential. Of course, that was true last year, too, and they flopped in the first round of the playoffs. They were aggressive about improving, but was it enough?
Free $60 in Member MLB Picks No Obligation Click Here
Red Sox 2017 Projected Lineup
Making up for the loss of Ortiz was a priority. That meant finding an adequate DH. To do so they looked within, moving Hanley Ramirez to the position. That meant they needed a first baseman, and to do that they snagged Mitch Moreland in free agency. Moreland was really nice to my then six-month-old son at a spring training six years ago, so I support the move on that front alone. Beyond that, Moreland is a big defensive upgrade, and he's solid at the plate. The maneuvering will all pay off as long as Ramirez can make the adjustment to DH - not always an easy thing for a player to do.
Pablo Sandoval has been pretty awful since the Red Sox made him too rich two years ago. The Red Sox don't have another option, so they need more from him. All reports are that he is a new guy this year - in better shape than he has been and focused on getting things back on track. That would really help.
Andrew Benintendi, a very highly-regarded prospect, will have the opportunity to play left field most every day this year. That's a lot of pressure on a youngster, but the team has had very good luck bringing along youngsters who quickly perform at a high level - Jackie Bradley Jr., Xander Bogaerts, and Mookie Betts are all very valuable pieces of this roster who are homegrown and came out of the gates running, and back in his day Dustin Pedroia made a big statement as a rookie, too. Having all those guys at the core of this team is a testament to how good the front office of this squad is and has been.
Red Sox 2017 Projected Rotation and Closer
When you have the defending Cy Young winner and you could potentially make the argument that he is the third-best pitcher in the rotation then you know you have a very good rotation. Rick Porcello is far from favored to repeat as Cy Young winner, but he can be expected to have a very solid season again. New addition Chris Sale is, on the other hand, the strong favorite to win the Cy Young. They paid handsomely to get him, but there is no reason to believe he won't be worth it. David Price got off to a lousy start last year in the first year of his massive contract, but he found his form and finished well. His status is uncertain now, though, as he is dealing with an elbow injury. I was very optimistic about him this year, but it remains to be seen what he can offer. Current buzz is that he will be back by May. If he returns then and is healthy it will be another boost for this team - an almost unfair one. If he is out longer, though, it could start to be a real problem. They have some decent depth, but guys like Drew Pomeranz, Eduardo Rodriguez and Steven Wright are not near the caliber of Price.
I don't love Craig Kimbrel as a closer at this stage in his career, but there is enough depth in the bullpen - starting with Tyler Thornburg, who will be setting up Kimbrel and could probably replace him - that things should be okay once the starters are out. Having guys as good as nds reliable as Porcello, Sale, and hopefully Price is really a gift for a bullpen.
Red Sox Futures Odds
Boston is a very heavy favorite to win the AL East according to BetOnline . They sit at -145, while the second choice, Toronto, is at +350. They are the favorites to win the American League pennant at +340, just a hair ahead of Cleveland at +350. They are the second choice to win the World Series at +600 . The defending champions from Chicago are at +450.
Not surprisingly, Boston has plenty of players in line for individual recognition. They aren't a power team, though, and that's made obvious by the fact that Mookie Betts is the only player listed in the hunt for the home run crown, and at +10000 he is a serious long shot. He is a much more likely MVP though - he is fourth in that race at +750. Xander Bogaerts is also listed in that hunt, though at +6600 he is a long shot. Chris Sale is favored to win the Cy Young at a very low +200, while David Price (+1200), and defending champ Rick Porcello (+3300), are also listed.
Red Sox 2017 Predictions
The season win total is set at 91.5. That's high, but I still feel like the "over" is the right play here. I am perhaps not quite as optimistic about the team as some people are, but aside from Toronto the AL East isn't strong this year, and that will help them. I don't feel like they are as good as Cleveland, and that could haunt them in October, but they are the class of their division and should comfortably win it.
The handicappers at Doc's Sports are offering $60 worth of member's baseball picks absolutely free - no obligation, no sales people - Sign up here for free baseball picks . Also, for a limited time only get three MLB handicappers for the price of one. Click here for details . Get free baseball picks today at Doc's Sports baseball predictions page .
Read more articles by Trevor Whenham