College Basketball Betting Advice: Weekly Schedule Spot Fade Picks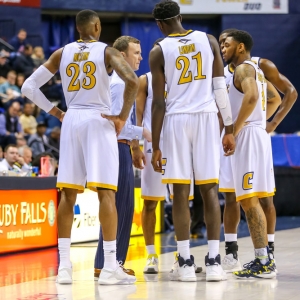 It's already the middle of February, and we are a little less than three weeks away from the first conference tournaments tipping off. The March Madness action will be here before you know it. We'll try to make some money before it rolls around.
It's the third straight season for the College Basketball Weekly Schedule Spot Fade Picks here at Doc's Sports. I'll be looking at schedule spots that could be bad ones for teams throughout the course of the season and then recommending plays based on those spots. We'll track the weekly results throughout the course of the season. For games that don't have a line at the time each article is written, the Bookmaker opening line will be used for grading purposes. All plays will be one-unit plays .
The plays went 3-4 last week. It seemed like a great spot to fade Florida after their Kentucky win, but Georgia couldn't make anything and Florida comfortably won that one. Of the other losses, San Francisco was the one that surprised me the most. BYU dominated them on their court. The Dons brought no effort at all. The other losses were Eastern Michigan against Toledo and UCF at home against UConn. The best play of the winners was probably West Virginia in a revenge spot against Kansas State. The Mountaineers blasted the Wildcats in that one. The other winners were both in the Big Sky Conference as North Dakota beat Eastern Washington comfortably and Idaho coasted past Northern Colorado.
Play #1- Play on UNC Greensboro (Fade Wofford) on Wednesday, February 15
The Wofford Terriers played a four-overtime game against Samford last Thursday night. Wofford won that game, but it was at a big price. Four different players for the Terriers played a whopping 56 minutes or more! Wofford had the lead most of the game on Saturday at home against Chattanooga before going ice cold at the end and losing by eight.
Wofford beat UNC Greensboro at home by 19 points earlier this year. That might give us some line value on UNC Greensboro in this game. The Spartans are coming off two road wins, and they are clearly the more rested team. Wofford doesn't play their bench much at all (obviously), and the Terriers are playing their third game in less than a week, which is especially tough since the first one was that four-overtime game that takes so much out of the tank. I like UNC Greensboro at home here.
Play #2- Play on Chattanooga (Fade VMI) on Wednesday, February 15
The VMI Keydets were a 20-point underdog when they played at Chattanooga earlier this year. VMI ended up winning that game 80-64! What a stunner. You won't see many 20-point favorites lose at home by 16 points. Chattanooga goes on the road to take on VMI this Wednesday, and I like their chances of getting VMI back in a big way.
VMI will be playing their fourth game in seven days here. Chattanooga will be playing only their third. The Mocs are coming off a momentum-building win at Wofford. They were behind most of that game, but they made a big run when it counted the most. VMI lost at home to Mercer by 30 points last week, so the Keydets clearly aren't a good team. They'll also be at a scheduling disadvantage. Look for Chattanooga to get their revenge and cover the spread.
Play #3- Play on Fordham (Fade Rhode Island) on Wednesday, February 15
The Fordham Rams have played really well on the road this year. Fordham has beaten St. Joe's, Davidson, and UMass all on the road so far this season. Rhode Island will be a big favorite here. The Rams aren't likely to lose outright, but I do think this is a good spot to grab the large amount of points.
Rhode Island is coming off a really disappointing loss to Dayton. The Rams were ahead nearly the entire game before Dayton made consecutive threes in the last 30 seconds to end up stealing the game 75-74. I don't see Rhode Island being motivated to crush Fordham here. Instead, I think they do enough to win here but not cover the spread.
Play #4- Play on Montana (Fade Portland State) on Saturday, February 18
The Portland State Vikings had a huge game this past Saturday at home against Weber State. Weber State is at the top of the conference, and it was a big chance for Portland State. The Vikings led for much of the second half, but they ended up losing to Weber State in overtime. That kind of a loss has to take something out of this Portland State team. Portland State plays at Montana State Thursday night before traveling to Montana for Saturday's contest. This isn't a short trip for the Vikings, and I expect them to be worn out on the back half of this swing through the state of Montana. To make the situation even better, Montana will be playing with revenge after losing at Portland State earlier this season. Lay the points with Montana here.
Play #5- Play on Denver (Fade IUPUI) on Sunday, February 19
IUPUI plays at South Dakota State on Wednesday night. The Jaguars then make the long trip to Denver to take on the Pioneers on Sunday. Denver is a really difficult place to play. This is the longest road trip of the conference season for IUPUI, and this team hasn't been playing with much confidence, either. This looks like a good spot for Denver to blow away IUPUI. It is important to point out that IUPUI hosts their rivals from Fort Wayne in their first game back home after this road trip. I think IUPUI cares a lot more about that home contest against Fort Wayne than they do this game. Take Denver at home.
Schedule Spot Fade Picks Record From Last Week: 3 Wins 4 Losses (-$140)
Schedule Spot Fade Picks Record Season to Date: 18 Wins 19 Losses 1 Tie (-$290)
Read more articles by Aaron Smith
---
Most Recent College Basketball Handicapping