College Basketball Betting Advice: Weekly Schedule Spot Fade Picks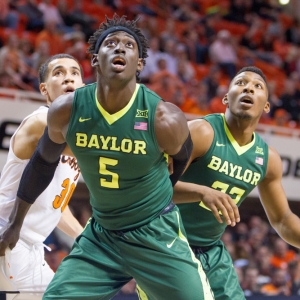 Baylor is the new No. 1, and it's the first time in the program's history they have been ranked at the top of the college basketball polls. Scott Drew has done a great job with this program. I don't think Baylor is the best team in the country, but they deserve a lot of credit for how they have played thus far in the season.
It's the third straight season for the College Basketball Weekly Schedule Spot Fade Picks here at Doc's Sports. I'll be looking at schedule spots that could be bad ones for teams throughout the course of the season and then recommending plays based on those spots. We'll track the weekly results throughout the course of the season. For games that don't have a line at the time each article is written, the Bookmaker opening line will be used for grading purposes. All plays will be one-unit plays .
It was a 2-4 week for the picks last week. We can think UC Irvine for helping us avoid a disastrous week with the plays last week. UC Irvine covered the number in both games we backed them last week. Cal State Fullerton -4.5 vs. Hawaii was the brutal loss of the week. Fullerton led by 12 in the last two minutes of the game before falling apart at the line and winning by only three. Ouch. Loyola Marymount led much of the way at Pepperdine as well, but they have had trouble closing games, and they blew this one as well. Denver lost outright at home to South Dakota in a very surprising game. Portland State -11 was a loser as the Vikings coasted until late and won by seven.
We look to get back on track this week with seven selections.
Play #1- Play on Creighton (Fade Butler) on Wednesday, January 11
The Butler Bulldogs have had a great run in the last week, but it has had to take a lot of energy away from the team. Butler won in a very emotional home win over previously-unbeaten and top-ranked Villanova. They followed that up by winning at Georgetown in overtime on Saturday. There's no doubt that Butler has expended a lot of energy in recent contests. I'm really high on this Creighton team, and I think they'll win and cover as a short home favorite in this contest.
Play #2- Play on Weber State (Fade Idaho) on Thursday, January 12
Weber State's game at Idaho State this past Saturday got postponed just a few minutes into the game because the roof was leaking. Weber State hasn't played a full game since De. 31. On the other side, Idaho is coming off an overtime win where they pulled off a last-second comeback in regulation and then won it in overtime on a tip in at the buzzer. The spot looks even worse for Idaho when you consider who is next on the schedule for them. Idaho goes to Idaho State on Saturday, and the two of them are rivals. Weber State is in the much stronger position here.
Play #3- Play on Utah (Fade USC) on Thursday, January 12
The USC Trojans lost in really tough fashion to rival Cal on Sunday night. USC couldn't hit their free throws late and ended up losing by a point. The Trojans have played a really weak schedule so far on the year, and I don't believe they are as good as their record would indicate. Utah is getting better with both David Collette and Sedrick Barefield now in the lineup after missing the first six games. The price should be reasonable here, and I'll take Utah.
Play #4- Play on Iona (Fade Quinnipiac) on Saturday, January 14
The Quinnipiac Bobcats were given a really tough schedule for this week. Quinnipiac plays Monday at St. Peter's. They play on the road again on Thursday at Siena. The Bobcats return home on Saturday to take on Iona. What does Iona's schedule look like this week ? Iona played on Sunday and coasted to a win over Canisius, and then they don't play again until this contest. Quinnipiac plays two games during the week while Iona sits at home and rests. I'll take the well-rested Iona Gaels here.
Play #5- Play on Air Force (Fade San Jose State) on Saturday, January 14
San Jose State is a little bit better than they have been in recent years, but they are still a weak team. The Spartans are extremely young. They have been given a very tough schedule this week . San Jose State goes to San Diego State to take on the Aztecs on Tuesday. On Saturday, they go to Air Force to play at elevation against the Falcons. Air Force has a much bigger home-court advantage than the average team, and they host Fresno State on Wednesday before this matchup. I like the home team here.
Play #6- Play on Duquesne (Fade Dayton) on Saturday, January 14
The Dayton Flyers picked up a hard-fought win at home over Rhode Island last Friday. Dayton goes to UMass on Wednesday and then plays at Duquesne on Saturday. The Flyers have had trouble at Duquesne in the past. Duquesne has a young team that isn't very good overall, but they will have some value in certain spots at home. Duquesne has a tremendous home-court advantage, and I think that will be enough when they are catching what is likely going to be double digits or somewhere around that area.
Play #7- Play on Colorado (Fade USC) on Sunday, January 15
I'll fade USC for a second straight game. USC plays on Thursday night in Utah at elevation and then must play at elevation again on Sunday in Colorado. This is a brutal scheduling spot for the Trojans. It's important to note that USC is likely to be worn out in this spot, especially since they use their bench less than any team in the Pac-12. Colorado has also played a much tougher schedule than USC so far this year, and that should help them in a game like this. We shouldn't have to lay many points here, and I'll take Colorado in this contest.
Schedule Spot Fade Picks Record From Last Week: 2 Wins 4 Losses (-$240)
Schedule Spot Fade Picks Record Season to Date: 7 Wins 8 Losses (-$180)
Get free picks from any Doc's Sports handicapper - there is no obligation for this offer and no credit card required. Just sign up for an account, and you can use the $60 in free picks for any Doc's Sports Advisory Board handicapper and any sport. Click here to get started now .
Read more articles by Aaron Smith
---
Most Recent College Basketball Handicapping