Expert NBA Handicapping: Can Anyone Beat the Golden State Warriors?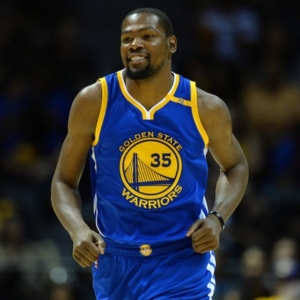 As I write this the Golden State Warriors have not yet won the NBA Championship, but they are up 3-1, and it sure feels inevitable. Theoretically they could face some changes because both Kevin Durant and Steph Curry have contract flexibility, but we know that that isn't happening. Why would either guy go somewhere else when they have literally the perfect situation - a spectacular team, and no one who can match them. Which leads to the obvious question - who can beat them? The answer seems simple - the Cavs can if they play absolutely perfect basketball but probably not four times in seven games. And that's about it. Actually, that's totally it.
Free $60 in Member NBA Picks No Obligation Click Here
So, which other teams can make moves to match the Warriors? And what does that look like? It won't be even remotely easy, and may not be possible at all, but here are eight situations that at least stand a small chance of success. If it's too long and you don't want to read it, it basically comes down to this - teams need to add some combination of Paul George, Jimmy Butler, Gordon Hayward or Chris Paul to an already strong core and hope for the best:
Cleveland: By now two things are obvious - Kevin Love isn't the answer, and LeBron is not going to be happy until this team is better. Cleveland needs to do two things. First, they need to find a team who wants Love as a centerpiece of a trade for a big star to replace him. The obvious choice is Paul George, and that deal could make sense if the Pacers are convinced they can't sign him again. Second, the team needs to do a better job of adding depth players. They have not boosted themselves with their bench lately, and it has forced James and Kyrie Irving to play far too much. As other teams have done in the past, they need to find the veterans who have a lot to give, don't need money, and just want to win. They have tried but not hard enough.
San Antonio: They have a superbly special player in Kawhi Leonard but not enough beyond that right now - age is a merciless foe. They have a chance with Leonard to add a core around him which, with their coaching, could be potent. Chris Paul would look excellent in a San Antonio jersey, but that would require a lot of shuffling, and I'm not convinced that it would be enough.
Boston: Boston has a solid core, excellent coaching, and an embarrassment of upcoming top picks. I would keep the No. 1 this year, but beyond that everything would be fair game. Gordon Hayward almost makes too much sense because he's so good and he and Brad Stevens were so strong together at Butler. Paul George or Jimmy Butler would be great, too. The Celtics showed in the playoffs they have a large hump to climb over. They likely need to add two of the three to really get it done, and there is almost no price I wouldn't pay for them.
Denver: This one is intriguing. Nikola Jokic is special, and the team has the space and assets available to make some noise. They apparently tried very hard to land Paul George last year but were scared off when they learned that George was hungry to play for the Lakers when he reaches free agency. I wouldn't let that scare me off, though, because if you could land George and build a winner around him it would be tough to let him go. Going all in on a trade for him, and then adding a strong point guard - Paul would be a dream, but Kyle Lowry would be very effective, too, and would likely be open to it so he doesn't have to keep losing to James so often - would create a big three of note in Denver.
Houston: This may be the most doable because they seem to have the least work to do. Their problem is a lack of cash. They need to find a perfect player - a star defender who can shoot - but they can't pay him too much. Easier said than done, but not impossible. Maybe a guy like P.J. Tucker would fit if he were to have a career year. That combined with a career year again from Harden (maybe one with more ball control) and perhaps they can make things more interesting.
L.A. Clippers: I believe the window has closed for the Clippers, but that doesn't necessarily have to be the case. Massive changes are needed, though. I think we can accept that Paul and Blake Griffin aren't going to win together. And given the choice it is a no-brainer which one to keep. They should trade Griffin away for the best they can possibly get - Carmelo Anthony would be a decent fit, and it would be a trade that would help both teams. It might make them better, and it would certainly make them different - and the status quo is proven not to work. Key here, obviously, is to do enough to convince Paul to stick around. Without him it's all over.
Portland: The Trail Blazers have a lot of issues, but they have a backcourt that could be built around. They have a couple of other decent players and a lot of draft picks hanging around. Adding a big piece to the frontcourt - or two if they could swing it - might make things at least a little interesting in Portland. This is the least inspiring option on this list so far, though.
Milwaukee: The Greek Freak is an MVP-caliber talent. Jabari Parker should be back this year, and he's functional. If they could find a way to add a superstar and a good contributor then they could be the next big thing in the East - especially if Boston can't get things done. It's a rare luxury to have a guy like Antetokounmpo to build around, and this team just can't let that kind of luxury be wasted. George would be a good fit here, too, but if he finds Indianapolis too dull then he's sure not going to Milwaukee.
Want free sports betting picks? Doc's Sports has you covered - get $60 worth of picks free from any of Doc's Sports expert handicappers. Click here for free picks (new clients only) .
Read more articles by Trevor Whenham