Expert NHL Handicapping: Analysis of Chicago Blackhawks Recent Surge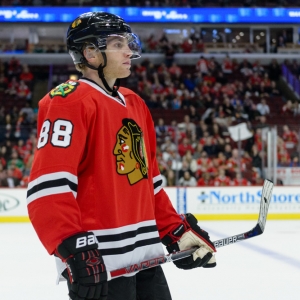 We are used to the Chicago Blackhawks being a truly elite team in the NHL - a perennial threat to finish first overall in the NHL and challenge for the Stanley Cup. After two straight disappointing first-round playoff exits, though, the team entered this season with something to prove - and some lingering doubts. And when they stumbled out of the gate those doubts certainly didn't diminish.
But they have gotten back on track of late. They have won their last four games to get into the logjam of the playoff race, and it certainly feels like, at the very least, they will be in the race until the end.
So, what should we think about this Chicago team this year? Are they still the strong force they have always been? Or are they finally going to have to deal with the mortality that other teams have faced while they have just kept on winning? Here are six factors to ponder as you ask yourself those questions:
Missing Panarin: The team isn't disastrous offensively, but they aren't where they ideally should be, either - they currently sit 12th in the league, with 3.0 goals per game. It is clear that what this team is missing offensively is Artemi Panarin. He had 77 points in 2015-16 to win rookie of the year and then had 74 more points last year. The Blackhawks are perpetually in financial straits, though, so Panarin was traded to Columbus for Brandon Saad in a financially-inspired move. Panarin has 26 points in Columbus, and he tied a league record by getting five primary assists in one game on Dec. 8. Saad has been decent with 11 goals and 17 points, but he isn't the offensive presence that Panarin was, and that is having a trickledown effect.
Kane still Kane: Patrick Kane is the driving force of this offense, and with 30 points in 31 games he is right about where he needs to be. He would ideally have a few more points, but you certainly can't be concerned about a guy who is at a point per game. Given how much this team pays Kane and Jonathan Toews, and how much flexibility that costs them in their payroll, this is absolutely what they need from him.
Keith isn't Keith: On the other hand, Duncan Keith, the driving force on the back end, just isn't having a great year. He doesn't have a goal yet in 31 games. Plus/minus isn't a perfect stat by any means, but the fact that he was +22 last year, in that range for most years before that, and now sits at -9, is a sign that he doesn't have his game. This is such a defender-driven league that Keith underperforming is an issue. The team surely hopes he'll get back on track, but he is 34 and will wind up just short of 1,000 career regular-season games at the end of this year - plus so many playoff games and international competitions - so there is a lot of wear on those tires.
DeBrincat shining: This team has a good history of getting high levels of performance out of offensive rookies, and here they are doing it again. Alex DeBrincat was only a second-round pick in 2016, but at this point he seems like a steal. He is second in scoring on the team and has been excellent in a high-usage offensive role. Given how things have gone lately, though, he should be braced to be traded in a year or so if he keeps it up. And you also have to worry about his ability to hold up and carry the load all year when this is more than he is used to playing. The team needs him to keep performing, and he's only 19, but so far he has been a real treat.
Crawford shining, backups not: Corey Crawford has been excellent in the net for the Blackhawks, sitting third in the league in both goals against and save percentage. He an underappreciated goalie who is really earning his keep when he plays. The issue, though, is that he can't play every game, and the team has really struggled without him. Anton Forsberg has an ugly 1-4-3 record in 10 appearances, and his .906 save percentage just isn't good enough. The team has to rely on Crawford to stay healthy all year if they want to contend, because Forsberg in net is far from a good thing.
Power play: The Blackhawks are on a concerning decline when it comes to the powerplay. Two years ago they ranked second in the league. Last year they dipped to 17th. And now they sit in 29th. They are so far behind the top teams with the man advantage right now that it is as if they are playing a different sport. They simply have to fix this if they want to be able to emerge from the logjam that is the Western Conference - after Thursday night's action there are 11 teams in a playoff spot or within two points - a single win - of one.
$60 worth of member's NHL picks absolutely free - no obligation, no sales people - you don't even have to enter credit card information. You can use this $60 credit any way you please on any of our top hockey handicappers. Get your free picks by clicking here ! Also, for a limited time get three hockey handicappers for the price of one! Click here for our 3-for-1 NHL picks offer .
Read more articles by Trevor Whenham