Irish War Cry Odds to Win the 2017 Kentucky Derby with Picks and Predictions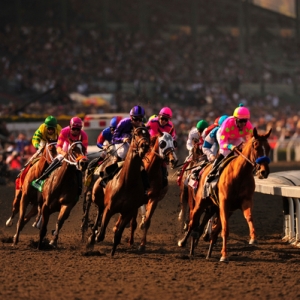 Irish War Cry has only three career graded stakes race starts, yet in that short time he has sent those, like me, who like him on a real rollercoaster ride. He convincingly beat a strong cast in the Holy Bull and it seemed like he was among the very best in the country. Then he was a disastrous seventh in a no-show performance in the Fountain of Youth and you had to wonder if he was really capable of performing at the highest levels after all. Then he came out and won the Wood Memorial with a very professional effort, and again it's fairly easy to believe in him.
It's not an easy faith in this case, though. Was the middle race just a fluke - a bad day? Or is this an inconsistent horse that can't be trusted to string two good races together in a row? Obviously the answer to those questions has a major impact on Kentucky Derby handicapping this year.
When I think of a horse from the Graham Motion stable I can't help but think of Toby's Corner. That colt also won the Wood Memorial in 2011 and was an intriguing Derby option that was likely to go off at a decent price. I was on the bandwagon. But that colt came up lame and was scratched from the Derby. Things still turned out okay for Motion that year - he won the Derby with Animal Kingdom. I think Toby's Corner still haunts him, though. Motion is far more cautious than most trainers about working horses on dirt. Toby's Corner was hurt on the synthetic track at Motion's training base, but he's still much more comfortable there. Combine that with the fact Irish War Cry is not the most mentally stable colt out there and likely won't thrive in the chaos of Louisville at Derby time, and there is a very good chance that he will be one of the last to arrive at Churchill Downs this year. But will they save the best for last?
Last race: The Wood came up as an eight-horse race, but only four were legitimate contenders. Irish War Cry was the third betting choice behind Battalion Runner and Cloud Computing - two talented but very raw colts. Battalion Runner set the early pace, and initially Irish War Cry followed it from a bit of a distance - he was fourth early on. By the half mile point, though, he had engaged with the leader, and the two horses left the field behind. This colt didn't take the lead until well into the stretch, but the result wasn't in doubt well before that time. He looked comfortable and was gaining ground with each stride. By the end he was ahead by most of four lengths and certainly didn't seem like he had tapped all of his reserves. Battalion Runner was clear in second and ran a strong race, but it was Irish War Cry's day.
Prior experience: As is often the case with Motion horses, the colt broke his maiden, and made his stakes debut, at Laurel Park, which is close to Motion's home base. He won both races and showed some versatility - he came from way off the pace in the maiden race to run away with it and wired the field in a narrow win in the local stakes. From there it was off to Gulfstream for the Holy Bull. That race was supposed to be a coronation for two year old champ Classic Empire, but that colt was flat and Irish War Cry again wired the field. He was the third betting choice in the seven-horse field, so it was an upset but not a shocking one. Next up was the Fountain of Youth, and that race is a total mystery for this colt. He pressed the early pace, but it was not particularly fast. In the stretch, though, he ran out of gas like he had slammed into a wall and faded with every stride to finish seventh. It was really, really ugly - and for the sake of my bankroll I hope it was an isolated incident.
Trainer: The best compliment I can give Graham Motion, or any trainer for that matter, is that when I like a horse and see he trains it then my confidence increases. I don't seek out his horses to bet, but I trust him with a horse I want to bet. He's not the best or most successful trainer out there, but he has a solid touch, and when a horse has the goods he is capable of having it ready for a fight. He's been on his own since 1992, and though he remains loyally based in Maryland he is more than comfortable going national when a horse warrants it. Aside from that Derby win in 2011, he has two Breeders' Cup wins and a Dubai World Cup, so he is more than capable of performing on big race days.
Jockey: What a story Rajiv Maragh is - you can be sure the folks at Disney are watching closely so they can snap up the film rights if this colt wins the Derby. Maragh was very badly injured in a wreck at Belmont Park in July of 2015. He broke vertebrae among countless other injuries and missed 16 months of action. Many thought he would never ride again, but he came back in November, and now he is aboard this colt. He hasn't won a Triple Crown race, but he has had solid showings aboard Mucho Macho Man and Wicked Strong to show he belongs. He has also won three Breeders' Cup races, so he can shine on big days. It will be hard not to root for Maragh here.
Breeding: Every fan of thoroughbreds and breeding has a few studs that they are blindly loyal to - horses that touch them in a deeply emotional way. For me, Irish War Cry's sire Curlin is one of those. There are very few horses I've enjoyed watching race as much, and his young stud career is off to a strong start as he already has Triple Crown wins with Palace Malice and Exaggerator. Needless to say, I see him in this pedigree as a real positive. Damsire Polish Numbers died too young, but he is of the great Northern Dancer line and is a credit to this colt as well. The Derby distance isn't a particular concern for this colt.
Odds: Oddsmakers are as fond of this horse as I am - at present BetOnline has him as the third choice at +750 behind only two year old champion Classic Empire, who has not made his final prep start as I write, and Always Dreaming. In the final Kentucky Derby future wager, held by Churchill Downs the weekend before the Wood Memorial, Irish War Cry went off at 21/1, so the Wood effort obviously significantly increased the perception of the colt.
Doc's Sports has had a winning tradition for more than four decades. Don't believe us? Try us out for free, and we are convinced you will be a believer. Get $60 worth of free sports picks - members' picks just like our paying clients get - here .
Read more articles by Trevor Whenham