J Boys Echo Odds to Win the 2017 Belmont Stakes with Picks and Predictions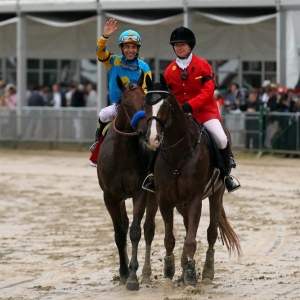 Two races in a row I have had reasonably high hopes for this colt. And in both races he has done very little to justify my feelings. I gave him a mulligan after the first, but two mulligans in a row would just be cheating. So, while I am glad he is getting another shot, and I think he can definitely be better than he was in the Derby - because he couldn't be much worse - I refuse to direct any excitement at all on his direction this time around. But, what happens if he finally runs well again?
Last race: It isn't even fair to say that he was bad in the Kentucky Derby. He basically wasn't even there. He faced some typical traffic out of the gate and never ran a meaningful step after that even though he came out of it just fine. He was 16th at the start, 15th at the finish, and never better in between. It was a complete and total non-race for him. It's tough to find an excuse. He obviously didn't like the track, and he obviously didn't love Luis Saez, who was riding him for the first time. Still, to see not even the smallest spark of desire from a colt in a race like this is tough to understand and tougher to forgive.
Prior experience: The race that I really liked from this horse was the Gotham Stakes two back. He won the race handily, beating eventual Preakness champ Cloud Computing in the process. It was a very nice race, and I thought and hoped it was just the tip of the iceberg. It didn't come from nowhere, either. After breaking his maiden his second time out he was fourth and third against decent fields in graded stakes races, and he was moving forward late in both. So I thought i had found a useful horse for the bottom half of Derby exotics. And then he came out in the Blue Grass - quite possibly the oddest and most incomprehensibly bizarre major prep race I have ever witnessed - and finished a flat and wildly underwhelming fourth. That was the mulligan I gave him, but now I'm kind of wishing I hadn't.
Trainer: Dale Romans is the son of a trainer, and he basically grew up on the backstretch at Churchill Downs. He wants nothing more than to be the first local to win the Derby, but he'd surely take a Belmont win to go with the Preakness win he grabbed in 2011 with Shackleford. He's also won three Breeders' Cup races and a Dubai World Cup, so he is capable of winning big races when he has the horse for it. It remains to be seen if this horse can measure up.
Jockey: Dale Romans has a dilemma here, and he seems to be in no hurry to make a decision. Robby Albarado rode the horse for his first five starts and would have ridden him in the Derby until he broke his ankle in late April. He has not yet returned to racing but is expected to the week before the Belmont. Romans can't know if he will be ready. Luis Saez rode the horse in the Derby and wasn't great, but he's healthy and he rides at Belmont so he has home-course advantage. My hunch is that Romans leans towards Albarado, but only time will tell.
Breeding: J Boys Echo was sired by Mineshaft, the 2003 Horse of the Year. Mineshaft was not a Triple Crown participant since he started his career in the U.K., but he won twice at a mile and a quarter and certainly didn't look spent at the end of those races. Mineshaft is a son of the great A.P. Indy, the Belmont winner and top stamina influence who has his blood all over this race this year. J Boys Echo's damsire is Menifee, who was second to Charismatic in both the Derby and the Preakness in 1999. He hasn't had a huge amount of success in North America as a sire, but he was sent to Korea to stand when he was young so that's not much of a surprise.
Odds: Bovada has J Boys Echo installed as the third longest shot on the board at +2000. His last two races haven't been great, but it still seems there is, in relative terms, some value to be had here.
Doc's Sports has been a leader in Triple Crown handicapping for more than four decades, and we have a great offer for new clients. Get $60 worth of Belmont Stakes picks free with no obligation to buy anything. Not credit card is needed, and you won't ever have to talk to a salesperson. Get your $60 in Belmont Stakes picks here .
Read more articles by Trevor Whenham