2017 Kentucky Derby Betting Advice and Handicapping: Live Long Shots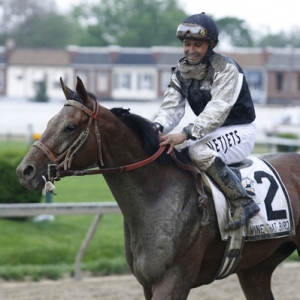 There is no doubt that long shots can win the Kentucky Derby. Giacomo and Mine That Bird are clear proof of that. And this could be a good year to look for long shots to bet. The field is wide-open, and all of the top contenders have faults that make them vulnerable. Any one of 15 or 16 horses could win this field, so finding horses you like at a big price is a good way to spend your time in this race. Of course, these longer shots have even more flaws than the favorites in most cases, but they make up for it with price - or at least that's what you hope.
Here are three longer-priced horses that stand out as live long shots to me:
Thunder Snow (+2200): Every big race needs a mystery horse to spice things up a bit, and this colt definitely qualifies.
No one even knew for sure that he was coming until his travel plans were announced a week before the race. The colt is owned by Godolphin Racing, the massive racing stable owned by the ruling family of Dubai. They are so large that they actively keep horses running with 20 trainers on four continents, and several of those trainers are exclusive to them. They are goliaths of world racing, yet despite several tries they have never really come close to a Kentucky Derby win.
We won't know for sure until the race is run, but this colt has a chance to be the best colt they have put in the race - or at least the best from elsewhere, because Frosted was a domestic runner of theirs who was pretty darned nice. The colt had some mixed results as a two-year-old in Britain racing against strong company, but then he headed to France and dominated a fairly major race there. Then he headed to Dubai, winning a prep race and then beating a nice unbeaten colt from Japan in the UAE Derby to win his spot here.
He is on a three-race winning streak, and those wins are the only three races that Christophe Soumillon, who will be riding him in Kentucky, was aboard for. We can't know how the form will transfer over here - especially because all but the last two races were on turf. And we can't draw many conclusions from his breeding because he is off Australian parents, and those bloodlines are largely untested here. What we can know, though, is that he ran a top race last time out to beat a strong colt that also had a good day. That's not something we can say about most of the domestic colts this year. And we can't really know how he will like the track because he won't have a meaningful work on it before race day.
This guy could be good. Or he could be a non-factor. But the closer I get to the race the more I think he'll be worth a gamble at better than 20/1.
J Boys Echo (+2600): I really hated the last race this horse ran in the Blue Grass. I'm willing to look past that, though, because I hate the race every horse in that race ran. It was just a mess of a race, and he's one of two horses that I think are much better than they showed that day - McCraken is the other, though he is definitely no long shot. The race before the Blue Grass was the Gotham, and I am a big fan of the race this colt ran. Form in the earlier New York preps doesn't always translate well to Kentucky, but trainer Dale Romans knows Churchill Downs as well as anyone, so he'll know how to make the horse look like he looked back then.
I feel bad for jockey Robby Albarado, who was injured and will miss this ride. The colt got an upgrade in landing Luis Saez, though, and that will be a big boost here. He is a horse that stalks the pace, and that's a good spot to be here because there will be pace to chase. And things should be crowded coming from the back, so he'll get a jump on the closers.
State of Honor (+5500): I'm a huge believer in trainer Mark Casse - he's going to win more than one Triple Crown race before he's through. And I'm a big fan of Classic Empire , Casse's star this year. Often times, though, it's not a bad idea to pick the 'other horse' from a prominent stable. It has certainly worked well with Bob Baffert and Todd Pletcher over the years (though not Pletcher in this race ), so maybe it will work for Casse, too.
He hasn't won a race since breaking his maiden back in October, but I'm not too worried about that. He was a respectable third behind McCraken and Tapwrit in the Sam F. Davis - and I really liked the race both of those horses ran. Then he was a solid second behind Tapwrit, who ran a beautiful race, in the Tampa Bay Derby, and second behind a flawless run by Always Dreaming in the Florida Derby.
So, he has never been the best, but he has been right in the mix in races that stand up relatively well in this weak prep season. I'm not convinced that this horse can win, but he always finds his way into the mix, and could be very useful at this price in the exotics.
Get free picks from any of Doc's Sports Advisory Board of expert handicappers - and with no obligation or credit card. You can use these free picks for any sport, and you will never deal with a salesman. Click here for your free Doc's Sports picks .
Read more articles by Trevor Whenham