Kentucky Derby Trivia Questions and Answers 2017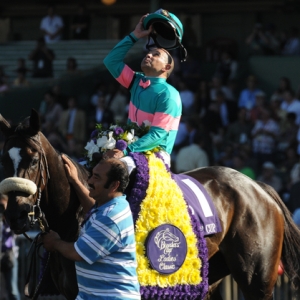 One of my favorite things of this time of year is writing these Kentucky Derby trivia questions and answers. I ramble, explore all sorts of interesting things, and ask questions that only other Derby geeks could come up with - or even care about. I went easy on you and only came up with eight instead of the 10 I have done in past years. If you get half of these right then you know your stuff:
1. Steve Asmussen and Jerry Hollendorfer are both set to have horses in the Derby. They sit second and third, respectively, in all time wins. Both have more than 7,000. Asmussen is the winningest active trainer. Who is the all-time leader?
a. Richard Hazelton
b. Dale Baird
c. Charlie Whittingham
d. D. Wayne Lukas
2. There are three battles for family bragging rights in this race. Fast and Accurate is a son of Hansen. Hansen's sire is Tapit, who is the sire of Tapwrit in this race. Smart Strike sired Battle of Midway in this race and also sired Curlin, sire of Irish War Cry, and Lookin at Lucky, who sired Lookin at Lee. And Mineshaft, who sired J Boys Echo, also sired Dialed In, who sired Gunnevera (Mineshaft is sired by A.P. Indy, who is also the grandsire or damsire of three other runners in this race). That's a whole lot of connections. That's a lot of family connections, but none can hold up to the biggest claim in history - there are two families in which a horse, his sire, and his grandsire, have all won the Derby. One of those trios includes a Triple Crown winner. Which Triple Crown winner?
a. Seattle Slew
b. Citation
c. Count Fleet
d. Whirlaway
3. There are set to be two gray horses in the Derby this year - Fast and Accurate and Tapwrit. As is so often the case these days, that is due to Tapit's influence - the great gray is sire of Tapwrit and grandsire of Fast and Accurate. Eight of 142 Derby winners have been gray - 5.6 percent. What percentage of thoroughbreds are grays?
a. 1
b. 3
c. 7
d. 11
4. Favorites are on a serious hot streak in this race - California Chrome, American Pharoah and Nyquist have won the last three editions of the Derby as favorites. Favorites win about a third of all races. How many favorites won the Derby in the 1980s and 1990s?
a. 0
b. 4
c. 7
d. 9
5. The last two Derby winners, American Pharoah and Nyquist, were also Two Year Old champions - the first to win the race since Street Sense in 2007. That's good news for this year's reigning Two Year Old Champion Classic Empire. How many Two Year Old Champions have become Triple Crown winners?
a. 1
b. 2
c. 3
d. 4
6. Curlin, Ghostzapper, Mineshaft and Tiznow are all represented by sons in this race, and all are Horse of the Year winners. None of them are Derby winners, and only Curlin won a Triple Crown race. They have awarded the Horse of the Year crown since 1971. How many Derby winners have won the Award?
a. 7
b. 14
c. 21
d. 28
7. Thunder Snow, who has been based in Europe and Dubai in his career, is something very rare in the Derby - the son of an Australian sire. Because of different breeding seasons, that almost never happens. The first Australian horse most probably think of is Phar Lap. Right now, though, an Australian mare, Winx, is in the midst of a 13-race winning streak and is ranked behind only Arrogate among the top horses in the world. Winx is a daughter of Street Cry, who also sired Zenyatta, 2007 Derby winner Street Sense, and Street Boss, who sired Hence in this race. Street Cry was also owned by Godolphin Stables, who owns Thunder Snow. Street Cry won the Dubai World Cup in 2002. How many trainers in this year's race have won the Dubai World Cup?
a. 1
b. 2
c. 3
d. 4
8. Victor Espinoza missed out on winning his third straight Derby last year on Whitmore after wins with California Chrome and American Pharoah. Now he's trying for three in four years as he tries to bring Gormley home. How many others have won at least three in four years in the 142 previous years of this race?
a. 0
b. 1
c. 3
d. 5
Answers
1 - b. Baird was dominant for years in West Virginia and trained right up until his death in a truck accident in 2007. He has a lead of more than 1,800 wins on Asmussen.
2 - c. Count Fleet, the 1943 Triple Crown winner, was sired by 1928 winner Reigh Count, and sired 1951's Count Turf. Seattle Slew has his own claim - He and his son A.P Indy and granddaughter Rags to Riches are the only trio to win the Belmont.
3 - b. Gray Derby horses have overachieved.
4 - a. Between Spectacular Bid in 1979 and Fusaichi Pegasus in 2000 there was nothing.
5 - d. The award was first presented in 1971, so Secretariat was the second winner. Seattle Slew and Affirmed also were dual winners. In other words, the last four Triple Crown winners have won at two as well.
6 - a. Just seven have. Before California Chrome in 2014 the last was Charismatic in 1999, who won despite never racing again after the Belmont.
7 - d. Graham Motion won with Animal Kingdom, Steve Asmussen with Curlin, Dale Romans with Roses in May and Saeed bin Suroor has won the race a record seven times.
8 - b. Calvin Borel did it from 2007 to 2010 with Street Sense, Mine That Bird and Super Saver.
Get free picks from any of Doc's Sports Advisory Board of expert handicappers - and with no obligation or credit card. You can use these free picks for any sport, and you will never deal with a salesman. Click here for your free Doc's Sports picks .
Read more articles by Trevor Whenham