NBA Betting Advice: Lessons We have Learned Early Season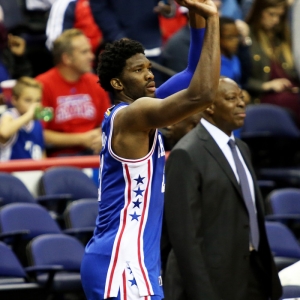 We are only 15 or so games into the NBA season, so it's important to remember that we really don't know much yet. Some teams aren't playing at full strength or intensity yet, and the playoffs are so far away that some elite teams just don't care. But we have seen enough basketball action to start to draw a few conclusions based on what we have seen so far. The sample size is large enough to at least draw these eight conclusions:
The Process was worth it: It went on forever and was the butt of many jokes, but Philadelphia's 'Process' is doing exactly what it was supposed to do right now. Joel Embiid has the upside to be the best big man in the league, and he showed against the Lakers this week what he is capable of. It was amazing. Ben Simmons has the upside to be the best point guard in the league, and what he can do is spectacular already. The Sixers are much improved already, and they have only just begun. There is still plenty of work to be done, but we won't be making too many more jokes about these Sixers.
Lonzo Ball isn't MVP material yet: The way his dad was telling it, Ball was a lock for MVP this season and for the rest of the decade. Apparently it was a little early. Ball has been wildly inconsistent. He is still starting but would be better served coming off the bench at this point - and would be if he was anyone else. His coach doesn't trust him at all in the fourth quarter, and it sure doesn't seem like Walton is wrong. I'm not suggesting that things won't work out or that the Lakers made a mistake or anything. The combination of his family and the hot start by so many other rookies has the pressure really intensifying for Ball right now, though.
Maybe LeBron did need Kyrie after all: Kyrie Irving wanted to be his own man, and so far it is going perfectly. The Celtics have forgotten how to lose, and Irving is absolutely spectacular. They just beat Golden State in the game of the season so far. Meanwhile, if the playoffs were to start today then LeBron and the Cavaliers would be sitting at home. Cleveland isn't as bad as they have looked - but they have looked really bad. They have no depth at all, they have banked on old men who can't play like they need to anymore, and the chemistry is just disastrous. It will be very interesting to watch going forward - unless you are a Cleveland fan.
Hayward wasn't crucial: Gordon Hayward's injury was just brutal - it is still burned into my brain. It was easy to be pessimistic about the loss for Boston. While they would be better with him, they have already shown that they have the talent, the coaching, and the determination to be just fine - and more than that - without him. The story heading into the season was that Boston was the second-best team in the East. I don't know how you could believe that anymore.
Golden State is still Golden State: The loss at Boston aside, the Warriors are still the Warriors. They are scoring points in bulk, dominating teams mercilessly, and look every bit the team they were expected to be. Nothing to see here.
Minnesota is finally a playoff team: It's only 15 games, and anything can change between now and the playoffs. I truly believe that Minnesota is heading to the postseason for the first time in a long time, though. The new guys are doing what they need to do. The young stars are playing well. They are all working together. And there is clearly a lot of upside for the team as well. They aren't good enough to be a real contender. But who is? They will have a chance this year, though, and that's all that matters at this point.
Trading Porzingis would have been a terrible idea: We don't need to spend much time on this one. Kristaps Porzingis is third in the league in scoring, and he's doing things every night that a guy shouldn't be able to do - at least not a guy of his size. It is amazing. And Phil Jackson was mad because he skipped a meeting. It's amazing that a guy who could coach that well was that bad at managing a team. Good riddance. Trading away Porzingis would have been the kind of deal that a franchise never really recovers from.
Stan Van Freaking Gundy: The Detroit Pistons have the second-best record in the Eastern Conference. The Pistons. It won't last, but it is clear proof, like we needed it, that Van Gundy is more than just a good interview. Brad Stevens is making it all but impossible for anyone else to win Coach of the Year honors this year, but if the season ended now Van Gundy would certainly be a finalist.
WOW! Doc's is offering $60 worth of member's picks absolutely free - no obligation, no sales people - you don't even have to enter credit card information. Free NBA handicapping picks here now. Also, for a limited time only get three top NBA handicappers for the price of one! Click Here . Get free NBA basketball picks today at Doc's Sports basketball predictions page .
Read more articles by Trevor Whenham