NBA Betting Advice: Are San Antonio Spurs a Serious Championship Contender?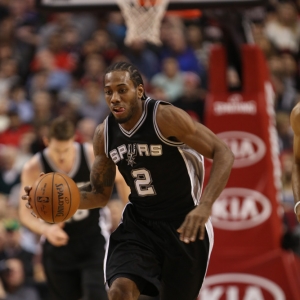 I will fully admit that I was expecting the Spurs season this year to look more like two years ago than last year. I should know better by now. Two years back they still won well over 60 percent of their games, but they were third in their division and lost to the Clippers in the first round of the playoffs. Anything could obviously still happen going forward, but that doesn't seem like what will happen now. At 43-13 they have, by a fairly wide margin, the best record for any team that doesn't feature Steph Curry. Their current .768 win percentage is their second best since 2016 after last year and is better than any of the five seasons in which they wound up winning an NBA title. So, this team is good. But how? And can they keep it up?
Here are four factors to consider when pondering just what the Spurs are this year:
Age: I don't want to sound like a broken record on this one, but there are some long teeth in the core of this squad. Pau Gasol and Tony Parker both start every game that they are healthy enough to play, and they are the third- and fourth-leading scorers on the team, respectively. Gasol is 36, and Parker is 34 - but he has played a whole lot of tough basketball in those 34 years. Sooner or later they are going to be let down by their bodies - either by injury or just the inevitability of age. If that comes down the stretch or into the playoffs then that's a concern. Gasol has missed the last 15 games with a broken finger that required surgery, and Parker has had some issues. Both guys are already shadows of what they were at their best, but the downside exceeds the upside.
They aren't the only guys with some age on this team, either - Manu Ginobili doesn't start but still plays most of 20 minutes a game at 39. David Lee eats 20 minutes at 33. Even LaMarcus Aldridge is 31. There are plenty of younger players, too, but this is an older squad than most. That isn't new for this team, and it works for them, but it's still a concern.
Kawhi Leonard: Leonard has been incredible. He's the leading scorer by far - he's averaging 25.9 points per game, and Aldridge is next at 17.5. He leads the team in minutes and is by far their most efficient, effective, and important player. When you look at Golden State, even Cleveland, and other contenders, their top star player isn't asked to carry as much of the load on a nightly basis as Leonard is. Instead of a big three the Spurs have a big one (or two because Aldridge does his own part nicely) and a supporting cast. Now, it's one heck of a supporting cast that can't really be matched, but it's still how it is.
The more reliant a team is on one guy to make everything tick, the more you obviously have to be concerned about the devastating impact of an injury, or even about a slump or a team that is able to limit the effectiveness of that star. I'm not saying that the Spurs are doomed because of this by any means. I'd just react far more harshly to a Leonard injury than I would to anyone with the Warriors.
The Warriors: Speaking of Golden State, it seems likely that to get to the NBA Finals you will have to dispatch Golden State. Oddly, though, the teams have not actually met in the last three seasons since Curry became what he is. San Antonio beat the Thunder to win the West when they won the title three seasons ago, were knocked out by the Clippers two years back, and then fell to the Thunder last year in the conference semis.
That aside, can the Spurs beat Golden State? The truth is that we don't know - at least not directly. San Antonio humiliated the Warriors 129-100 in the season opener. That was the first game of the Durant era, though, and the Warriors have obviously figured out a whole lot of things since then. Remarkably, the teams have not met again in the 55 games the Spurs have played since. They have only two meetings upcoming - March 11 and March 29, with both games in San Antonio. You can speculate all you want about how the teams will match up, and I find it tough to be too optimistic for the Spurs in a potential playoff series, but very little has been settled on the court yet.
For what it's worth, San Antonio is 1-0 against Cleveland, 2-0 against Boston, Washington and Toronto, and 2-1 against Houston, so they have fared well against the other viable contenders to date.
Gregg Popovich: He is the best coach in the game, and it's not close - and the NBA has a stunning number of exceptionally good coaches right now. He just turned 68 and has been in this job since 1996, so it wouldn't be surprising to see him falter slightly. That really hasn't been the case, though - he's a sharp and relentless as ever. If anything he seems a little looser than normal. Fueled largely by his strong political opinions, he's spoken out more and been more engaged in the past, and he clearly seems to still enjoy every minute of his job - unlike, say, towards the end of Phil Jackson's run. Needless to say, he's a massive asset.
Read more articles by Trevor Whenham