NBA Betting Impact of Chris Paul to Houston Rockets Trade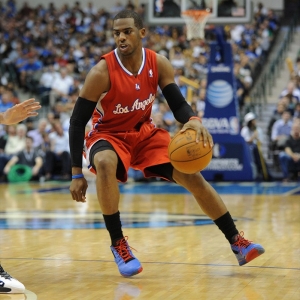 Some time has passed, the dust has settled a bit, and we have had time to absorb what Chris Paul's move to Houston means when it comes to betting the Western Conference. The picture still isn't totally clear because we don't know where Kyrie Irving will land - if anywhere ultimately - and that will have further impact on things. As it stands, though, a backcourt of Paul and James Harden has the biggest disruptive factor in a disruptive offseason. Bigger than Jimmy Butler in Minnesota, or Paul George in Oklahoma City, or Gordon Hayward in Boston.
Free $60 in Member NBA Picks No Obligation Click Here
But, ultimately, what does it really mean? Here are five factors to bettors to consider when trying to decode that:
Leadership: Harden is a lot of things, and most of them are positive. As the unquestioned face of this franchise, though, he has been forced into a leadership role with the team that doesn't feel like it is a great fit for him. He's more of a "me" than a "we" guy, and that's okay for a guy who plays like he does. With the addition of Paul, though, the Rockets now have one of the true leaders in the sport. As long as Harden can recognize the benefits of that and can let Paul shine at what he does best without feeling threatened then this could be a huge boost. Harden can focus on being who he is and doing what he does best and leave Paul to make sure the troops are ready for the charge. It's a potentially massive boost for Harden, Mike D'Antoni and the whole team - arguably the biggest potential impact Paul could have.
This impact could be the most significant by far in the playoffs. Harden's leadership woes have been most exposed here, where the team has struggled at times when teams with more dynamic leaders would have rallied. The concern, though, is that Harden and Dwight Howard couldn't find a way to coexist because both wanted to be the hero. Neither guy is a natural leader, though, so hopefully Harden can recognize Paul's gifts, and hopefully he learned from what happened last time.
Only one ball: It is obviously more complex than this, but at the surface the big issue here is that both guys love to have the ball as much as possible, and yet the league only has one ball per game, and that isn't likely to change. They both really want to play with each other, and they both know they will have to bend a bit to work together and that they need to work together to have any chance against the Warriors. That makes is somewhat easier to believe they can find a way.
The bigger concern, though, is not their ability to play nice but whether they can both be as effective as they are at their best when they don't get to do what they do when at their best. It is pretty hard to believe that these two at their very best are enough to challenge the 5,000-pound gorilla in the Bay Area. If they are both at less than their best, and the sum of their parts doesn't exceed the two of them individually, then this is all just an expensive waste of time.
Watch out for the Clippers: L.A. is not going to be very good this year. That's inevitable Instead of re-upping Paul, though, and running headlong into the same wall they have for years now, Jerry West and company were smart enough to recognize that they could get a big haul of assets for Paul and clear up cap space to make another charge in the next couple of years when perhaps the Warriors become slightly more mortal. This is not a time to cry for the Clippers but to envy the opportunity they were smart enough to give themselves long term.
Not enough: Let's not kid ourselves - Paul and Harden are not good enough to beat the Warriors unless the Golden State is hit hard with injuries or somehow beat themselves. No one is, and that is just the inevitable truth of the situation right now. For Harden, Paul and the team, this is their chance to make themselves as competitive as they possibly can be, win a bunch of games and build some buzz, and test out just how to approach things in the next two or three years when perhaps Golden State makes some changes or shows even a couple of cracks. They can find out if these two guards are a fit together, and who or what they need to add to get over the top.
This is just a transition year - for the Rockets, and for every NBA team more than 100 miles from Silicon Valley. The oddsmakers make this very clear. Golden State is a stunning -180 to win the title at BetOnline - a ridiculous price which is somehow entirely justifiable. Even with this big trade, Houston lingers far behind at +900. The Rockets are far behind Cleveland at +475 even though we don't know if the point guard for the Cavs is going to have a pulse.
Want free sports betting picks? Doc's Sports has you covered - get $60 worth of picks free from any of Doc's Sports expert handicappers. Click here for free picks (new clients only) .
Read more articles by Trevor Whenham