NBA Handicapping: Betting Impact of Kyrie Irving Trade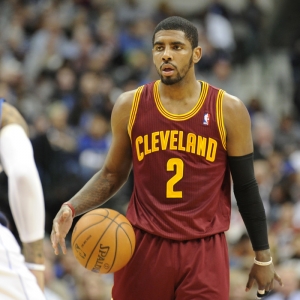 The dust has settled, and the Kyrie Irving trade is now officially official (Cleveland accepted that when you trade for a guy with hip issues you can't really expect much compensation when you discover he has hip issues). Now that some time has passed, we can sit back and evaluate what the deal really means from a betting perspective. Here are five thoughts on the subject:
We know nothing about Cleveland right now: We don't know whether Isaiah Thomas is going to miss any time because of his hip issues. We have heard reports that it will mean nothing and reports that he could miss all season. It's all speculation at this point, and nothing will be known until the season really starts. If he's fine then in the short term the team should be fine. Thomas doesn't have nearly the upside that Irving does, but he's a ball-focused, offensive point guard who is suboptimal defensively, which is pretty much what they got rid of. The issues that LeBron had with Irving are not magically going to go away with this change, but perhaps a fresh face will make things better for now. If Thomas can't go, though, and his hip issue becomes a recurring problem this year like it was last year, then the Cavs are in serious trouble. They will have gone from an all-star point guard who is offensively elite to something decidedly not that. And you thought LeBron was grumpy last year. And it seems tough to believe that LeBron is willing to stand pat now - why would he be happy with a banged-up Irving replacement and a nice rotation piece when a healthy Irving last year wasn't near enough to beat the Warriors?
Don't pretend this is about this year: Sure, the Cavs want to close the gap between them and the Warriors. Jae Crowder is a nice player and all, but this deal doesn't really do that - even if Thomas is peak Thomas all season. The mastery of this deal from the Cleveland side is the flexibility it gives them. They have to pay him only $6.2 million this year, so they have some cap flexibility through this deal. If he is a hit, and he and LeBron are like PB & J together, then they can pay him after this year and all live happily ever after. If he doesn't work out then they can let him walk. If LeBron stays then he will have no interest in playing with a young player, so that Brooklyn pick can be used as trade bait to acquire whoever James tells the team to get. And if LeBron leaves - which is what I would bet on at this point - then they already have a prime pick to build around. This is a deal that gives the team many ways to win down the road, though you would have to be much more of an optimist than I am to see how it helps them win this year.
Boston is better - probably: On paper, this team, which has gone through a shocking overhaul for a team that was pretty good last year, is significantly better. Irving couldn't coexist with the best player on the planet, though, so it is far from certain that everything will be sunshine and lollipops in Boston for this strong but varied collection of talent. It's not like he has proven himself to be teammate of the year, and Irving also wasn't good enough to win with James and Kevin Love, so what he can do with Gordon Hayward, Al Horford and some nice young guys is not 100 percent obvious? The odds still suggest that there is a solid gap between the teams - BetOnline has Cleveland at -150 to win the East and Boston at +250. I'd suggest that the gap is smaller than that - especially given the uncertainty about Thomas - but considering that James has been to seven straight NBA Finals out of the East, he rightly deserves the benefit of the doubt.
The Warriors aren't losing any sleep: Golden State has seen some bold moves by many teams this offseason to try to close the gap - Houston, Minnesota, Oklahoma City, and so on. While those teams and Boston are all better, Golden State is the proven force firmly in the driver's seat, and that hasn't changed. If anything, Golden State is probably less worried about Boston in the short term. By insisting on trading the Brooklyn pick instead of Jaylen Brown or Jayson Tatum the team is firmly committing to a core that is at least a year away from prime time - especially when you consider that Irving and Hayward both have to get used to new systems, learn how to coexist with each other and the others, and grow fully into their own primes. Maybe the 2018-19 Warriors are worried, but right here and right now this doesn't change too much.
Bettors are all, rightly, going to be confused: There are just too many unknowns in the NBA right now. Are the Warriors still hungry enough? Will all the blockbuster moves work out? If not, which ones crater worst? Is the dealing done yet? Can Harden and Paul coexist? What is Boston? What is Cleveland? What matters anymore? Until the season gets rolling and we can move beyond speculation and into reality it is going to be too tough to take a firm stand about much of anything - and anyone who does probably can't be trusted too much. Now more than ever, patience is key for bettors.
Read more articles by Trevor Whenham