NBA Handicapping: Celtics have a Tough Path to Championship with Cleveland in the Way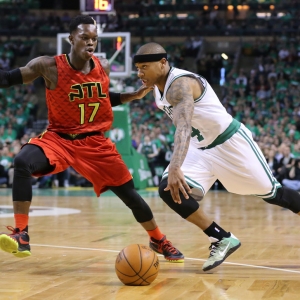 The Eastern Conference of the NBA has been stale for too long. It's been whichever team that LeBron James is playing on and then everyone else. For large stretches of this year it has felt that the Boston Celtics had the best chance we had seen in a long while of breaking that string of dominance. Imagine the possibility of someone other than the King repping the East in the finals!
So, as we get closer to the playoffs, is it getting easier to believe that this is possible? Cleveland has had issues this season and isn't exactly tearing up the league. Can Boston finally change things? Sadly, for four big reasons it's not as easy to be optimistic as those who are sick of the Cleveland show surely wish it could be:
Free $60 in Member NBA Picks No Obligation Click Here
The Cleveland Problem: The Celtics were playing for first place. Home-court advantage. Serious bragging rights. A psychological edge bigger than Massachusetts. And in the face of that they laid a humongous egg. It's one thing to lose a tight battle to a serious rival. Losing to LeBron James in April doesn't have to be a bad thing. But to welcome a floundering power into your own house and let them win by 23 is just incomprehensible. The worst part, too, is that for the most part the Celtics were fielding the team that they would choose to field. There were no serious excuses. No big asterisks to explain or discount the result. No glaring reasons that we can look at, nod, and no things will be different next time. Boston just showed up at a gunfight with a rubber knife, and they got what they had coming to them.
That's concerning on so many levels. The psychological damage it could do on a team that already had to know it was an underdog could be immense. That Cleveland can clearly turn a switch like that even when they seem to be swirling out of control has to be terrifying for Boston and everyone else in the East. That Boston actually won the first quarter only to be down by 15 at the half is just brutal. It is dramatically harder to believe that Boston can beat Cleveland in a series than it was Wednesday afternoon. The chances of Boston being able to win the East without going through Cleveland are extremely slim without an injury to LeBron, so the Celtics have a massive problem.
The Isaiah Problem: It's this simple - when Thomas is on the court this team is dramatically, concerningly better than they are when he is on the bench. The Cleveland game was a perfect example. Thomas had a strong first quarter, and they led by one at the break. He sat down for six minutes to start the second, and Cleveland went on a 22-4 run and the game essentially was over. This isn't an isolated incident, either - the Celtics are scoring just less than 90 points per 100 possessions since the all-star break when Thomas sits and just more than 114 per 100 when he is playing. And it was almost as bad before the break.
Fans will point out that this isn't as much of a concern in the playoffs because Thomas can and will play more. It doesn't take a defensive genius to game plan against a team with one dominant player, though. You focus relentlessly on him, doing everything you can to stifle, frustrate and exhaust him and hope you get him into foul trouble. Even if he doesn't commit fouls he's going to get mentally and physically worn down, and for a guy the size of Thomas that's an obvious concern.
This team needs Thomas at his best to have any chance at all of a deep run, and it's harder to have faith in that than it should be. Unless Marcus Smart can suddenly and dramatically quit being terrible, this could quite possibly - even likely - be the death blow for the hopes of this team this year. Luckily, there is a good chance that with Brooklyn's first-rounder they have will solve the point depth issues in a real hurry.
The big game problem: To win in the playoffs you have to beat the best teams. There is no way around that. And it is something that the Celtics just haven't been very good at this year. They were just absolutely curb-stomped by the Cavs as we discussed. They have lost both of their games to San Antonio. They split with the Warriors. They are only 1-3 against Toronto. They've split against Washington. Overall they are 4-8 against the other top four Eastern teams, 2-4 against the big three in the West, and 29-6 against the rest of the Eastern Conference.
The Celtics have done a very good job of beating the teams they have no excuse not to beat, but you don't play them in the playoffs. Their inability to consistently step it up in big games is a serious concern going forward.
The Al Horford problem: Horford was Boston's big postseason splash - not the biggest they attempted but the biggest they pulled off. And for the most part he has been solid. One particular stat stands out, though - when Horford has 10 or more rebounds in a game the team is 8-1 this year. So when he is successfully aggressive on the boards the team benefits. The issue, though, is that he had 18 such games last year and only half as many this year. Going one step further, the team is also 6-1 when Horford has nine boards in a game. This, then, isn't so much a problem as a reality - this team is better when Horford is crashing the boards, so they really need him to be healthy, present and aggressive from this point out if they want to have a real chance.
Get your $60 worth of member's picks absolutely free - no obligation, no sales people - you don't even have to enter credit card information. You can use this $60 credit any way you please on any of our top NBA handicappers. Get free picks now.
Read more articles by Trevor Whenham