NBA Handicapping: Can Miami Heat Keep on Winning?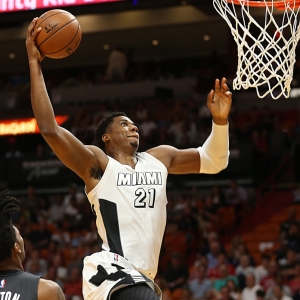 There are a lot of surprising things in the NBA this season. There always are. The most significant of them, though - at least in the last month - is the Miami Heat. After starting the season a truly awful 11-30, they have somehow won 12 straight games. Now they are just two games out of the final playoff spot. Strange things happen all the times in sports, but few as strange and unpredictable as this.
So, what does it all mean? Total fluke, or the start of a resurgence? How long will it last? Should bettors trust it? So many questions. Here are six factors to consider when looking for answers to them:
Trade deadline puzzle: The trade deadline comes up on Feb. 23. A month ago the decisions were easy - they were sellers. Goran Dragic was going to be very attractive and easy to deal, and James Johnson and Dion Waiters were both outplaying their cheap contracts and were going to be assets that could return a decent price, and they aren't likely to stick around in free agency because they have earned themselves a very significant raise.
Now, though, those deals aren't quite as easy to figure out. They are still there to be made, and all three players have made themselves more attractive. The team needs to decide, though, if they think they can make the playoffs, and if doing so is worth giving up the potential return they can get at the deadline.
They aren't desperate for cap space by any means because after March 1 they can clear Chris Bosh off the books and they will have $40 million of cap space even if they do nothing. There is no clear answer here and only two weeks to figure out a course of action. It will be interesting to watch and see what they decide.
To further complicate things, they do own their own first-round pick this year, and it is a strong draft, so if they aren't confident about not only making the playoffs but doing some damage then the incentive could be high to make some deals now to add assets and likely improve the number of balls they get in the lottery as well. If they are going to trade Dragic then this would be a good year to do it because of the number of very good point guards in the lottery.
Schedule-aided success: Twelve wins in a row matters no matter what. There have been some very nice wins as well - they kicked things off by beating Houston, and they also have wins over the Hawks and, incredibly, the Warriors. There have been some very easy wins here as well, though - they've beaten Philadelphia, Minnesota, Chicago, Dallas and Brooklyn twice. You can spin that either positively or negatively - that they have taken care of the games that they have to be winning, or that their current success has been driven by a weak spot in the schedule. They have also played eight of the 12 games at home - making up for an extended streak of road games caused by a circus visit in Miami.
Dion Waiters: It has been a rough road for Waiters the last couple of years. He has really found his stride recently, though, and is playing as well lately in Miami as anyone has in a couple of years. He was the Player of the Week the last week in January, and after fighting injuries early has really been impressive. If they choose not to trade him then he will likely opt for free agency. There is no guarantee that he can stay healthy or remain this productive, but as long as he does he is a big asset for this team. Shockingly.
Erik Spoelstra: Maybe the biggest thing this team has going for him is Spoelstra. He is one of the top coaches in the league - a step behind the very best like Popovich, Kerr, Stevens and the like, perhaps, but right behind them at least. After having so much to work with for so long in Miami he has dealt admirably with the reality of a totally different task, and the strength of their play recently has a lot to do with his ability to adapt, adjust and motivate. They are certainly an easier team to believe in with him at the helm.
Playoffs?: We've talked about the possibility of a playoff run and what it could mean at the trade deadline and beyond. But how likely is it? The biggest concern is the logjam of teams. They are only two games behind Detroit for the eighth spot, but Charlotte is in between them, and Milwaukee is functionally tied with the Heat. The Knicks are only a further game and a half behind, but it is very tough to believe that New York can contend given the circus they have turned into. The Bulls are a game ahead of the Pistons, and then everyone else in the East is much better. Realistically, then, there are five teams vying for two spots. Tough competition - especially considering at least three of the teams are probably more talented right now than Miami is.
Betting performance: The Heat haven't been much to watch for a lot of this season, but they have been a pleasure to bet on - at 30-22-1 ATS they are the third-most-profitable team in the whole NBA. Not surprisingly, a lot of that success is recent - they are 11-0-1 ATS over this 12-game winning streak. They are 16-11 ATS on the road, so they were still breaking even at 12-11 ATS before they got hot. Thanks to solid defense and underwhelming offense they are also a strong "under" team - the under is at 29-24 on the season, and 17-10 on the road.
Get $60 worth of member's picks absolutely free - no obligation, no sales people. You can use this $60 credit for of our top NBA handicappers. Free NBA predictions here. Also, for a limited time only, you can get three handicappers NBA picks for the price of one! Click Here for more details !
Read more articles by Trevor Whenham