NBA Handicapping: Williams Signing Makes Rockets a Force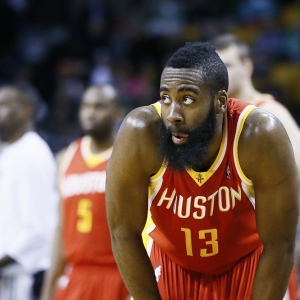 The Houston Rockets have been viewed for much of the season as one of the Big 3 in the Western Conference, though few probably give them much of a chance against the Warriors, and they even stack up behind the Spurs in the eyes of many. In adding Lou Williams from the Lakers at the trade deadline, though, they have clearly signaled that they aren't content to be just an also-ran and that they don't necessarily believe that they have to lie down and accept the superiority of San Antonio and Golden State - which is what every other team in the West has already done.
Free $60 in Member NBA Picks No Obligation Click Here
Houston paid a fair price to add a guy in the midst of the best offensive year of his 11-season career. It's a move that is worth looking at more closely for bettors - both because of what Williams brings himself, and what it means for the strategy of the Rockets.
Lou Williams: Adding Williams to this bench to join Eric Gordon is almost unfair. They have been two of the most impressive bench offensive threats in the league all year, and now they are together. Other teams may have made splashier deals near the deadline - Toronto became much more able to contend with the Cavs, and New Orleans somehow managed to land a Top 15 NBA player for not much more than the loose change they found in their couch.
Williams, though, could easily prove to be one of the most valuable playoff additions. The team's three leading scorers are all ideally shooting guards now, which creates some issues of playing time that they will have to deal with, but there are lots of solutions - especially when those three players could include the MVP and Sixth Man of the Year. For a lot of teams, having this many scorers in the backcourt would be a big issue, but this team likes to score, they move the ball well, and Mike D'Antoni has never been afraid to experiment.
Williams will be highly motivated, too, after going from a Lakers organization that was a mess off the court, and far from ready for primetime on the court, to a Houston team that is no worse than the third-best team in the conference. Williams has gone 11 years in the league without making a significant playoff run, so he will want to take every opportunity presented. So far he seems very comfortable - he had 27 points in his debut and 17 in the second game, and he and Gordon have worked very well together. This team unquestionably got better by adding Williams.
The Spurs: It's quite likely that the Rockets will have to beat the Spurs to earn their shot at the Warriors. This addition of Williams really adds a wrinkle to that matchup - and I would not be happy about it if I was a San Antonio fan. Houston now easily has the ability to put three fast efficient scorers on the court now with Harden, Gordon, Beverley and Williams to choose from. Houston already scored better than anyone but Golden State and made more threes than anyone. Now by going small and fast they can make it really tough to keep Tony Parker on the court for long periods of time. His leadership and offensive influence is very important for the Spurs, but he just can't keep up with those guys defensively and he'll become a liability. You can't hide Parker when three guys are out there, so you can't really play him when Houston goes with that lineup. It gives D'Antoni the ability to dictate the play for periods of time, and that is a nice edge for him.
San Antonio still has plenty of other defensive weapons, and the best coach on the planet, so they will find ways to adjust, but this is a very interesting twist in this rivalry.
Golden State: The addition of Williams is very clearly a move directed at the defending Western Conference champs. The Warriors can score pretty much at will, and lately have been just blowing teams out of the barn when they want to. Houston was already the only team in the league that could come close to matching them - Golden State averages 118.2 points per game to Houston's 115.2, and no other legitimate team is better than the Clippers at 108.1.
By adding Williams they just got better at scoring, and they hope that that means that they got more dangerous as well. The team's most recent game could be a snapshot of their vision. Against Minnesota the game looked more like an all-star game than a regular-season game as Houston won 145-130 in a game that was obviously very short on defense.
Houston must figure that if they can just outscore everyone they play then maybe that's what they should do. It gives them as good a chance against Golden State as anything else would. With that roster you certainly aren't going to be able to smother the Warrior offense for seven games.
Read more articles by Trevor Whenham