NCAA Basketball Betting Advice: Differences Between Conference and Nonconference Wagering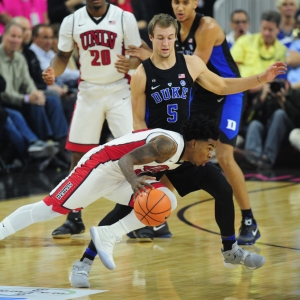 December marks a very important shift in college basketball from the wild west world of the nonconference schedule to the crucial grind of conference play. And thanks to the quirks of schedule making, that shift is happening earlier than usual this year. It's a very significant shift for players and perhaps even more of a shift for bettors. If you bet conference play in the same way as nonconference play then you are going to struggle to see ideal profits. The biggest difference between nonconference and conference play can be expressed in a single word - "More". Conference play is, in so many ways, more than nonconference action. Let's look at six of those ways:
More intense: Nonconference can have big marquee matchups that don't lack intensity, and tournament play can always be intense. But large parts of the nonconference schedule mean very little. They are against teams that are far from rivals, and it can be hard to get motivated for a game on a Tuesday against a team you have barely heard of. In conference play, on the other hand, every game matters. Some games are against ongoing rivals. Every game counts the same when it comes to determining a conference champion. The average conference game is dramatically more important, and therefore intense, than the average nonconference game. That means that the average effort level is more reliably higher, and that makes games more straightforward to handicap.
More familiar: In nonconference play it is far from uncommon to see teams play that have never played before or that only play very infrequently. At the very least, players are often playing teams that their school hasn't played since before they enrolled. Familiarity leads to more predictability for handicappers because we know more accurately how teams match up and what to expect. In conference play teams that play meet every year and often more than once.
More similar: There are obviously exceptions, but as a general rule different conferences play a style that is more familiar to the other teams in their conference than to other teams in other conferences. It makes sense, too, because teams need to be built to deal with the types of teams they most often play. It is very tough to handicap a game in which teams have dramatically different styles because you have to figure out which team is more likely to set the tone of play and control the tempo. Conference play often eliminates that challenge.
More experienced: Most teams have to rely on freshman players, or underclassmen who haven't played much, to play at least some minutes. Some teams need to rely on freshmen much more than that. In the early days of nonconference play those players are short on experience. By the time conference play starts those players have had a fair bit of playing experience and are more comfortable with the demands of college basketball. The more experienced a player is the more consistent he can be and the more accurately we can know what to expect from him.
More banged up: The opposite side of being more experienced is that players are also more banged up. Basketball is a tough game on bodies, so as conference play starts players have played up to a dozen or so games, and that can have an impact on the health of the players. Paying attention to how healthy teams really are, and what nagging injuries don't show up on injury reports but that still impact how teams play, can provide bettors a big edge.
More betting: College basketball's conference season starts just as the football regular season has ended and when the NFL features a lot of dud games as teams are either letting up on the gas to stay healthy after securing a playoff spot or accepting that their season is over and longing for the offseason to begin. As a result, betting action takes a fairly significant uptick once conference play starts. Action isn't nearly what it will be once football is over and the postseason tournaments near, but it is still bigger than early in the season. Along with the increased action comes more dumb money from casual bettors who don't do their homework before betting on games. As a general rule, more action is better for serious bettors as it provides more honest lines and perhaps more chances to profit from an opinion than differs from the widely-held one.
Doc's Sports could not be more excited that college basketball is here. This is the absolute BEST sport to handicap and make a profit on. Find out why here . Doc's Sports knows all the tricks to beat the oddsmakers ( read about one loophole here ), and we want to offer new clients a chance to try out our service for free. Click here to get $60 worth of free college basketball picks that can go towards to free days of service for member's picks . Get free daily college basketball predictions on Doc's Sports NCAA hoops picks page .
Read more articles by Trevor Whenham