NCAA Basketball Betting Advice: Top Teams that are Hard to Handicap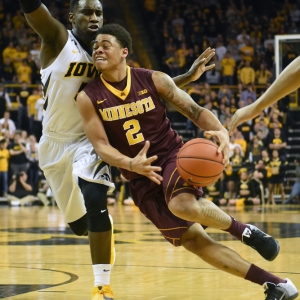 The college basketball season has only just begun. We have had a couple of high-profile games, but for the most part it has been mismatches and glorified scrimmages. It will be a while until we really know anything about any teams. Still, some high-profile teams are easier to get a sense of right now than others. In particular, there are five teams in the Top 25 - Top 15, actually - that are particularly tough to figure out in my eyes. Here's a look at each of them. One team that isn't on this list is Louisville - surely we can all accept that we know nothing about them after their dramatic coaching change and that we won't until they play some real competition at the soonest.
UCLA: The Bruins would have been on this list even before three moronic freshmen caused an international incident by shoplifting in China. At the heart of it is one thing - I just don't think that Steve Alford is a very good coach. He can get solid results when he has a good team - the three Sweet 16 trips with UCLA prove that. He's never gotten as much out of a team as he should have, though, and when things go south during a season they can really go south. This is a team that has really gone through some changes this year with Lonzo Ball leading a strong group away from the team. They still have talent, but they also have questions, and when Alford is leading a team that has questions I find the more pessimistic answer is often the right one.
Michigan State: There is no real shame in losing to Duke this week. The Blue Devils are really, really good. What I didn't like, though, is how Michigan State responded. Duke punched them in the mouths, and instead of punching back they wilted. In particular, Miles Bridges, who shocked many by skipping the draft after last season to come back for more, didn't exhibit a killer attitude when that was exactly what his team needed. He was almost passive. Duke's Grayson Allen was everywhere doing everything, while you had to work hard a lot of the time to figure out where Bridges was. This is still a very talented team that has a good chance at a No. 1 seed. But if they don't show a different response to adversity later on this season than they did in this game then they will be one of those top seeds that is easy to knock out of your bracket early.
Kentucky: John Calipari seems to be working harder than he typically has to this year, and he doesn't seem to be having quite as much fun doing it. It's a different team. This isn't a team full of lottery locks like Kentucky has been for years now. They are still very talented but less polished and with less upside. They are going to have guys going to school for more than a year. Weird. After years of conference dominance, this isn't the best team in the SEC. In fact they probably aren't the second-best team, either. Calipari is a brilliant coach who gets the benefit of the doubt in a serious way from me, but things are so different that it's tough to make sense of what to expect.
USC: The team has depth. There is talent at the top end. And the Pac-12 isn't as deep as some conferences by any means. Coach Andy Enfield has been on a slow-and-steady climb in his four years with USC, and people are expected another big step forward from the 26 wins and Sweet 16 trip of last season. I like Enfield, and I get why people are thinking that. But USC doesn't exactly have an institutional history of success, and the team is more balanced than wildly talented. I could see good things happening - maybe very good - but I could also see them hitting a rough patch and having some struggles. I don't have a strong sense one way or the other.
Minnesota: There is a Pitino factor here that could be a bit of a distraction here - Rick's son RIchard is the coach, so the team will face questions all year. I don't really care about that, though. What I care about is that this team looks and feels like they could be good. Really, really good. They are a really talented and balanced team, and forward Jordan Murphy could be on any team of mine any time. Whenever I am as bullish about a team as I am about this one I have to second guess it to some extent when they start the season ranked just 15th. That feels quite low to me, but that's just one opinion. Am I right, or just a little too excited?
Doc's Sports Advisory Board has set some lofty standards worldwide for college basketball handicapping. They normally do their best work at the beginning of the season. Click here for $60 worth of free college basketball picks . No credit card needed, and you will never deal with a salesman. Also, find out more about Doc's Sports Advisory Board college basketball results here . And find out a loophole that Doc's Sports has exploited that the oddsmakers don't want you to know about by clicking here . Get daily free college basketball picks on Doc's Sports NCAA hoops predictions page .
Read more articles by Trevor Whenham