NCAA Basketball Betting Advice: Handicapping Duke Heading Into Postseason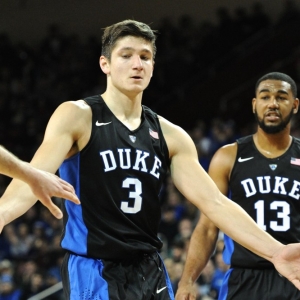 Duke is always one of the very toughest teams to deal with for bettors heading into the NCAA Tournament. They are a very public team, and people always have strong feelings about the team - they are either loved or hated regardless of how they are actually playing. Oddsmakers are well aware of how public this team is, and they are forced to compensate for that extra attention. That means that bettors have to be on top of their game to make sure that there is value around when betting on - or against - this team.
So, where are they sitting right now? And what are their playoff hopes like? Here are four factors to consider when evaluating this team:
Preseason expectations: Duke currently sits at 17th in the latest AP poll, and the Blue Devils are slotted in as a four seed in most projections. That's not bad, and most teams would kill for that. Duke started the season, though, as the No. 1-ranked team in the country, so this is a massive disappointment. It's not like they were narrowly-ranked No. 1, either - they had 58 of the 60 first-place votes go their way. Casual fans - especially those who aren't generally fans of the team in the first place - are very likely to judge the team harshly because of this fall from grace they have experienced.
Your job as bettors, though, is to ignore that. What they were ranked, or what they are now, for that matter, doesn't matter. What matters is what they can be expected to give on the court in the tournament. If anything, the fall has the potential to create some value if this team is, in your view, better than their current ranking.
Luke Kennard: While there have been disappointments and frustrations this year, one guy who has done all that was asked of him is Kennard. The sophomore guard has taken a big leap forward this year and is the driving force of the offense. He is averaging 19.9 points per game, so with a strong closing kick he could wind up averaging more than 20. He's also shooting at better than 50 percent. That puts him in truly elite territory - the last Blue Devil to go 20 and 50 was the much-hated Christian Laettner, and that was way back in 1992. Think of the guys who have gone through Cameron Indoor since then and that's an impressive accomplishment if he manages it.
The other big thing Kennard has going for him is his durability. This team has struggled to stay healthy, but Kennard is one of just two players - Matt Jones is the other - who has played in every game this season. He absolutely needs to stay healthy down the stretch for this team to offer any value at all.
Absences: Injuries have been a big factor for this team, and it's not getting any better. Both Grayson Allen and Amile Jefferson are currently banged up. They are both starters and key contributors. Allen hurt his ankle earlier in February and finally sat out against Miami. When he has been playing lately he has really lacked mobility and has been forcing too many outside shots as a result. Jefferson missed two games in January with a foot injury, and though he has been playing since then he has been limited and hasn't been useful. It's no coincidence that the team has lost to both Syracuse and Miami in their last two.
The status of both players is uncertain going forward, but with Florida State and North Carolina looming as the final two opponents of the regular season, and then a brutally-tough ACC Tournament ahead, things could really go poorly if the two can't get better in a hurry.
Injuries aren't a new issue for this team, either. Freshman Jayson Tatum is the second-leading scorer on the team, but he was out until the beginning of December. Freshman Harry Giles didn't play his first game until Dec.19. Chase Jeter hasn't played since the middle of January. They really need to find a way to get healthy and stay that way if they want to be anything close to the team they were on paper entering the season.
Betting performance: Not surprisingly, when a very public team with extremely high education falters, the result is often dismal betting performance, and that's the case here, too. They are 22-7 straight up but just a dismal 11-17 ATS. They are 5-9 ATS away from home, too, which is a problem because the home games end after the regular season - though at 6-8 ATS at home they haven't been great there, either.
In the last 10 games they have seven wins but have covered the spread just three times. They haven't been much better on the total, either - they have gone "under" 15 times and "over" 12.
Doc's Sports has had a winning tradition for more than four decades. Don't believe us? Try us out for free, and we are convinced you will be a believer. Get $60 worth of free sports picks - members' picks just like our paying clients get - here .
Read more articles by Trevor Whenham
---
Most Recent College Basketball Handicapping