NCAA Basketball Handicapping: Pac-12 Poised To Make Some Noise in NCAAs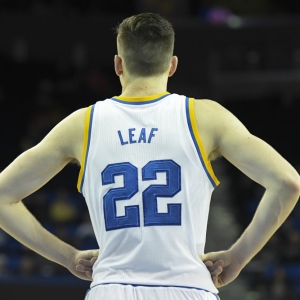 The Pac-12 has gone through some rough times in basketball the last few years. There is usually a decent team in the conference, but depth has really been lacking. Considering the historic legacy of the conference and John Wooden, it has been more than a little embarrassing - the conference hasn't appeared in the Final Four since 2008.
This year, though, things are a little different. There are three teams in the top seven of this week's AP poll, and all of them have serious Final Four potential if everything goes right. UCLA is ranked third, driven by two freshmen who won't likely last beyond the lottery in the NBA Draft this year. Oregon is ranked sixth, with Arizona one spot back in seventh. The conference is likely to have a No. 1 seed in the tournament, and no one will be in any hurry to play any of the three teams. What a change.
Free $60 in Member College Basketball Picks. No Obligation Click Here
So, what should we think about this conference? Is this the year that things change, or will the Pac-12 still be the Pac-12?
Conference competition: The conference has some nice talent - Markelle Fultz of Washington could be the draft's top pick this year if Lonzo Ball of UCLA isn't. What it doesn't have, though, is much depth. It is extremely top heavy. Aside from these top three there are only two teams that have any chance of making the tournament, and both are firmly on the bubble. I would have USC in and Cal out if things started right now, but it would be far from surprising to see just three teams from the conference dancing depending on how the rest of the season plays out. That means that these teams have lacked a whole lot of challenge in their conference play, which means they are shorter of seasoning heading into the tournament than would be ideal - especially because there is a lot of youth on these teams.
They have been just beating each other up this year instead of spreading out the good learning experiences - two of UCLA's three conference losses are to Arizona and Oregon, Oregon lost to UCLA, and Arizona lost to both teams. Having the chance to play against each other is better than nothing, but I'm a much bigger fan of situations like the ACC this year which could have nine conference teams, or the Big Ten, which is on track for about seven.
Experience: There is a range of experience from these teams. On one hand, Oregon's five most productive players this year are two seniors, two juniors and a sophomore. They have only two active freshmen, and just one plays meaningful minutes - and it's not like the team would be lost without him. On the other extreme you have UCLA. Their leading scorer is freshman T.J. Leaf. Their most important player is freshman point guard Lonzo Ball. Guard Aaron Holiday is a key contributor and a sophomore. Seniors Bryce Alford and Isaac Hamilton play big roles, but this is a team that will succeed or fail this year based on how well their youngsters will perform - the opposite of Oregon. Arizona is much like UCLA, except even younger. Their top five scorers feature three freshmen, a sophomore, and a junior.
Youth isn't by itself a reason not to bet on a team in March, but if two teams were otherwise very similar I would always take the more experienced one.
Betting performance: It's always useful to look at how teams have treated bettors so far to see how they might treat them in the postseason. It's not a perfect guarantee - teams don't always remain consistent on this front when the pressure amplifies - but it is still useful as a guide. I'm not necessarily saying there is a link, but the most experienced team is also the one that has been best to bet on.
The Ducks are a nicely-profitable 17-12 ATS, and they have also gone "under" the total 17 times to provide profits there. Arizona is a bland 14-14-2 ATS but has salvaged things slightly by producing a (very) little profit on the total - they have gone under 16 times and "over" 13. UCLA has been worst of all - there is no real money to be made on their 15-14 ATS mark or their 14-13 mark on the totals.
The oddsmakers: With three well-matched teams like this, the easiest way to get a sense of where they sit is to look at futures odds. Sportsbooks hate losing money, so their opinions are generally pretty sound. On that front UCLA has a massive edge - BetOnline has UCLA as the third choice to win the title at +700, while the other two are both at +1400. Interestingly, that doesn't align with most bracket opinions right now - ESPN and others have Oregon as a No. 2 seed and UCLA and Arizona on the three line. I'll tell you one thing - I wouldn't want to be in ay region that has UCLA at three.
Doc's Sports has been established as the best in the business for well over 40 years. We want you to see why! That is why new clients can get $60 worth of member's picks free by clicking this link for a no-hassle signup .
Read more articles by Trevor Whenham