NFL Survivor Pool Picks and Advice: Week 2
by Matt Severance - 9/19/2017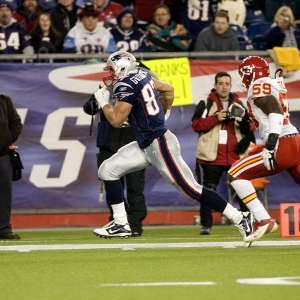 Hello, devoted minions. I owe you an apology and an explanation.
First off, I have been doing these Survivor Pool stories for several years here at Doc's, and I believe last week was the first I missed. The reason? Somehow a major hurricane named Irma skirted around the bottom of Florida, took a right turn and slammed into my location. As I write this, I still have no power at my home. (Don't even get me started on what I'd like to do to Florida Power & Light right now. It isn't close to being legal.) So I decided to visit a public library for the first time since probably 1989 in order to write this week. I honestly didn't know they still existed. I feel like I'm being looked at as a pedophile here because the only other age groups in the library during a weekday are small kids and old people. Whatever.
As for the explanation, it's for my Week 1 story. I have always reminded you to wait until the last possible minute on Sunday to make your Survivor Pool pick. I write these early Wednesday to get you the information as soon as possible, but injury news always happens after this story is posted. In Week 1, I made Cincinnati over Baltimore my top choice early in the week. However, I also mentioned that Pittsburgh over Cleveland was rather tempting and might be the choice come Sunday. When Browns stud rookie defensive end Myles Garrett, the No. 1 overall pick in this year's draft, hurt his ankle in practice later that week and was ruled out, it was all I needed to switch from the Bengals (thank God) to the Steelers.
For Week 2, I was able via carrier pigeon to get a pick into my main Survivor Pool competition (I'm in a few, but one has about 200 players) and I went with Seattle over San Francisco. I was definitely sweating that a bit -- but then I've been sweating for 10 days now. That was more of a defensive move as I figured most people would take Oakland over the Jets and that's largely what happened. It was one of the most chalk weeks in a long time. Find me an upset. Yeah, the Giants were favored Monday over Detroit, but that's far from an upset. And you shouldn't be taking Monday night games regardless.
So barring Hurricane Maria also hitting here, and if that happens I'm 100 percent moving, there should be no more problems the rest of the season. Here are the picks for Week 3, with team listed first the choice.
First Down
New England vs. Houston: Pats are easily biggest favorites on the board and it seems almost impossible for them to lose back-to-back home games after the Week 1 shocker vs. Kansas City. I don't believe in looking ahead, but you probably wouldn't use the Pats again after this until Week 8 vs. the Chargers. So they probably stay in this spot for me, again barring some major injury (Gronk).
Second Down
Green Bay vs. Cincinnati: I definitely pondered the Packers and still might, but a few things scare me here. First, they are really banged up after Sunday night's loss in Atlanta. Second, the Bengals are on extra rest, have a new offensive coordinator and can't possibly be this bad. They have way too much talent.
Pittsburgh at Chicago: I've already given up on my Bears for this year after Sunday's embarrassing loss in Tampa. I'll check back on them only when Mitch Trubisky finally gets a start or John Fox is fired.
Miami at NY Jets: Look, the Jets probably aren't going 0-16. I am not trusting my Survivor life on Jay Cutler if I can help it, especially on road. The Dolphins also have done a lot of traveling because of Irma. Just saying ... an upset here would not shock me.
Carolina vs. New Orleans: This might have been the pick if the Panthers hadn't lost Pro Bowl tight end Greg Olsen to a broken foot in Week 2. That will change Carolina's offense as he was Cam Newton's most trusted target.
Third Down
Buffalo vs. Denver: Trap game alert! Broncos are riding a Mile High (pardon the pun) after crushing Dallas. One of a few factors why this sets up well for a Bills upset.
Detroit vs. Atlanta: Oh, the chest-thumping I've started hearing already from all my Michigan peeps. The Lions do look pretty good -- especially that defense. They might be the NFC North's best team right now with Green Bay's injury issues. This smells like a letdown game for Atlanta off the big Green Bay win.
Jacksonville vs. Baltimore: It's 9:30 a.m. ET football from London. The Ravens are 2-0 but have beaten the sorry Bengals and Browns. The Jaguars are as unpredictable as ever but have won their past two overseas.
Minnesota vs. Tampa Bay: I think the Bucs are good, but that the Bears inflated their value a bit. Swap these teams if Sam Bradford doesn't return from injury for the Vikings.
Philadelphia vs. NY Giants: Were Giants fans yelling Boo! or (Coach Ben) McAdoo! on Monday night? Yeah, pretty sure the former. Their offense looks horrendous, and now Big Blue is on a short week.
Tennessee vs. Seattle: Very similar teams here offensively as they each like power football and have mobile quarterbacks. Seahawks' offense hasn't gotten going yet, though.
Kansas City at LA Chargers: Perhaps the Chargers shouldn't trot out kicker Younghoe Koo for a late 44-yard field-goal try to tie or win this week? Maybe move back a yard or something?
Washington vs. Oakland: First Raiders visit to Washington in eight years. This should be the highest-scoring game of the week, and last team with the ball likely wins.
Dallas at Arizona (Monday): Ezekiel Elliott keeps finding new ways to diminish his reputation. Yet, I still regret not taking him early in the second round of my fantasy draft as it now appears he will play the entire 2017 season as the NFL and NFLPA battle over his suspension in the courts.
Fourth Down
San Francisco vs. LA Rams (Thursday): I almost don't want power back by Thursday night (KIDDING!) because then I'd have to watch the worst TNF matchup of the season.
Indianapolis vs. Cleveland: I almost don't want power back by Sunday afternoon (I'll be dead or insane if not) because then I'd have to watch .... yeah, I wouldn't watch this trainwreck regardless.
New to Doc's Sports? We'd like to offer you $60 of free, no obligation picks. Try us out. See why experience matters, and why we have been around for so long while others have come and gone. Click here to sign up today . Also, get three handicappers for the price of one when you sign up for a full-season football package! Click Here for details . Get free NFL betting picks weekly on Doc's Sports free football picks page .