NHL Betting Advice: Keep Riding Columbus Blue Jackets or Jump Off Bandwagon?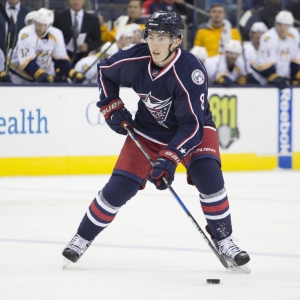 The Columbus Blue Jackets lost 2-1 in a shootout in Florida on Nov. 26. They haven't lost since. Fifteen straight wins. That's amazing for any team in this brutally tough current NHL environment, never mind a team that was the second worst in the Eastern Conference last season. They are already in elite company, and with a win against Edmonton on Tuesday night they could own the second-longest winning streak of all time in the league - just one behind the 17 wins of the 1992-93 Pittsburgh Penguins.
The team unquestionably underachieved last year, and it was fairly easy to see them being solidly better this season. Anyone who said they saw them here, though - entering the new year with the best record in hockey - is flat out lying.
So, how are they doing it? And, as importantly, is there any reason to believe that they can keep doing it - or at least something close to it? Here's a look at four factors that influence the answers to those questions:
Winning coin flips: Before this streak started the Blue Jackets were 5-5 in one-goal games. They have won six of them in the last 15, including two in a shootout. This current success is sustainable - Pittsburgh, the second-best team in the league right now, is 12-4 in one-goal games on the season. You have to ask, though, whether the current success for Columbus reflects a new reality or whether the truth is closer to what we saw earlier on. More likely it is somewhere in between. With the league as tight as it is, though, a couple of lucky breaks not going your way can make the difference between home-ice advantage and a wild-card spot. When a coin flip comes up heads six times in a row I'm not going to guarantee tails next time out by any means, but I'm also not going to mortgage my house to bet on heads. This current run of previously unseen success in these crucial games is a concern for me.
Quality of opponents: It's interesting how the narrative has shifted here. Early on it was easy to dismiss the streak because they had beaten no one. Five of their first six wins came against four of the five worst teams in the league right now. As things have gone on, though, they have really made some impressive statements. They crushed the Penguins 7-1, then they beat Atlantic Division leaders Montreal the very next night. And last time out they ended Minnesota's 12-game winning streak - and did so on the road. Seven of their last nine wins have come against teams that are currently in playoff spots. Say what you will about this streak, but you can't accuse them of just benefitting from circumstance.
John Tortorella: Tortorella may be the toughest coach in the NHL to judge. He has won a Cup in Tampa Bay, and he has long traded on that success. At his best his is obviously elite. At his worst, though - like his one dismal year on Vancouver - he is the worst coach in the sport. I personally wouldn't want him near any team that I care about, but right now he is obviously the exact perfect fit for this team and what they need. He took over last year just a couple of weeks into the season, and the first season wasn't great. When they started 2-3-1 this year it seemed like he was about to get booted again - and then inevitably rehired because teams can't quit giving him a chance. I remain very skeptical about him as a long-term solution, but it's working for now.
The formula: The formula has been pretty simple - they have scored more goals than any team except Pittsburgh (and the Penguins have played three more games), and they have allowed the fewest goals in the league. As a very general rule, the better your goal differential is, the better your team is, and at +50 they have a 13-goal advantage on any team in the league.
There are few reasons for concern here, though. First, though a very good goalie, Sergei Bobrovsky's .934 save percentage is higher than he has ever had and higher than is likely sustainable. More significantly, the team is scoring on a likely unsustainable percentage of shots - more than 11 percent right now. The save percentage and the shooting percentage only need to correct slightly and suddenly things aren't quite breaking their way as often.
And then there are personnel concerns. Four guys are at or about a point per game right now - a very elite level in the current NHL. Cam Atkinson leads the way with 37 points in 35 games. He had 53 points in a full season last year and 40 in the two seasons before that, so he is having a career year. Alexander Wennberg has 33 points already, but the 22 year old had just 40 last year, so we can't be confident he can keep up this clip. Brandon Saad is ahead of pace, too. Only Nick Foligno has proven he can sustain this offensive output. And the top scoring defenseman, Zach Werenski with 24 points, is a 19-year-old rookie who previously played in college at Michigan, so it seems almost inevitable he will hit a wall at some point.
Add it all up and it is hard to believe they can keep scoring quite like this and defending quite like this, which makes it tough to believe that they can keep winning quite like this, either. They have the makings of a playoff team, but they sure don't feel like a world beater all season.
$60 worth of member's NHL picks absolutely free - no obligation, no sales people - you don't even have to enter credit card information. You can use this $60 credit any way you please on any of our top hockey handicappers. Get your free picks by clicking here ! Also, for a limited time get three hockey handicappers for the price of one! Click here for our 3-for-1 NHL picks offer .
Read more articles by Trevor Whenham