NHL Expert Handicapping: Why Montreal Canadiens are this Bad So Far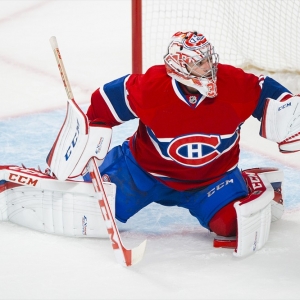 This is definitely not how things were supposed to turn out in Montreal. After an offseason that featured a big trade and a key contract signing, the expectations were high for the Canadiens. They always are. But a couple of weeks into the season the team sits 30th overall with just three points in eight games. Only Arizona is worse, and the Coyotes are truly terrible. Montreal won their opener and then has dropped seven straight. The city is not happy, but then they are only happy when they win a Cup - which they have done more than any other franchise, though not in a long time.
Free $60 in Member MLB Picks No Obligation Click Here
So, how have the Habs gotten to this point? How quickly can they get out of it? And what does it mean for bettors? Here are five factors to consider when pondering those questions:
Carey Price: This summer the Canadiens gave their goaltender an eight-year, $84 million contract to make him the highest-paid player in the league. Maybe you could argue that it was a bit longer than you wanted to go for a 30-year-old with some injury issues, but when the best goalie on the planet needs a new deal you give him one, and this is what it needed to be. No issues. The problem, though, is that Price has not come close to delivering value for the money so far. With a 1-5-1 record, a 3.94 goals against average, and a .881 save percentage he is looking more like a failed minor leaguer than a Hall of Fame lock. He'll bounce back at some point, and hopefully get more support from the backend as well, but right now his play - and the play of backup Al Montoya, which has made Price look good in comparison - just isn't good enough to help this team. As much as any player on any team, Price is this team, so until he gets back on track the team won't get back on track, either.
Missing offense: Montreal has 13 goals in eight games and has a season-best three goals in just two games. Price could be imitating a brick wall and that still isn't enough offense for this team to be winning anything. How bad is the offense, really? Well, they have scored on 3.9 percent of their shots this year. That means that opposing goalies have a .961 goals against average, which is impossibly high. By contrast, opponents have scored on 12.6 percent of their shots. So, at this point the only way Montreal could beat opponents is by getting more than 100 shots per game. The offensive depth has always been a concern with the team. They traded away their top prospect this summer for Jonathan Drouin, and he has been solid with five points. The depth just hasn't been there, though, and you have to imagine that they are looking for another piece to add. Colorado's Matt Duchene stands out as a good fit, but the cost probably isn't workable. The problem for Montreal is what it has been for a long time - they don't have a top center and really lack depth up the middle. Top centers don't grow on trees, and they really don't come cheap. The offense will surely get better because it is unsustainable for even a totally inept offense to struggle this badly long term, but the upside seems limited.
Alex Galchenyuk: No player typifies what makes the Habs and their decision-making process so frustrating more than Galchenyuk. He was the third overall pick in 2012 and had 30 goals just two years ago. But the team has seemed to make it their mission to shatter his confidence. He's been shuffled around - on lines and to the wing and back - and now he has been demoted to the fourth line. That is insane in any circumstance, but especially for a team that is so offensively awful. Montreal lately has been impatient and has made rash decisions instead of having long-term patience, and the handling of this player is a clear example. At this point it wouldn't be a surprise to see him traded away, and that would be a total waste of an asset - not only because no team is giving a struggling team anything close to full value in trades.
Marc Bergevin: It's hard to have a whole lot of respect for the GM of this team. Trading away P.K. Subban for Shea Weber was moronic no matter what - Subban is so much younger. But to justify it with a character assassination of one of the most likeable players in the league was just bizarre. That's the most obvious example of his shortcomings but far from the only one. This roster he has built isn't as bad as the record by any means, but it is certainly not consistent with the trends of this league. And I won't even get into the stupidity of how he has handled the hiring and firing of coaches. Bergevin is going to get fired at some point, and everyone knows it. It's a distraction, and we can only hope that the change is made before he has a chance to do more damage with another trade or another coaching change.
Total lack of patience: As a Canadian I have to be careful how I talk about Montreal, and the province of Quebec, because it's very easy to get in trouble. It's a great city, and the French culture is amazing. But they are very different than anywhere else in Canada and so very unique compared to any other city in the league. I'm trying not to say that when it comes to hockey they are just plain insane. They have impossible expectations. They want to be the best team in the league all the time, but they won't tolerate an English-speaking head coach and would prefer that their stars are francophone as well. No market overreacts more, and no media is as unforgiving or lacking objectivity. Getting a team back on track in a hurry is tough in any situation, but it can't be any harder than it is in Montreal.
$60 worth of member's NHL picks absolutely free - no obligation, no sales people - you don't even have to enter credit card information. You can use this $60 credit any way you please on any of our top hockey handicappers. Get your free picks by clicking here ! Also, for a limited time get three hockey handicappers for the price of one! Click here for our 3-for-1 NHL picks offer .
Read more articles by Trevor Whenham