NHL Handicapping: Blackhawks Look Good as No. 2 Favorite to Hoist Stanley Cup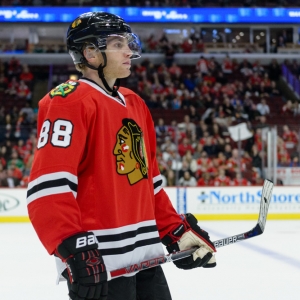 The Chicago Blackhawks have the chance to win their fourth Stanley Cup in eight seasons. In this era of the NHL that would be quite remarkable. Dominance is tough in hockey at the best of times, and the salary cap has only made it harder. The oddsmakers are reasonably optimistic about Chicago's chances of hoisting Lord Stanley's mug - they are the second choice in futures at BetOnline at +450, behind only Washington at +350.
So, are they going to get it done? Or is there too much working against them? Here are six factors to consider when pondering those questions:
Fearless reloading: GM Stan Bowman is a genius. With an ice-cold heart. Teams that have success in a salary cap league typically get into trouble eventually because guys want and need to be paid. Eventually you are paying your stars huge money, but that's fine - you have to. It's the secondary and tertiary players that kill teams. Third- and fourth-line players, or second- and third-pair defenders, play big roles in a playoff run, and suddenly they have contracts that often turn troublesome. Bowman just doesn't make that mistake. He's kept his important core around but shipped out guys who other teams would have kept time and time again. Some of those guys have done well in other spots and others haven't. But it doesn't matter, Bowman has a plan, and those guys didn't fit the plan.
There is some luck involved, of course - it's not every day you pull a guy like Artemi Panarin, the team's second-leading scorer, out of thin air. Still, the emotionless approach to roster construction has kept this team viable for a lot longer than most teams would be.
Limping into the postseason: This team has had everything wrapped up - the division and conference titles and the home-ice advantage right up to the Cup that goes with it - for a while now. As a result, they just haven't seemed to care about anything for about three weeks - they have dropped six of their last nine games.
There is no need to panic about them suddenly forgetting how to play, though. Take the Thursday night loss to the Ducks, for example. It was a toothless 4-0 loss. But the list of resting players was just silly - Jonathan Toews, Artem Anisimov, Marian Hossa, Duncan Keith, Brent Seabrook, Niklas Hjalmarsson, and Vinnie Hinostroza. For those counting along at home, that includes the team's three top scoring defensemen, their captain, and two forwards with 45 points each. In other words, they just don't give a damn. And they haven't for a while. They are focused only on getting healthy and rested for the postseason.
There is an obvious risk to that - you have to hope that after turning things off for that long you can turn them back on when things matter. There are a couple of things going on here that make it easier to trust them, though. First, the core of this team has been here before, so they know what it takes. Second, they have taken this approach before. Not each time - in 2010 they played right up to the end. Since then, though, the last few games of the season have been a vacation in their Cup years. In 2013, even though it was a short season because of the lockout so the rest wasn't as crucial, they dropped three of their last five, and their scratch list made Thursday's roster look like an all-star team. In 2015 they dropped their last four while again liberally resting guys. This is what they do.
Goaltending: The team has often got the knock of being a great team with only adequate goaltending. That is silly - they have three Cups that say otherwise. More significantly, the duo of Corey Crawford and Scott Darling has been just fine this year. They are tied for third in the league in team save percentage. This is not a cause for concern. Look elsewhere if you are determined to be concerned about this team.
The opponents that matter: The Hawks will play either Calgary or Nashville in the first round of the playoffs. They were 2-0-1 against Calgary and 4-1 against the Predators, so they have a solid edge in both cases. Win that and it will be Minnesota or St. Louis. They were 3-1 against the Wild and 3-2 against the Blues. The potential opponents they fared worst against were Edmonton and San Jose - they were 1-2 against both. They'll only have to worry about one of those at most, though, since they are first-round opponents. Add it all up and Chicago is, for this reason as well as others, a deserving Western Conference favorite.
$60 worth of member's NHL picks absolutely free - no obligation, no sales people - you don't even have to enter credit card information. You can use this $60 credit any way you please on any of our top hockey handicappers. Get your free picks by clicking here !
Read more articles by Trevor Whenham