2017-18 Oklahoma City Thunder Predictions and NBA Futures Odds Picks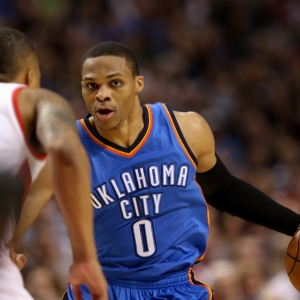 You can fault the Oklahoma City Thunder for a few things, but one of them certainly isn't a willingness to experiment. They built a team based around two superstars, and it worked reasonably well, but it wasn't going to get all the way to the promised land, and Kevin Durant realized that and bolted. So they went with one superstar. It got them an MVP title, but never in a million years was it going to win them a title. One and two superstars didn't cut it, so now they are trying three. So, they have paid more money for one of the superstars than any other team ever has, and they are hoping that the other two stick around and do some damage to the rest of the league. Is it going to work? Well, that is left to be seen. But it is going to be fun to watch no matter what - whether it's a trainwreck or a beautiful basketball ballet.
2017 Oklahoma City Thunder Betting Storylines
Normally I leave the discussion of new players until later on in the preview, but obviously that is the only thing really worth talking about with this team because it is what is going to allow this team to succeed or fail. Like Boston, Minnesota, Houston, and even Cleveland, the Thunder have been very aggressive this offseason changing their look to try to close the gap with Golden State. And more than the rest of the teams on that list, this squad's moves were mostly totally unpredictable. The Thunder's offseason has been a bit like a fantasy football team run by a guy who has had a few drinks.
Let's start with the impact of the addition of Paul George and Carmelo Anthony and what it will mean for the existing team. It should be positive. The biggest problem the team had last year was that guys beyond Russell Westbrook - Steven Adams and Andre Roberson, most notably - were forced into roles more significant than would be ideal. They are good players who played well, but they should be supporting players, and they were forced to be second and third options behind Westbrook. It was an awkward dynamic that limited the upside. Now they have clear second and third options, and that allows the other guys to fade into a more comfortable role. It's a real positive.
Now for the additions. I'll start with Melo, because he's the more interesting and uncertain. I've been a Melo guy since Syracuse, so I like the potential. There are concerns, though. First, the guy hasn't been on a functional, effective team for so long that he has surely forgotten what a team is supposed to be like. He's just gone about his business being the top guy on a perpetually sinking ship. Now, though, he'll have to adjust to the demands of competence. More significantly, he'll have to accept that he is no longer the first option - or even the second. Former top dogs who have accepted a supporting role, and who have kept their egos in check, have had great success. But it is no concern. Success here depends primarily, and almost exclusively, on Melo himself.
I've left George until last because there is the least to say. George is a truly great two-way player. He is defensively excellent and offensively more than sound. He is not a guy who shines in the spotlight, so being able to let Westbrook be the king is almost perfect. The biggest concern is the distraction of the talk of where he will be next year and beyond, but there is no reason to think he isn't going to be a pro, and he should be fine. And quite possibly much more than fine. And talk of the future is much less of a concern now that Westbrook is here long term.
2017 Oklahoma City Thunder Additions and Departures
Obviously we have covered much of this ground already - Paul George and Carmelo Anthony have been added, Westbrook has a fat extension, and not much else matters. To make room, guys like Victor Oladipo and Enes Kanter were sent out of town, along with lesser lights like Domantas Sabonis and Doug McDermott. There are some nice pieces there, but nothing that this team has done will be missed even slightly if the trades work out as well as they could. This team's offseason was pretty much as strong as an offseason can be. We should also note that Patrick Patterson was added in free agency, which is a potentially solid, low-risk move.
2017 Oklahoma City Thunder Futures Odds and Trends
Oklahoma City Thunder Futures Odds
NBA title odds (from BetOnline ): +1600 (sixth choice)
Western Conference title odds : +800 (fourth choice)
Russell Westbrook MVP Odds (from Bovada ) : +600 (fourth best)
Paul George MVP Odds : +3000
Carmelo Anthony MVP Odds : +10000
Season win total (from Bovada): 50.5 ("over" is heavily favored at -215)
Not that last year is particularly relevant to this team after the overhaul, but last season the team was a very solid 45-36-1 ATS, and the "under" was profitable as well - they went under 44 times and over 37.
2017 Oklahoma City Thunder Predictions and Futures Odds Picks
Last year Westbrook was all alone, and he was forced to play like it too often. This year the key will be that he doesn't feel or play like he is carrying his whole team on his back. If Melo can adjust to what he needs to do, and if George can settle down and focus on this year and not on being with the Lakers next year, then this group probably has the best chance to challenge Golden State. If Westbrook does too much, Melo pouts, and George shops for beachfront real estate, though, then this season could be depressing by February. They are a tough team to judge because of the range of possibilities. The playoffs are a given, but they could be a low seed that loses quickly or a high seed that makes the Western Conference final - at least. My gut tells me they lose to the Warriors in the second or third round of the playoffs, so I see the season as a reasonable success.
Doc's NBA handicapping team is offering $60 worth of member's predictions absolutely free - no obligation. You can use this $60 credit any way you please with any of our top NBA handicappers free here. Also, for a limited time only get three top NBA handicappers for the price of one! Click Here . Get free NBA basketball picks today at Doc's Sports basketball predictions page .
Read more articles by Trevor Whenham