Patch Odds to Win the 2017 Kentucky Derby with Picks and Predictions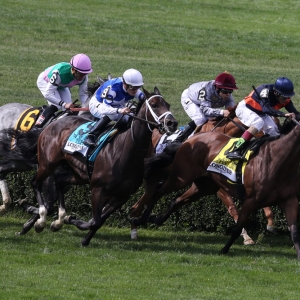 The Curse of Apollo is going to be discussed a lot when it comes to this horse leading into the Kentucky Derby, so we might as well discuss that first. In 1882 Apollo became the eighth winner of the Kentucky Derby. He had not run as a two year old - all thoroughbreds have a Jan. 1 birthday regardless of when they were actually born. In the 134 years since, no horse has repeated the feat - every other winner of the Derby ran at least once at two. Patch ran for the first time on Jan. 15. That's not good. There is more going on here, too. Since 1933 only six horses have had less than six career starts. Big Brown and Animal Kingdom were both the lightest workers in recent times - they had run just four times. As a general rule, then, a lack of experience has not been a good thing. Patch has run only three times. So, he started his career too late and has run very little since - raw and inexperienced. I'll be tossing this horse on these two factors alone, but not everyone will share my opinion, so we'll do a further preview:
Last race: Patch's last race was also his only stakes start. He wound up finishing second in the Louisiana Derby. Out of the gate he faced some bumping, but it didn't bother him too badly. He settled in the middle of the nine-horse field but was urged to move forward at about half a mile because he wasn't engaged. He went first inside to make progress then wide entering the final turn, and he fought hard down the stretch. He was no real challenge to the winner, Girvin, but was second best on the day. He was helped somewhat by the fact that eventual third-place finisher, Local Hero, hit a wall and faded badly in the closing strides. All in all it was a solid effort but not a particularly thrilling one. I would be a whole lot happier if it was just one race in the foundation he is building for the Derby instead of essentially the entire foundation. In other words, I would like this horse better if this was something to build on and not all we have really seen from him.
Prior experience: Before the Louisiana Derby he had run only in two maiden races at Gulfstream. The first was at six furlongs. He was flat footed out of the gate and trailed the field early. He made a big late move but had left himself too much to do and finished second but far behind the winner. Next time out he stretched to a mile, had a much better start, was closer to the lead, and had enough in his final kick to draw clear. They were fine races, and it was promising to see him learn from his early problems and adapt in the second race. However, two maiden races prove basically nothing. This horse is functionally coming into the Derby off of one meaningful race - and he didn't win it. It's easy to be skeptical.
Trainer: Todd Pletcher is as good as anyone on the planet 364 days a year and a disaster on Derby day. He has started an incredible 45 horses in the Derby yet has only one win - with Super Saver. He's in line to start as many as five this year, which would not be the first time he has done that. Part of his problems are with volume - when you enter multiple horses you are sure to have losers because there is only one winner. It goes deeper than that, though. His horses regularly underperform in this race. He has yet to crack the Derby code, and until he shows that he has he will be a negative for a horse on this day in my eyes. It really doesn't help his cause that a lot of the horses he brings aren't experienced enough - and this is no exception.
Jockey: The horse has had three riders in three races - Javier Castellano first, then John Velazquez, and Tyler Gaffalione in the Louisiana Derby. We know he won't have one of the first two in the Derby - Velazquez is on Always Dreaming, the star of the Pletcher stable, and Castellano opted out of a Pletcher mount entirely and will pilot Gunnevera. Gaffalione is an option, but he's very raw at the highest of levels, and I'd much rather have a more experienced rider on such an inexperienced horse. There was good chemistry there last time, though, so maybe Pletcher will give the kid a shot. For a horse like this, though, the rider isn't going to swing my opinion significantly one way or the other.
Breeding: The breeding is by far the easiest thing to like about this horse. There is stamina galore. Sire Union Rags won the Belmont in 2012. This is only his second crop of foals, but he was the second-best first-year sire last year, so he's off to a solid start. Patch's damsire is the legendary A.P. Indy, who won the Belmont in 1992. Among his many very successful offspring have been Preakness winner Bernardini and Belmont winner Rags to Riches. He was also the damsire of Derby winner Super Saver. This is a horse bred to run far. I just wish he was being given a more reasonable seasoning race or two and then being pointed to follow the trend of his bloodlines into the Belmont.
Odds: Oddsmakers do not respect this horse. He sits at +4500 at Belmont, which puts him behind 18 other potential entrants in the 20-horse field. In the final Kentucky Derby future wager held by Churchill Downs he was not one of the individual horses listed, so he was part of the 11/1 mutuel field.
Want free sports betting picks? Doc's Sports has you covered - get $60 worth of picks free from any of Doc's Sports expert handicappers. Click here for free picks (new clients only) .
Read more articles by Trevor Whenham