2017-18 Philadelphia 76ers Predictions and NBA Futures Odds Picks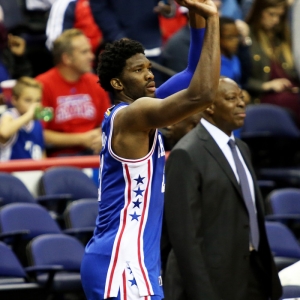 This isn't the year that we are going to see the full results of The Process. Philadelphia isn't going to win a title, and it's quite conceivable that they won't even make the playoffs. But what we need to see is progress. We need to see that they are working towards something and that they are closer to the promised land now than they were at any point in this seemingly endless period of struggle. Now, it's easy to say that, but will it actually happen?
2017 Philadelphia 76ers Betting Storylines
The team has been stockpiling and shuffling talent for a long time now, so it seems crazy to say that this season all comes down to one guy. But that is definitely how it feels right now. Joel Embiid has played just 31 games since being drafted three years ago, but he has a shiny new max contract with his name on it. Never before has a guy been rewarded so richly for so little. The upside is immense, and reports are that he is finally healthy, but if he can't stay on the court, or can't match or exceed the level of play we saw last year when he did play, then this team is really going to struggle to get where they need to be. Embiid is the rare player who drives both the offense and defense for a team. At his best he makes this a totally different, and terrifying, team.
Adding an elite, top draft pick to a team can have a big impact. Thanks to the bad luck of Ben Simmons last year, the team is adding two straight first overall picks to their court at the same time. Markelle Fultz will likely play primarily point guard, while Simmons will be more of a forward who handles the ball. There will be obvious growing pains, and it will take a long while to figure out how best to utilize what the team has, but at some point the upside here is dizzying. It's not just these two and Embiid, either. Dario Saric was solid last year and will be better. Jahlil Okafor, a third overall pick, will back up Embiid. And veterans like J.J. Redick and Amir Johnson will help guide the youngsters along their journey. Add it all up and you can be sure of a couple of things. The youth will make this team frustrating to watch at times because they will be prone to dumb decisions. But there will be flashes of brilliance so blinding that we won't believe what we saw. This team won't be anywhere near the best out there, but they will be one of the most fun to watch.
2017 Philadelphia 76ers Additions and Departures
The team hasn't made a lot of dramatic changes this offseason, but what they have done is very good. They added four players in the draft, but the only one that matters is Fultz. The team made a bold move trading with Boston for the top pick to select him. In free agency the team added Redick as a veteran influence and a clear improvement at the shooting guard position. And they brought Amir Johnson in from Boston as a depth factor to support Simmons. Johnson's influence is going to be much more about teaching toughness and providing advice than being a difference-maker on the court, though he will find his moments in the games as well. James Blackmon Jr. is also being given a look as a low risk undrafted free agent.
There wasn't much of note leaving the team. Gerald Henderson was waived, and Alex Poythress was not offered a new contract as a free agent. If either of those guys are missed at all then something has really gone wrong with the process.
2017 Philadelphia 76ers Futures Odds and Trends
Philadelphia 76ers Futures Odds
NBA title odds (from BetOnline) : +10000
Eastern Conference title odds : +2500
Joel Embiid MVP Odds (from Bovada ) : +4000
Ben Simmons MVP Odds : +8000
Ben Simmons ROY Odds : +200 (favorite)
Markelle Fultz ROY Odds : +800
Season win total ( from BetOnline ): 38.5 (over is favored at -120)
Despite the struggles winning games, the team was a betting dream - they were a very strong 49-33 ATS last year. There were no profits to be made on the total, though - they went "over" 42 times and "under" 39.
2017 Philadelphia 76ers Predictions and Futures Odds Picks
I will be very disappointed if this isn't a playoff team. That's a big climb from the 28 wins they had last year, but they have the pieces to make a bit of noise. Really, playoff qualification should be the bottom end of their expectations. What they should be aiming for is the fifth spot. Cleveland and Boston are really good, and Toronto and Washington are a step behind but still very good. No one else in the East is very good, though, and there is no reason that Philadelphia can't beat them all. Because of those expectations I like the over on the season win total for a reasonable bet.
Doc's NBA handicapping team is offering $60 worth of member's predictions absolutely free - no obligation. You can use this $60 credit any way you please with any of our top NBA handicappers free here. Also, for a limited time only get three top NBA handicappers for the price of one! Click Here . Get free NBA basketball picks today at Doc's Sports basketball predictions page .
Read more articles by Trevor Whenham