Practical Joke Odds to Win the 2017 Kentucky Derby with Picks and Predictions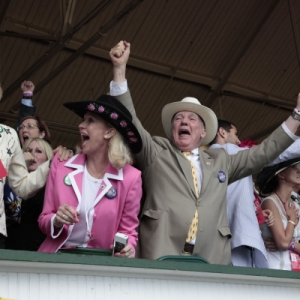 It's easy to forget when looking at Kentucky Derby contenders just how young these horses are. Though they all have an official birthday on Jan. 1, many don't turn three until much later. Practical Joke, for example, was born on April 15. A three year old still isn't fully mature, either. In human terms, it's like we start paying attention to these horses when they are just grade schoolers, and the Derby comes up before they are even in college.
Because they are developing and changing so quickly we often see some horses that are ready to run way ahead of their peers, and others that take a while to get seasoned. The great Arrogate, for example, didn't run for the first time until April of last year, his three year old year. He wasn't ready until then, but he sure figured it out in a hurry. And then there are horses like what Practical Joke could be. He ascended to the top of his game early on, and has struggled to match those heights in recent months. Is he a horse that peaked early? Or is he just slowly working back into form? If all goes to plan, we'll find out on the first Saturday in May.
Last race: It's pretty easy to really dislike how the Blue Grass Stakes went for this colt. He wound up second, but it was a long way from what I would call a good second. He settled just off a pace that was reasonably leisurely, and he easily found a wide-open path by going just wide around the final turn. Irap, a 31/1 maiden, was leading and not going particularly fast, and there was nothing in front of Practical Joke. It was his to win and win easily. Yet instead of exploding into the clear he hung up like he was in suspended animation. He was plodding and had nothing left to give. He narrowed the gap slightly on Irap, but only because that colt was cooked. He should have been caught from behind, but third-place horse McCraken was coming off a long layoff due to a minor injury and clearly wasn't sharp. So in the end he wound up second behind a very questionable horse after a flat effort without excuses. Not very inspiring.
Prior experience: As I said, this horse started his career on fire. He broke his maiden at Saratoga at the beginning of August, cruising by five lengths. It was memorable. Then he jumped into the grade 1 Hopeful, and won it with a very gutty effort to prevail in a tough fight down the stretch. Then it was off to Belmont for the grade 1 Champagne, where he prevailed over highly-regarded colt Syndergaard to stretch his winning streak to three races. Frustratingly, that was Oc. 8, and he hasn't won since.
At almost 8/1 in the Breeders' Cup Juvenile I was giddy because he seemed like a massive overlay, but he wound up only third. He had a rough start there but recovered nicely and was well positioned in third at the top of the stretch. When Classic Empire and Not This Time kicked, though, Practical Joke couldn't match them. He was freshened until the Fountain of Youth in early March, and was clearly second best, but he was badly outclassed by hard-closing Gunnevera who ran away from him like he was standing still. So he comes into the Derby seven months removed from a great race. You can see why I question whether we have already seen his best.
Trainer: You know how until very recently Sergio Garcia was widely viewed as the best trainer not to have won a major? Well, Chad Brown would be on a short list of the best trainers to have never won a Triple Crown race. He's the defending Eclipse Award trainer, and he has won eight Breeders' Cup races to date - and he's not even 40 yet. He hasn't had a lot of Triple Crown success yet, though a big reason is that he hasn't really tried until recently. Seven of his eight Breeders' Cup races have been on turf, and seven of eight have been with fillies, so his expertise generally lies elsewhere. He's been drawn to the big spotlight of the Triple Crown lately, though, and he'll win more than one before he's done. The guy is flat out great with horses.
Jockey: RIders have played some hot potato with this mount. Both Ortiz brothers have ridden him, and so has Joel Rosario - who was aboard last time and is most likely to ride him again. Rosario has been Top 5 nationally in earnings every year since 2009 and has two Triple Crown race wins - the 2013 Derby with Orb and the next year's Belmont with Tonalist. He's very capable of riding in big races and is an asset to this colt if he is in the saddle.
Breeding: Sire Into Mischief did his best racing as a two year old, so lovers of this horse will hope he doesn't follow after his dad. The biggest claim to fame of Into Mischief is that he is a half-brother to the great mare Beholder. As a stud he has been solid to date but has yet to have a breakthrough offspring. It looked like he would also be represented in the Derby by Todd Pletcher's One Liner, but that horse fell off the trail after working poorly. Practical Joke's damsire is the great Distorted Humor, who had stud fees as high as $300,000 in his career. He's most notable as the sire of Derby and Preakness winner Funny Cide and Belmont and Breeders' Cup Classic winner Drosselmeyer, among many other top graded stakes winners. The breeding here is fairly solid, though Into Mischief's influence points to somewhat shorter distances than the classic test, and this horse has shown clear signs of wanting less distance.
Odds: At +2000 to win the Derby at BetOnline Practical Joke sits far behind the favorites, but not in the realm of the long shots. Eight months ago I would have loved the price, but now it doesn't feel like enough to me. In the final Kentucky Derby future wager, held the week before the Blue Grass by Churchill Downs, he finished at 25/1.
Doc's Sports has had a winning tradition for more than four decades. Don't believe us? Try us out for free, and we are convinced you will be a believer. Get $60 worth of free sports picks - members' picks just like our paying clients get - here .
Read more articles by Trevor Whenham