Tapwrit Odds to Win the 2017 Kentucky Derby with Picks and Predictions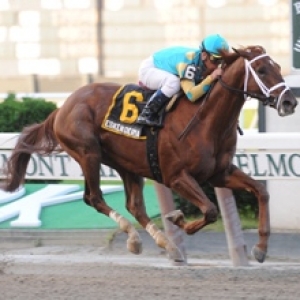 Tapwrit is the Zack Greinke of this three-year-old class. When Greinke has his head on right and is into his game he's a freakish talent - the match of any pitcher on the mound. With all of his demons, though, you can never trust that he'll be present when needed, and as a result the guy has wasted a stunning amount of talent over the years. He'll frustrate you endlessly, but you can't give up on him because you know what he can do when he is in his zone.
Tapwrit's win in the Tampa Bay Derby was one of my favorite races of this prep season. It was exactly what I like to see in a young horse. He came out of the gate and quickly settled at the back of the pack. He was calm and relaxed. He didn't hurry, but he calmly started to move slowly forward. And then he started a move around the final turn, and as soon as he shifted into gear you just knew the race was over. He took the lead and cruised, and all his rider had to do was remind him that the race wasn't over yet.
Free $60 in Member Kentucky Derby Picks No Obligation Click Here
It was my prototype of an ideal prep race. I was impressed. But I didn't much like his race before that, and I just plain hated the race after that. So now I have to decide whether that was just a flash in the pan - a perfect day that will never be repeated - or if he can do it again. His Blue Grass effort was so bad that I would toss most horses off of it, but this guy has me Greinke'd.
Last race: The Blue Grass was a dog's breakfast of a race. I am confident that there has never been two worse big Derby preps run in the same year than it and the Santa Anita Derby - and they were run within an hour of each other. The winner of the Blue Grass, Irap , is just a joke. And the four horses that finished behind him all had well below their best day. All five are planning to head to the Derby, which just makes my head hurt to think about.
Of the five, though, Tapwrit's effort was the most annoying. When the gate opened the horse looked shocked - like he had no idea that that was going to happen. As a result he was in trouble right away. It shouldn't have been too much of an issue because he likes being off the pace anyway, but he was clearly rattled. Around the final turn he went insanely wide - he might as well have brushed the outer rail. He had room to move - there obviously wasn't anyone in front of him out there - but he showed only mild interest in moving up. He finished a totally irrelevant fifth in the seven-horse field, beating only two horses that didn't belong in the field.
I've seen people say that he didn't need the race - that it was treated as just a glorified workout. I'm not buying it. There is no horse this young that couldn't use another strong race - and given how unprepared he was when the gate opened, he obviously still needs seasoning. It was just a mess.
Prior experience: I've told you plenty about that Tampa Bay Derby effort already. The obvious criticism is that he didn't really beat much in that race. The sad truth this year, though, is that the Kentucky Derby winner won't have to beat much, either - this is not a big year for thoroughbred excellence.
The colt first tried to break his maiden in August at Saratoga. He obviously wasn't ready because it was a mess. He was erratic out of the gate, made a wild charge around the turn, hit a wall, and faded to last. Ugly. He showed he's a fast learner, though, because two months later in Florida he tried again and won with a very professional effort. Next up he tried a low-level stakes race and also won it. It was time for graded stakes. He started in the Sam F. Davis. He ran an okay race, but he wasn't a match for McCraken. There's no shame in that - McCraken is a nice horse. What I didn't like, though, is that he looked down the stretch like he knew he was beat - well before he had to admit it. From there he went to the Tampa Bay Derby.
Trainer: Todd Pletcher. What can you say about Todd Pletcher and the Derby? It's one of the strangest situations in sports. He is more focused on the Derby than any other trainer in the country. He could have five horses in the 20-horse field this year, and that's nothing new. Yet he is worse than any top-level trainer at performing well in the race. His horses regularly dominate the prep circuit, yet on the first Saturday in May they, more often than not, find ways to far underperform expectations. He has won the race only once, and that was only with the 10th or 12th best horse he has brought to Louisville. It's so bizarre. He's like those Atlanta Braves teams that always made the playoffs back in the day but never performed once they got there.
Jockey: Jose Ortiz was aboard for the mess in the Blue Grass, but he also piloted the gem in Tampa Bay. He should and will stay in the saddle. The guy is just a magical talent - and his brother Irad is almost as good, too. He's still so young - he only won his first graded stakes in 2013 - but he's already second in the country in earnings, and he's going to stay at those heights for a long time. He hasn't won a Triple Crown race yet, but he will win several. He's a reason to have more faith in this colt than the last race would suggest I should.
Breeding: Sire Tapit is the hottest sire in the country right now - and you pay north of $300,000 for the privilege to breed a mare to him. He hasn't won a Derby yet, but he sired 2014 Belmont winner Tonalist and 2016 winner Creator, so he passes down ample stamina. This colt is reminiscent of Tapit's racing career in a frustrating way - Tapit was a very nice winner of the Wood Memorial in 2004 and then burned my money up with a dismal ninth-place showing in the Derby. The damsire is Successful Appeal, a solid enough stud most relevant for our purposes as the sire of Closing Argument, who was second in the Derby in 2005. To shift into pedigree dork mode for a moment, Tapit is out of an Unbridled mare, and the Unbridled bloodline meshes nicely with what Successful Appeal brings. I like the breeding.
Odds: Bovada has Tapwrit at +2500 to win the Derby , which puts him in a large group of horses tied as the 13th choice in the race. If I can get a price like that on Derby day it'll probably cost me some money. In the final Kentucky Derby future wager, which was held by Churchill Downs the week before the Blue Grass, he closed at 10/1. Clearly the dismal Blue Grass hurt the perception of him badly - as it should have.
Get free picks from any Doc's Sports handicapper - there is no obligation for this offer and no credit card required. Just sign up for an account, and you can use the $60 in free picks for any Doc's Sports Advisory Board handicapper and any sport. Click here to get started now .
Read more articles by Trevor Whenham