Vegas Golden Knights Expansion Draft Preview
by Chris Vasile - 6/20/2017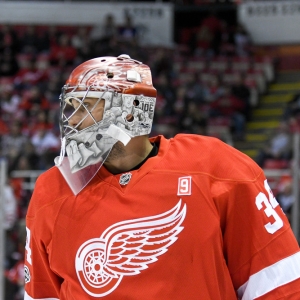 The time has finally come. Tomorrow all eyes will be on the Vegas Golden Knights and their management as they become just the first team in the last 17 years to take part in an exclusive expansion draft. The last teams to take part in an expansion draft like this one was the Minnesota Wild and Columbus Blue Jackets prior to the 2000-01 season. Back in March, I touched on the economic impact Las Vegas' newly minted hockey team would have. I said it would be a positive impact but only to a certain extent. If the management can't put together a team that can compete within a few years, people are going to lose interest in a team that might have ultimately been better served located in a place like hockey-crazed, Quebec City. But that's a debate for another day.
Free $60 in Member NHL Picks No Obligation Click Here
In this article, I am going to offer up my opinion on who I feel would help the Golden Knights stay out of the basement in their inaugural season. The Golden Knights have already signed two players, so they have a base to start with. They signed forward Reid Duke to an entry-level contract back in March. Duke is 21 years old and tallied 250 points in 306 Western Hockey League games between Lethbridge and Brandon. The other player already under contract is 30-year-old, Vadim Shipachyov, who comes over from the Kontinental Hockey League. He spent last season with SKA St. Petersburg, where he tallied 76 points in 50 games. The rest of the roster will be filled with current NHL-ready players.
For those unfamiliar with the NHL's expansion draft rules, don't worry, it's fairly simple. The entire league (30 teams) had to submit a list to the league which was split into two categories - "protected" and "not protected". Each team was allowed to protect 11 players, while the majority of the team becomes available to the Golden Knights to pick. The Golden Knights must then choose one player from each team, which will comprise their roster.
Despite how appealing an expansion draft may seem to some, the Bovada linemakers have tabbed the Golden Knights as +7500 to win the Stanley Cup in their first season. That is the highest odds on the board and the same price that is offered to current NHL rosters in Colorado, New Jersey and Vancouver.
Notable Goalies Available in Expansion Draft
Before I get into who I believe the Golden Knights should select to protect the old onion bag, let's take a look at a few notable goalies that were left unprotected by their current team.
Marc-Andre Fleury (Pittsburgh), Peter Mrazek (Detroit), Roberto Luongo (Florida), Cam Ward & Eddie Lack (Carolina), Antii Niemi (Dallas), Steve Mason (Philadelphia), Ryan Miller (Vancouver) and Philipp Grubauer (Washington)
Who Vegas Should Pick: Marc-Andre Fleury, Steve Mason and Philipp Grubauer
The Skinny: It's no secret that all great teams in the NHL have great goaltending. Marc-Andre Fleury is a proven winner and just backstopped the Penguins (for the first two rounds) to a second consecutive Stanley Cup. Selecting him would ensure that the Golden Knights have a sure-fire starting goalie for the inaugural season. Fleury has the third-most wins among active goalies with 375 and would not only be a veteran presence in the room but also a calming influence on the ice behind what's going to be a young, mostly inexperienced team. The selection of Grubauer would reunite the Capitals current backup with the former Capitals GM and one who drafted him, George McPhee. Grubauer contributed 13 wins in 23 games to help the Caps secure its second-straight Presidents Trophy. Should Fleury falter, the young 25 year old could be the goalie of the future. And lastly, Steve Mason intrigues me the most out of the rest of the crop due to his free-agent status. He could come very cheap to a club that will likely miss the playoffs for the first couple of seasons.
Notable Defensemen Available in Expansion Draft
Sami Vatanen (Anaheim), Zach Bogosian (Buffalo), Carl Soderberg (Colorado), Trevor van Riemsdyk (Chicago), Niklas Kronwall (Detroit), Matt Dumba (Minnesota), Alexei Emelin (Montreal), Calvin de Haan (New York Islanders), Marc Methot (Ottawa), Alexey Marchenko (Toronto), Toby Enstrom (Winnipeg)
Who Vegas Should Pick: Vatanen, Dumba, Methot, Kronwall, Emelin, Enstrom, van Riemsdyk and Luca Sbisa.
The Skinny: In a league where puck-moving defensemen seem to be a hot commodity, guys like Vatanen and Dumba are no brainers for a team that will try to be quick and explosive out of the zone and through the neutral-zone. Vatanen tallied just 24 points last season, but Dumba is coming off a career year where he tallied 34 points. At Age 22, Dumba has a tremendous amount of experience, and his cap hit of $2.55M is a steal. The shutdown task would fall on the shoulders of Methot, Kronwall and van Riemsdyk. Van Riemsdyk averaged more than 18 minutes of ice time for Chicago and has a Stanley Cup ring to boot. At 25 with a cap hit of $825,000, teaming up with either Kronwall or Methot would make for a solid shut-down pair.
Notable Forwards Available in Expansion Draft
Jonathan Marchessault (Florida), James Neal (Nashville), Eric Staal (Minnesota), Michael Grabner (New York Rangers), David Perron (St. Louis), Teemu Pulkkinen (Arizona), Trevor Lewis (LA Kings) Mikhail Grigorenko (Colorado)
Who Vegas Should Pick: Pulkkinen, William Carrier, Hunter Shinkaruk, Lee Stempniak, Grigorenko, William Karlsson, Marchessault, Lewis, Neal, Beau Bennett, Josh Bailey, Perron, Dominic Moore, Matt Stajan, Patrick Sharp, David Desharnais, Grabner, Joe Thornton, Cory Conacher, and Brian Boyle
The Skinny: I tried to field a team with as much experience as possible because knowing how to win is vital to having success in this league. Guys like Thornton, Boyle, and Sharp have been in the league a long time, with Sharp having won three cups and the other two guys getting to the final three times combined. To counteract the older presence, the rest of the roster needs to be quick and able to score. Marchessault had a dandy campaign last year, notching 30 goals and 51 points. His $750,000 salary is just the icing on the cake. Other noted goal-scorers would be Neal and Pulkkinen, the latter of which tallied 64 points in 46 AHL games. He should be ready to make the jump to the NHL. And lastly, Bennett looked like a superstar while playing along side Sidney Crosby in Pittsburgh, so perhaps he could be ready for a breakout-type season as a go-to player on this young squad.
Doc's Sports has had a winning tradition for more than four decades. Don't believe us? Try us out for free, and we are convinced you will be a believer. Get $60 worth of free sports picks - members' picks just like our paying clients get - here .