College Basketball Expert Handicapping: Duke Blue Devils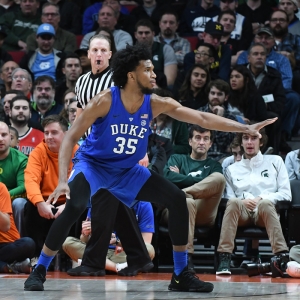 As seems to be the case often in recent years, Duke is a tough team to judge right now in college basketball. They entered the season ranked first overall by a solid margin, and they are still the co-favorites alongside Michigan State to win the NCAA title at +500 according to BetOnline . But they have lost twice and have slid all the way to seventh in the latest poll. They have ridiculous amounts of talent - they should have four first-rounders in next year's NBA Draft - and they obviously couldn't be any better coached. But what should we make of this team? And can they overcome some of those issues to be the truly elite contender that they are on paper? Here's a look at five factors that can help to answer those questions:
Marvin Bagley Jr.: Ever since Bagley reclassified to the class of 2017, he was seen as a prime contender for the top pick in 2018. And as we enter the heart of the college basketball season he still is. He has been tremendous on this team. He could be more effective around the rim blocking shots, but he plays in so many ways unlike the big man he is. He's exciting and dynamic and should only get better through ACC play as long as he stays healthy. He's the biggest weapon this team has.
The rest of the first-rounders: Freshman power forward Wendell Carter is the opposite of Bagley in that he is strong around the rim but can continue to grow away from it. He is overshadowed by his teammate, but he's a freshman who is definitely a lottery contender. and he has been strong and should get stronger. Point guard Trevon Duval is another freshman who is playing well, but he has hurt his standing because his 3-point shooting is so bad it's impossible to believe - he has hit just seven of 42 from deep so far. He's stunningly athletic, but if his shooting doesn't improve then teams will be able to exploit him too much. And Grayson Allen isn't getting nearly the attention he did last year, which is probably a good thing on balance - at least he isn't doing dumb things to get the wrong kind of attention. He is shooting very well and will be drafted in the first round. This is a very talented, albeit somewhat top-heavy, team, and though there is plenty of room for improvement in key areas - as we will see soon - they are well equipped, at least on paper, going forward.
Defense: Defense has been, to put it mildly, an issue for this team. Aside from that early win over Michigan State in which the Spartans never adjusted to Duke's 2-3 zone, the Blue Devils have not played at all effective defense against top-level opponents. They rank outside the Top 100 in total defense, and they are just awful defending the three. There is an obvious explanation for this - youth. When you start four freshmen you will rarely be great on defense. And when you have a lineup weighted to forwards, and that plays at a high pace, defense can be an afterthought. At this point, though, it is tough for me to imagine this defense winning a title. They were absolutely picked apart by N.C. State, and to get to the point of cutting down nets you have to beat a lot of teams better than the Wolfpack.
People with a decent memory will remember that this isn't the first time defense has been a concern for an elite Duke team in recent memory. I was writing about these very same issues at this time in early 2015, and all that that team did was go on to win it all. One big difference, though, is that team had Justise Winslow on the bench, and shifting him into the starting lineup had a huge defensive impact. There isn't an obvious Winslow-type player on the bench.
Time passes, and guys get more mature and experienced, so with the exception of Allen, who is seemingly in his 19th season at Duke, there is room for improvement as the season progresses We'll have to keep a close eye on it, though, because we've seen very good teams beaten in the past by their own defense when it matters most. They showed some real heart in their first game after the N.C. State loss, crushing PItt and allowing just 52 points. They played defense with an intensity and effectiveness we haven't seen. Now we need to see just how much of a fluke it was.
Slow December: It was a very odd December for the Blue Devils. After a couple of early games, their schedule went into hibernation. They played on Dec. 9 then not until the Dec. 20 and again not until the Dec. 30. On one hand, that provided plenty of time to rest, practice, and get healthy, and they weren't forced to scramble too much around Christmas breaks for the players. But a young team like this is only going to get better - especially on defense - under the intensity of game pressure. Perhaps it's not surprising that their first game after that three-game stretch was the loss to N.C. State, and they never looked fully awake in that game. They will be playing much more regularly right through to March now, so we'll see how much of a difference that can make.
Betting performance: Betting on this team has been more fun and more rewarding than you might expect from such a high-profile squad. They have gone 9-5 ATS, so they have generated a solid profit there. Where they have really looked great, though, is against the total. The combination of the top-scoring offense in the country and an oft-pathetic defense has made it very tough for oddsmakers to set a total that they can live with that is high enough. The Blue Devils have gone "over" the total 12 times in 14 attempts.
Get free picks from any of Doc's Sports Advisory Board of expert handicappers - and with no obligation or credit card. You can use these free picks for any sport, and you will never deal with a salesman. Click here for your free Doc's Sports picks .
Read more articles by Trevor Whenham