Expert NBA Handicapping: Los Angeles Lakers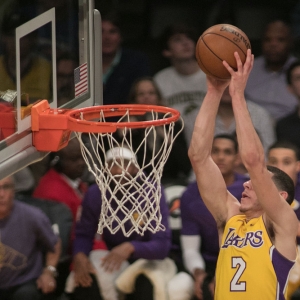 The Lakers are a rare team. Like the Yankees or the Cowboys, people always have a massively inflated opinion of them - whether it is warranted or not. It's like the collective psyche craves to live in a world where these teams are great. When they struggle - as the Lakers unquestionably and dramatically are - the public struggles alongside them to figure out how to deal with them and to cope with the fact that recovery will be slow. As a result of the rose-colored glasses always aimed at the team there were people who thought that Lonzo Ball would lead this team into the playoffs, or at least threaten to. Instead, this season was over mostly before it started, and things have just gotten more and more bleak as they have gone along. So, how do we deal with this team as bettors? Here is a collection of thoughts to help answer that question:
LaVar F-ing Ball: I went to school for a while with the kid named Tommy. He was, without question, the worst. He never shut up. He was incredibly annoying. He was dumb. He treated teachers with less respect than most people treat insects. Yet, because he was the master of always being in the center of everything, he was the most popular topic of conversation. And that's exactly how he wanted it. And it was always that way - until he went too far and got kicked out of the school. Served you right, Tommy. No one missed you. LaVar Ball, of course, is our shared Tommy for a new age. He's a total moron without a grasp on reality, but even though people know that ignoring him would make his head explode, they can't stop listening to what he has to say. It's ridiculous. And for the Lakers it is a problem. Lonzo Ball isn't where he needs to be yet, but there are a lot of positives. Having the constant distraction of his menace of a father, though, isn't helping - him or the locker room. The Lakers need to figure out how to deal with their own Tommy problem before it becomes more than it is.
The future problem: There is nothing left to play for this year. The season is lost. For a long time now people having been talking about next summer - the glory days when LeBron, Paul George, and every other all-star are going to join the team. Whether that will happen or not is not the debate we're having right now (though I am skeptical it will work out as well as people hope, for the record). The issue, though, is that the more people talk about what the future could look like, the more a whole lot of players in the locker room realize that they are only a part of the present and they will be jettisoned like old trash as soon as their space is needed. That can act as a motivator for players - they can look to play strong to secure a deal with a new team next year. At least as common, though, is that the uncertainty and lack of love can sabotage a player - and certainly the locker room chemistry of the team. In other words, the more people talk about how much better tomorrow will be, the harder it is to get optimistic about a brighter today.
Kyle Kuzma: The unexpected rookie sensation has had a rough go of things so far in January, but he is still a remarkable story. Many people probably expected a rookie to lead the team in scoring, but not this rookie. He and Ball have played together well, and the team is working to make sure that Ball is on the floor as much as possible when Kuzma comes off the bench. Teams need pleasant surprises, and this definitely qualifies for the Lakers.
Luke Walton: The elder Ball has been very hard on Walton, and the team itself has not spoken up to defend him. What is striking, though, is that both very high-profile NBA coaches and players in the locker room have been vocal in their support of Walton. He does not have the best winning record in his year and a half as coach, but he was never meant to with this roster. He knows the game, he is innovating and adapting as he goes, and you don't have to work as hard as you might think to find bright spots despite the struggles on the scoreboard. Things are never good on a 14-27 team - especially one in an unrealistically impatient market - but he has done more than enough that I hope and believe that he will have more chances to work with a better roster here. In my eyes he is a clear asset.
Betting performance: The Lakers have the ugly combination of being a public team and being bad. That means that they are likely to be badly overbet. Considering that, though, they actually aren't disastrous from a betting perspective. They aren't profitable on the season, but at 20-21 ATS they aren't too far off. And they have produced a small profit on the over, going 22-19. It could certainly be much, much worse.
Doc's NBA handicapping team is offering $60 worth of member's predictions absolutely free - no obligation. You can use this $60 credit any way you please with any of our top NBA handicappers free here. Also, for a limited time only get three top NBA handicappers for the price of one! Click Here . Get free NBA basketball picks today at Doc's Sports basketball predictions page .
Read more articles by Trevor Whenham