Expert NCAA Hoops Handicapping: National Championship Contenders from Top 10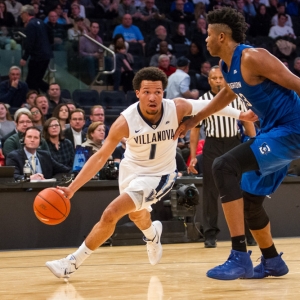 This is a very odd year in college basketball. By this time most years we have a group of teams we really like, and it feels like a battle of the titans. This year it's more like there are a bunch of teams that might be alright, and it's just a matter of which one will stand up the longest before tripping and falling on their faces. There is no great team this year, and there may not even be many really good ones. What we will do now, though, is look at the Top 10 teams heading into this week to see whether they look like true contenders or not. ( Odds to win the National Championship are from Bovada )
Villanova (+500): They were top-ranked heading into the week, but they likely won't be coming out after suffering their second loss - a shocker at home to suddenly red-hot St. John's. That's totally embarrassing. This is a freakishly-good offense - a historically-good one. But the defense struggles to play anywhere near the same level. Health has been a struggle, too, and is eating into depth. Aside from when they went all the way I have had questions about the mental toughness of Jay Wright teams, and this is no exception. But they are definitely among the top teams in the country.
Virginia (+600): The Cavaliers, likely the next No, 1 team, show that there is no one way to win basketball games. They are the exact opposite of the Wildcats - an offense which is, to be kind, uneven, but the top-ranked defense in the country. It's the Virginia formula, and again it is working great. They have yet to truly deliver in the postseason, but this is the Virginia team I have liked most of any. I believe.
Purdue (+700): Wednesday was just the fourth time ever that three Top 10 teams had lost at home on the same day - the Boilermakers joined Villanova and Auburn. They lost to a good Ohio State team by only a single point, and they had a nation's best 19 game winning streak leading into that game. This team is excellent on offense, big, and tough. I like them a whole lot. Definitely contenders.
Michigan State (+500): This team is solid, but they haven't beaten anyone of note since November, and they got clobbered by both Ohio State and Michigan. They have a chance to prove me wrong on Saturday against Purdue, but I just don't like this team much and put them a step behind the top tier.
Xavier (+2500): If I were to set out to make a team that isn't loaded with blue chippers but is built to make the Final Four then it would pretty much look like this team. They play solid enough defense. They have a star leading the way and good depth around him. They are flexible and creative. And they are very well coached. I don't know if they can win it all, but though they are very different teams I kind of feel like Xavier can be this year's Gonzaga.
Cincinnati (+2200): They have won 15 in a row and are unbeaten in the AAC. But it's only the AAC. Gary Clark could play on my team any day, and this team always plays hard, but they aren't even my favorite team in the city of Cincinnati, and I just don't see them among the top tier.
Texas Tech (+3300): Keenan Evans is a really incredible player, and the Red Raiders somehow control their own destiny in the Big 12. It would be fantastic to see a team outside of Lawrence win the conference, but the problem is that I just don't see anyone in that group being nearly good enough this year. Great story, though.
Auburn (+3300): The Tigers lost at home to a Texas A&M team that is much better than their record would lead you to believe. But that doesn't change that there is no bigger surprise in college basketball - aside from maybe Texas Tech - than Auburn. Bruce Pearl has finally rediscovered his mojo and is doing a whale of a job here. The team defends, they are deep offensively, and they are tough to play against. Being the best team in the SEC Still isn't that impressive, though, and I can't buy them as a top threat.
Duke (+600): I find this team a total mystery, so I can only imagine what Coach K thinks. They are by far the most talented team in the country, but they can't get any depth production, they won't commit to defense, and they seem to collectively have brain spasms that last for whole games. They are definitely good enough to win it all. But another title would be no less surprising than a first-round upset at this point. Strange team. But a contender for sure.
Kansas (+2000): Hard pass for me on the Jayhawks this year. They have a strong backcourt, but the frontcourt and the bench are far from their typical standard. They have lost three games at home already, which just doesn't happen. They just aren't good enough Not even close.
Get free picks from any Doc's Sports handicapper - there is no obligation for this offer and no credit card required. Just sign up for an account, and you can use the $60 in free picks for any Doc's Sports expert handicapper and any sport. Get $60 worth of premium members' picks free .
Read more articles by Trevor Whenham