Free NBA Picks: Saturday, March 17, 2018, Opening Line Report and Handicapping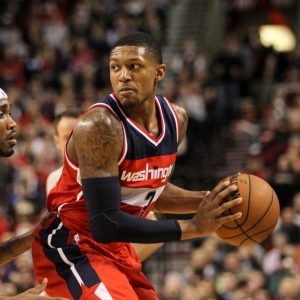 The Detroit Pistons had an initial burst of success after trading for Blake Griffin, winning their first four games with him in the lineup. But they have fallen off a cliff since, putting Stan Van Gundy's future as president of basketball operations and/or head coach in jeopardy. Detroit is in Portland on Saturday halfway through a six-game trip through the West, and the team could be all but eliminated from the playoffs by the time it gets back home should the trip be disaster. The tandem of Griffin and Andre Drummond has been very good, but Detroit might have the worst backcourt in the East. Reggie Jackson returning from his long injury absence (ankle) would help, but it might be too little, too late. Jackson did get some 3-on-3 halfcourt work done this week and is likely back within the next week - although not Saturday. The team wants him to get in a full practice first. Maybe - maybe - if the Pistons can tread water on this trip and get Jackson back they can make one last push for the No. 8 seed. Rather doubt that, however. Ah well, Detroit fans. There's always the Red Wings (oops). Or the Tigers (uh …). Lions?
Hawks at Bucks ( -11, 212)
The Bucks lost a game they shouldn't have Wednesday, 126-117 in Orlando - maybe they were looking ahead to the Hawks? Giannis Antetokounmpo scored 38 points for Milwaukee, which has lost seven of 10. The Hawks dropped their fifth in a row Thursday, 129-117 to Charlotte. Taurean Prince finished with 22 points and rookie John Collins tied a career high with 21 for Atlanta. Someone named Damion Lee had 14 points and is the franchise's first player since Paul "Snoop" Graham in 1991 to reach double figures in his first two NBA games. This begins a six-game road trip. The Bucks go for the three-game season sweep of Atlanta.
Key trends: The Hawks are 9-1 against the spread in their past 10 in Milwaukee. The "over/under" has gone over in seven straight Atlanta road games.
Early lean: Bucks and over.
Pacers at Wizards (-3, 210.5)
The Pacers had a three-game winning streak snapped in a 106-99 home loss to Toronto on Thursday. Indiana was outrebounded by 23. Domantas Sabonis sat out with a sprained left ankle and starting center Myles Turner left late in the first half after spraining his left ankle. He did return but didn't look right, so he could miss this one. The Wizards are likely very thankful for an extra day of rest as they stole one in Boston in double overtime on Wednesday, 125-124, rallying from 20 down. Bradley Beal scored 34 points in 47 minutes. Otto Porter played 42 and had 18 points and 11 rebounds. These teams have split two meetings, each winning on the road. Indiana had dropped four in a row in D.C.
Key trends: The Pacers have covered nine of their past 10 in Washington. The over is 5-2 in the previous seven there.
Early lean: Wizards and over.
Rockets at Pelicans (+6, 229)
The Rockets won their third straight Thursday, 101-96, over the Clippers to clinch the Southwest Division title (do teams even hang banners for division titles these days?). James Harden had 24 points and Eric Gordon 23 - Houston's next win will tie last season's total. The Pelicans lost for the third time in four games Thursday, 98-93 in San Antonio. Anthony Davis finished with 21 points and 14 rebounds but fouled out after playing 36 minutes. These teams have split two high-scoring meetings, each winning at home. The Rockets are just 3-4 in their past seven in the Big Easy.
Key trends: The Rockets are 8-1 ATS in their past nine on the road. The over is 9-3 in the Pelicans' past 12.
Early lean: Rockets and over.
Mavericks at Nets (-1.5, 213.5)
Dallas was in Brooklyn on Friday and the Nets were in Philly. I fully expect the Mavs to rest a guy or two in the second of a back-to-back as they are in full tank mode - Dirk Nowitzki perhaps at a minimum. The Nets have no reason to tank because they don't own their first-round draft pick. Brooklyn won in Dallas on Nov. 29, 109-104. The Mavericks have taken three straight and six of their last seven road meetings with the Nets, though.
Key trends: The Nets are 5-1 ATS in their past six in the second of a back-to-back. The under is 4-0 in the Mavs' past four in the second of a B2B.
Early lean: Nets and under.
Hornets at Knicks (+6, 220)
The Hornets got a rare road win Thursday, 129-117, in Atlanta. Dwight Howard was fired up to play in his hometown with a season-high 33 points and had huge numbers in all four games vs. the Hawks this season (Hornets swept). Nic Batum had a career-high 16 assists to go with 10 rebounds and 10 points. The Knicks' free-fall continued with a 118-110 loss in Philadelphia on Thursday. Michael Beasley had 24 points and 13 rebounds for New York, which has lost nine straight and 17 of 18. The Knicks haven't won at home since Jan. 30. These teams have split two meetings, each winning at home. Charlotte has lost its past three at Madison Square Garden.
Key trends: The Hornets are 1-4 ATS in the past five meetings. The over is 5-1 in the previous six.
Early lean: Knicks and over.
Cavaliers at Bulls (TBA)
The Cavs could be running on fumes here as it's the finale of a six-game trip. They are 2-3 on it following a 113-105 loss in Portland on Thursday. LeBron James had 35 points and 14 rebounds to become the sixth active player with 400 double-doubles. Larry Nance Jr. was out with a hamstring injury. The Bulls won a game they would have been better losing, 111-110 in Memphis on Thursday. Antonio Blakeney converted two of the three free throw attempts with 1.8 seconds left. Rookie Lauri Markkanen sat out a second straight with back spasms. Cleveland goes for the four-game season sweep of Chicago, although two were close.
Key trends: The road team is 5-1 ATS in the past six meetings. The under is 4-1 in Chicago's previous five after a win.
Early lean: TBA for Nance and Markkanen.
Nuggets at Grizzlies (TBA)
The Nuggets beat the Pistons on Thursday, 120-113, behind 23 points, 12 rebounds and 10 assists from Nikola Jokic, his eighth triple-double of the season. However, Gary Harris tweaked his knee and was to have an MRI on Friday. X-rays were negative. Probably at least misses Saturday. The ridiculous Grizzlies lost their franchise-record tying 19th straight Thursday, 111-110 to Chicago. Tyreke Evans returned after missing 10 games and had 25 points but a bone-headed foul on a Bulls 3-point attempt with about two seconds left. JaMychal Green had a tip-in to potentially win it, but it was just after the horn. Denver looks for the four-game season sweep of Memphis.
Key trends: The Grizzlies are 1-6 ATS in their past seven at home. The under is 4-0 in the previous four meetings.
Early lean: Wait on Harris.
Timberwolves at Spurs (-4, 213.5)
The Wolves won their second in a row Tuesday, 116-11 in Washington. Karl-Anthony Towns had some teeth damaged on a blow to the jaw but played through it and finished with a season-high 37 points to go with 10 rebounds. Minnesota scored 64 points in the paint. The Spurs won their second in a row Thursday, 98-93 over New Orleans. LaMarcus Aldridge scored 25 points, and Dejounte Murray had 18 points and 12 rebounds. Last meeting of regular season between these two and they have split, each winning at home. The Wolves have lost 24 of their past 25 trips to San Antonio.
Key trends: The Wolves are 4-9 ATS in the past 13 meetings. The over is under is 6-0 in the Spurs' past six.
Early lean : Spurs and under.
Kings at Jazz (-14, 200)
Sacramento was at Golden State on Friday. The Jazz won their eighth consecutive game Thursday, 116-88 over the sorry Suns - the past six victories by Utah have been by double digits. Rudy Gobert had 21 points and 13 rebounds and Donovan Mitchell 23 points. Dante Exum made his first appearance of the season for the Jazz off shoulder surgery and finished with 10 points. Utah looks for the three-game season sweep of Sacramento.
Key trends: The Kings are 8-2-2 ATS in their past 12 in Utah. The under is 5-2 in the previous seven meetings.
Early lean: Kings and under.
Warriors at Suns (TBA)
Short-handed Golden State hosted the Kings on Friday with Draymond Green at least set to return from his injury. I tend to doubt he plays the back end of the B2B. The Suns lost their seventh straight, yet again a no-doubter, 116-88 in Utah on Thursday. Two Suns, Jared Dudley and Marquese Chriss, were ejected and could be looking at one-game suspensions. Not like it matters for this team. Devin Booker was a game-time call (hand) and perhaps shouldn't have played, going 3-for-18. The Warriors crushed the Suns 129-83 on Feb. 12 in the first meeting and have won 12 straight in the series. You may remember Steve Kerr offended some people by letting his players coach that one.
Key trends: The Suns have failed to cover six straight at home vs. teams with a winning record. The over is 4-1 in the Dubs' past five in the second of a B2B.
Early lean: Wait on which Warriors play - and if Booker and those two Suns do.
Pistons at Trail Blazers (-8.5, 209.5)
The Pistons lost for the 16th time in their past 17 road games Thursday, 120-113 in Denver. They were down by as many as 26 two nights after losing by 31 in Utah. Reggie Bullock returned to score 17 points after missing a game with a sore back. The Blazers won their NBA-high 11 th in a row and eighth straight at home Thursday, 113-105 over Cleveland. CJ McCollum had 29 points and Damian Lillard 24. Detroit has won five straight in this series, including 111-91 on Feb. 5. That was in the stretch when the Pistons were still riding high from the Griffin trade.
Key trends: The Pistons are 1-8 ATS in their past nine road games. The under is 5-2 in the Blazers' past seven.
Early lean: Blazers and under.
Read more articles by Alan Matthews