2018 Kentucky Derby Expert Betting Advice: Handicapping the Curse of Apollo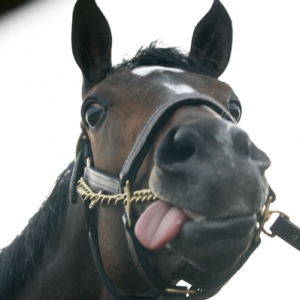 If you are paying attention to the media coverage heading up to the Kentucky Derby then chances are pretty good that you have heard about the Curse of Apollo. And if you haven't yet then you are going to. It applies both to heavy favorite Justify and strong contender Magnum Moon, so it is more of a factor than it usually is. Therefore, our job here today is to offer Kentucky Derby expert betting advice, so you understand what the curse is and what it means to us in 2018.
What is the Curse of Apollo?
Apollo was the winner of the Kentucky Derby way back in 1882. He had not run a race as a two-year-old, and he only made his racing debut 35 days before the Derby. No horse had previously won the Derby without a two-year-old start, and in the 136 years since no horse has managed it, either. It's not something that horses try to do frequently, but there have been 52 attempts in the last 62 years.
It's important to remember that all thoroughbreds have the same birthday - no matter what day they were actually born, they have a birthday on Jan. 1. So, what we are talking about are horses that didn't race in the calendar year before their Derby appearance.
It's not often we see a trend in sports that stretches this long. For much of the last 20 years or more it was thought that the Triple Crown might not be won again, but it has been won a dozen times since Apollo's win.
Why such a strong trend?
There are a few key reasons why this trend has been so strong over the years. Part of it is that it sounds compelling, so we talk about it every year. It's a good story, so we keep talking about it. Beyond that, though, there are at least three reasons why horses haven't been able to break this trend to date:
Why no races at two?: Horse racing is a very expensive sport to be involved in, and for many young horses their prime earning window is quite short. A talented horse can make some nice money at two, so if they aren't sent to the track then there is some reason that that decision was made. Maybe the horse wasn't mature enough, or athletic enough, or was slow to respond to his training. Maybe he was injured and took a long time to get ready to run. Whatever the reason is, we can be sure that there is a reason. So, when we have a horse that is catching up and overcoming something, and he is up against colts that were more advanced and ready to go earlier, it makes sense that the less experienced horse can have issues.
Depth of fitness: You can work out in the mornings all you want, but there is fitness that a horse needs that they can only get from races. You can't simulate that, and there is no shortcut. So, if a horse doesn't start racing until the new year then he can only get three or four races in before the Derby, and that means that he is going to be behind some of the more experienced horses.
Exposure to adversity: The Derby is a truly brutal test. The field is huge - the biggest in North America each year by a wide margin. The distance is longer than these horses have ever seen and longer than many of them are meant to run. The crowd is massive, loud, and very drunk by post time. The jockeys are more fired up than any other race, and the horses can feel that. The horse that wins the Derby isn't necessarily the best one but the one that can best overcome the inevitable adversity they will face. The more adversity a horse has dealt with, the better their chances of dealing with it well in Kentucky, and the only way a horse can learn to deal with adversity is to see it in a race. A later start to a career means less chances to learn to overcome and therefore more chance that they will see something that they don't know how to deal with.
Number of races: From 1933 to 2007 just three horses won the Derby with five or fewer previous starts. Since then things have changed a little as trainers have become less eager to race a lot. But still, the outliers have been Animal Kingdom and Big Brown with four starts each, and American Pharoah and Always Dreaming with five. Every other horse has raced more. If you don't start racing until you turn three then you have to work hard to fit in four races, and three is more likely. So, sometimes the Curse of Apollo is just about a lack of experience.
Why does it matter?
This year the Curse is particularly relevant because strong favorite Justify has raced only three times, with his debut coming Feb. 18, and top contender Magnum Moon has four races under his belt with the first on Jan. 13. Having two horses that are facing the curse in a race isn't uncommon - it happened just last year. The difference, though, is that last year Patch and Battle of Midway were both at 30/1, while both horses this year will likely go off at or under 5/1. At worst these are two of the three or four best horses in the field, and we haven't seen that before.
Should we avoid these horses?
No. Not necessarily. But we have to be very aware. Justify and Magnum Moon have both shown freakish skill. Justify has been a freak in every race, and Magnum Moon's last three-eights in the Arkansas Derby was stunningly fast and effortless. We don't have to ignore the colts and their clear excellence just because of this curse. But neither can we pretend that it is irrelevant. These horses are both lightly raced, and neither has been significantly tested - their races have gone their way. Handicapping is all about weighing positives against negatives and deciding if enough value is left over to make a bet worthwhile. This is just a negative we need to consider.
Want free Kentucky Derby picks for 2018? Our experts are the best Kentucky Derby handicappers in the nation, and you can get their picks free (first-time clients only), Get $60 worth of Kentucky Derby premium members' picks free .
Read more articles by Trevor Whenham