NBA Betting Trends: Against the Spread Results for Teams with Rest
by Chris Vasile - 1/18/2018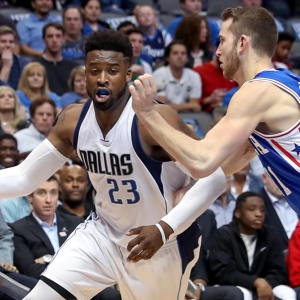 So far this NBA season has been nothing short of wacky and wild. Just this last week alone, NBA players introduced us to their own version of Fight Club. It started on Monday when tempers flared between the Houston Rockets and Los Angeles Clippers. Not only did it get chippy on the court, but several Rockets players were caught storming the home team's locker room in an attempt to get at Blake Griffin and Austin Rivers. No punches were thrown, and two Rockets have since been suspended two games each. The main event happened the other night when haymakers were thrown by Arron Afflalo in a game between the Orlando Magic and Minnesota Timberwolves. While all this makes for entertaining television, the only thing that players should be concerned about is their team's upcoming playoff run.
The NBA tries to preach parity, but year after year it's the same teams that sit among the leagues elite. Golden State, Boston, Toronto, Houston, San Antonio and Cleveland are head and shoulders above the rest of the league - despite suffering from one or two more rough patches than we are accustom to.
In terms of futures odds, the Warriors are the -195 favorites to repeat as champions this year. Cleveland is next at +650, while Boston is +800, the Rockets are +900 and the Spurs are +1800. All odds courtesy of Bovada.
Interestingly enough for the sake of this article, the Warriors, Spurs and Cavaliers are all among the worst bets you can make when talking ATS with multiple days of rest.
Best Record ATS with 2-3 Days Rest
Dallas Mavericks - 7-2-0 (77.8 percent)
The Dallas Mavericks currently sit in second-to-last place in the Western Conference with a record of 15-30. They are just two games ahead of the lottery-bound teams like Atlanta, Orlando and Sacramento. If I was in charge of the Mavericks, the tank would be on in full effect. Just think about what you could possibly get in the upcoming NBA Draft to compliment Harrison Barnes and everyone's favorite rookie (not named Lonzo Ball), Dennis Smith Jr. Smith Jr. is essentially a human highlight reel. His in-game dunks are ferocious, and he is second on the team behind Barnes in points per game. When I did the research on this topic, I was quite shocked to find a team that's 15 games below .500 to sit atop this list. With two or three days rest, the Mavericks have covered the number against Washington (outright win as a dog), Oklahoma City (outright win as a dog), Los Angeles Clippers (outright win as a dog), Toronto (outright win as a dog), Cleveland, Golden State and Denver. Their only two setbacks came in tough spots against the Lakers and Minnesota.
Boston Celtics - 3-1 (75 percent)
When Gordan Hayward went down with that gruesome leg injury suffered on opening night, the Celtics were supposed to be in trouble. Instead, they reeled off 16 straight wins, which catapulted them to the top of the Eastern Conference, where they still reside. They currently own a 34-11 record and have won eight of their last 10 games. But, quite frankly, nobody outside of Boston cares how many games the C's have won. If you are a gambler, the only thing that matters is how many games the C's have covered ATS. The Celtics own the league's second-best ATS record, checking in at 27-16-2 (62.8 percent). Unfortunately, the Celtics haven't had the luxury of getting extended rest between games as they've played only four times with two or three days of rest. They are 3-1 in those games, with covers coming against the Knicks, 76ers and Cleveland, while failing to cover on New Year's Eve against the Nets. The next time you can back the C's in this particular spot is when they take on the Magic on Jan. 21.
Detroit Pistons - 7-3 (70 percent)
The Detroit Pistons sit in eighth place in the Eastern Conference with a record of 22-21. At times, Stan Van Gundy's team looks like its about to turn a corner and become a dangerously consistent team that can give teams fits, but something happens (injuries or a complete lack of effort) and they drop right back to the mediocrity they've been used to for the last several seasons. As I mentioned with the Mavericks, I am a bit surprised to find the Pistons among one of the top ATS teams with rest. They don't play with an emphasis on tempo as they average only 97 possessions per game, so they rarely have an advantage when it comes to trying to run teams out of the arena. The Pistons' best form is when they are in the half court and can slow the game down and utilize their best player, Andre Drummond, on the blocks. The next opportunity to bet on the Pistons coming off two or three days rest is on Jan. 24 against Utah and Jan. 27 against OKC.
Worst Record ATS with 2-3 Days Rest
Golden State Warriors - 2-7 (22.2 percent)
Anyone else shocked to find the Western Conference-leading Warriors on the top of this list? Granted, they have had several key components miss extend time due to injuries. However, as one of the league's best teams, the Warriors should never burn money like this. I understand that because the Warriors are so dominant (less so than last year) the spreads are inflated and Las Vegas is making you pay a premium. But the Warriors aren't just bad on two- or three-days rest, they are 20-25-1 ATS for this season, which is just above 44 percent. The Warriors only two covers came against the lowly Mavericks on Dec. 14 and the unproven 76ers on Nov. 11. It's hard to fault the Warriors, though. All this team should care about is getting through the regular season healthy and with enough wins to finish with home-court advantage throughout the playoffs. The next opportunity to fade the Warriors ATS is on Jan. 23 against the New York Knicks.
San Antonio Spurs - 3-7-1 (30 percent)
The San Antonio Spurs sit in third place in the Western Conference with a record of 30-16 on the season. They have been buoyed by their big man, LaMarcus Aldridge, who is averaging 22.7 points, 8.5 rebounds, 1.9 assists and 1.1 blocks per game. The Spurs will need Aldridge to continue his production in a big way with the recent news that their All-Star, Kawhi Leonard, is once again out indefinitely. The Spurs have been nothing but consistent over the past decade, winning at least 50 games in each of the last eight seasons. The only inconsistency with this team is their lack of covering the spread on extended rest. For a veteran-laden team, their 3-7-1 record with two or three days off is shocking. One would think the extra time would be beneficial to not only the older guys like Tony Parker and Manu Ginobili but also the younger players, who can get in more practice reps. The Spurs are in the upper half of the league covering the spread at a 53.5 percent clip, so finding spots to play against them is tricky. The next spot you should look to fade the Spurs is on Feb. 7 when they take on Phoenix on three-days rest.
Cleveland Cavaliers - 4-9 (30.8 percent)
And last, but certainly not least, the Cleveland Cavaliers. The Cavaliers are the equivalent of a soap opera. Everything LeBron James says, does or hints at, the media jumps to conclusions and then follows that up with 10 hours of ESPN coverage about what James could have actually meant. Instead of criticizing teammates, or acting as player/coach, James should focus on winning basketball games and maybe helping bettors out who bet on his team ATS. The problem with the Cavs (in my opinion) is that they play no defense, and if someone other than Bron' tries to step up with a concern, it's instantly shot down. There is no chemistry, which makes me believe there is a connection with why the Cavs are so bad ATS with rest. Nobody cares about each other. They don't play for one another and are quick to point the finger when things get dicey. They've lost nine of their last 12 games and have covered the number just one time in those 12 games. The Cavs are firmly planted at the bottom of the ATS rankings, covering the spread in just 11 of 43 games this season. The next opportunity to fade the Cavs comes on Jan. 23 against the Spurs on two-days rest.
Get $60 worth of member's picks absolutely free - no obligation, no sales people. You can use this $60 credit for of our top NBA handicappers. Get $60 worth of premium members' picks free. Also, for a limited time only get three top NBA handicappers for the price of one! Click Here . Get free NBA basketball picks today at Doc's Sports basketball predictions page .