NBA Championship Expert Betting Predictions with Title Odds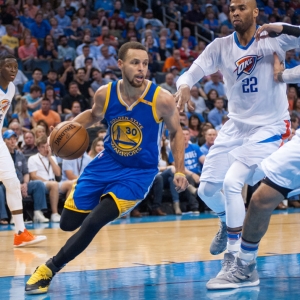 When we look at who is going to win the NBA Championship it feels like we are pretending. We all know how it is going to turn out, but we have to pretend that there is some drama so we can believe that there is some sort of point to the next five months of basketball. It's like it's all one big season of "Friends". We knew Ross and Rachel would end up together from the second episode, but we still pretended that the next 10 seasons mattered and that there were things to resolve. So, let's pretend that there is something to decide here and make some NBA Championship predictions ( odds are from BetOnline ):
Golden State Warriors (-175): It's frustrating that we could have learned so much on Thursday night and ended up learning nothing. Houston and Golden State played, and with both teams in midseason form it could have been a real state-of-the-West update. But neither James Harden nor Kevin Durant played. Houston isn't anything like what they can be without their biggest star, and as good as Golden State is Durant is their best player. Houston played the Warriors tight, and Golden State needed a closing 7-0 run to secure the 10-point victory, but what does that really mean? Golden State has the best offense in the league, the best point differential, and the best record. They are doing exactly what they should be doing. And they haven't been healthy as often as would be ideal yet, either. What is most terrifying about this team is the small ball roster they can put on the court. There is no team that can match it, and no opposing team is even remotely capable of doing what they need to do. As long as they have that to work with it's going to be tough to beat. The idea of betting a team at this price this far from the championship trophy being awarded is just insane, but it would be very tough to argue that Golden State is anything other than a very strong favorite or that this price is at least mostly justified. Yawn.
Cleveland Cavaliers (+500): If Cleveland is truly the second-best team in the league as the odds suggest then there really are issues. LeBron is playing very well, and there are some things to like here, but this just isn't a championship team, and the captain of the ship looks more and more like he is looking for a new boat to pilot next year. They weren't nearly good enough last year, and the gap feels about 100 times wider this year. This price is just hideous.
Houston Rockets (+800): This team is a work in progress - mostly because the two most important players can't seem to stay healthy at the same time. But Harden is still Harden, and Chris Paul has played his two best games of the year in his last two. If they can stay healthy they are dangerous, and this price is likely pretty fair. But I can't get excited about this price because I ultimately can't convince myself that they can beat Golden State four times in seven game. Once or twice, sure. But not seven.
Boston Celtics (+1000): They just beat Cleveland by 14 last timeout, and they beat Houston two games before that. They are playing well, and the coaching is exceptional. But they rely heavily on young players, and it feels like they are ahead of schedule right now with Gordon Hayward sidelined. They could win the East, but they obviously won't be favored against Cleveland and probably won't beat them in seven games when it matters. Not yet.
San Antonio Spurs (+1400): Here's the thing - if one team is going to beat the Warriors and win the West it is probably going to be San Antonio. But no team is going to beat the Warriors and win the West barring a number of major setbacks. In relative terms, then, this price is probably reasonably attractive. But I won't bet it.
Oklahoma CIty Thunder (+1600): The Thunder have played better lately, and are finding themselves to some extent. But they are not anywhere near the sum of their parts at this point, and none of their big three seem invested enough in their project to make it all work. This price seems awful.
Minnesota Timberwolves (+2500): The T-Wolves got very aggressive in the offseason, and it has worked out pretty much as well as they could have hoped. They are sitting fourth in the West, and it seems reasonable to believe that they could host a playoff series. That would be massive movement forward for this franchise. But it would be futile ultimately - they would run into the Warriors, and it wouldn't go well.
Milwaukee Bucks (+3300): The Greek Freak is leading King James in all-star voting. Good for him. He's incredibly impressive, and the team is playing great. But betting them at this price would just be throwing money away. The Freak may be one of the best two players in the East, or at least close to it, but that doesn't mean his team is anywhere close to that level.
How about $60 worth of member's picks absolutely free? No obligation, no sales people, no credit card. You can use you $60 credit on any of our top NBA handicappers. Get your free daily NBA predictions today! Also, for a limited time only get three top NBA handicappers for the price of one! Click Here . Get free NBA basketball picks today at Doc's Sports basketball predictions page .
Read more articles by Trevor Whenham