2018 NBA Championship Odds and Expert Betting Predictions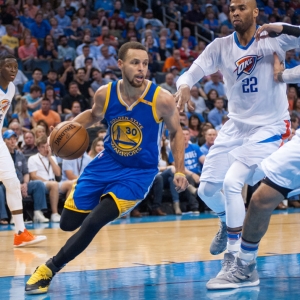 It tells you a lot about the state of the NBA right now when the race for last place in the league - and all off the ping pong balls that comes with that - seems far more hotly contested than the race for the NBA title. We have seen a real consolidation of power in the league the last couple of years, but it still doesn't feel like things are particularly more competitive than they have been for three years. We have a strong favorite, one or two viable but distant contenders, a few intriguing teams that could make a bit of noise if everything fell exactly perfectly, and a whole bunch of also-rans. It seems like we are again barreling towards inevitability, but let's at least pretend that the championship isn't a foregone conclusion and check in on some NBA futures (odds to win the NBA title are from BetOnline ):
Golden State Warriors (-150): With each passing season the Warriors are clearly caring less and less about the regular season. And that is obviously the right thing to do. They learned the hard way that you could win all your games in the regular season and it would mean nothing in the playoffs. Now all that they are focused on is being ready and healthy when the games really matter - which, given how the West is shaping up this year, is in the Western final when they play Houston. There are things you could be concerned about regarding some of the things we have seen from this team so far. But what would be the point? They know what they have to do, and they absolutely have all of the tools to do it. They could very easily not wind up with the home-court advantage - though I would bet that they would - but that's not a factor, either. Their record is basically identical home and away, and that's with them not even scratching the surface of what they can be this year. They are the best team in the league by a wide margin, and while it seems like Houston and others are closer than ever - and they probably are with the exception of the Cavs two year ago, of course - you only need look at the odds to see how wide the gap still is. Golden State is very likely going to win it all, and there is absolutely no reason you should even remotely consider betting on them to do so at this price.
Houston Rockets (+400): Houston has found their form, and Clint Capela makes up the third corner of a surprising-but-deadly-effective big three. They have won 15 in a row and still have upside. But they have played only 62 games. To have any chance of knocking off Golden State they need to sustain this level of play through the rest of the regular season and then through two playoff series. Or, they have to let their foot off the gas a bit but hope that the acceleration is still there when they floor it again. I respect so much about this team, but they feel like they are firing their shot too early, and at their best I don't think they are a great matchup against the Warriors. Relative to the price on Golden State, you could argue there is some value - the Western Conference final will very likely be solidly tougher to win than the championship series - but if they win the title this year it will be against serious doubts from me.
Cleveland Cavaliers (+500): I have given this team very little chance of any success all year. And though they have been dramatically better since the overhaul at the trade deadline, I still don't have any faith at all. They need Kevin Love to be healthy and productive, and his brave admission that he has struggled with panic attacks this year is an obvious concern on that front. LeBron James is the best there is, but no other star in the hunt has to do more for his team or is harder to play with. Easy pass on this price.
Toronto Raptors (+1200): Time for a bit of national pride on my part here. What is so impressive about the Raptors is not the strength of their starting five - which is very nice - but the ruthless efficiency of their next five. The Raptors have, rather unexpectedly, the most effective bench in the game. And it is clearly making all the difference. Heading into the season it didn't seem like people knew what to think about this team - and few besides maybe Brake expected much. But now it is not totally impossible to imagine them winning the East - and then getting steamrolled by the Warriors. I don't like this price because I don't like their chances at all against the West, but they are the +250 second choice to win the East, and I don't hate that price.
Boston Celtics (+2000): This team is solid, but the offensive load is spread too wide. If only they had a guy like, say, Gordon Hayward to carry some of the load. Sigh. They started off so very well but have leveled off since, and I don't think they have that other gear just year with how this roster is built.
Philadelphia 76ers (+5000): There isn't much point in gambling when it comes to these futures because of how top heavy the league is. This is the only outsider price, though, I could justify some interest in. Their core is going to be monstrous in a couple of years, and it is already so very dangerous - and improving with each passing day. Early on it felt like it was just going to be a battle to make the playoffs. But then a switch flipped and they became a different team. It's still probably too soon, and they certainly wouldn't beat the Western winner even if they did somehow win the East, but their path to the finals isn't entirely impossible given their recent form and the questions each Eastern contender presents. They are +1400 to win the East, and that seems very fair.
Doc's Sports has had a winning tradition for more than four decades. Don't believe us? Try us out for free, and we are convinced you will be a believer. Get $60 worth of free sports picks - members' picks just like our paying clients get - here .
Read more articles by Trevor Whenham