NBA Draft: Players That Will Make Biggest Impact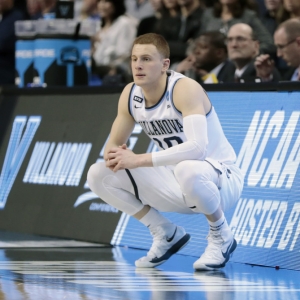 This was a deep and talented class of rookies welcomed into the NBA after the 2018 NBA Draft. There might not be the surefire superstar at the top that we have seen in some years, but the general level of players in the first round feels higher than many years, and so does the number of teams that can reasonably expect a decent impact from their newly-added players this season. It only makes sense that we look at what some of these guys might do this coming year. I don't care about what their whole career arcs can be - that's less interesting from a betting perspective. I'm just focused on what we might expect from them in their first season.
Here, then, are the seven players I expect to have the biggest impact for their teams this year - in order of that expected impact from highest to lowest. (Odds to win the NBA Rookie of the Year Award, when available, are from Bovada ):
Luka Doncic, Dallas (+300 to win ROY): Doncic, to me, is the most potentially special player in this class - and it's not close. He has been playing against men for years and was an absolute freak in high-pressure games last year for one of Europe's top teams. He wasn't a star as a young guy - he was a superstar in the league. Period. He landed in an ideal spot in Dallas - a top coach, a perfect mentor for a European star, and a dynamic backcourt partner. Doncic is going to have a big year and a big career.
Deandre Ayton, Phoenix (+300): The big and obvious knock on Ayton is that his defense is very suspect at this point. The good news for him in Phoenix is that he will fit in nicely - there are certainly better defensive teams than the Suns. Ayton will score, and he will get boards, and as long as he can do well enough defensively to not be a liability then he will get plenty of minutes. I only fear that he will be too much of a liability this year to be relied on in crunch time, so impact points could be harder to get.
Wendell Carter Jr., Chicago (+2800): Carter is higher than many would have him, but I like the fit in Chicago. Lauri Markkanen is great at creating space, and Carter is ideal at occupying that space and crashing around to make things happen. It's a pairing that could work very well as a front court. Carter won't have to be rushed into action because Robin Lopez is in town as well, but the veteran center has an expiring contract, so he can be dealt and space can be cleared for Carter as soon as he proves he is up to the challenge. I don't think he has the top upside of all the big men in the class this year, but in the short term he could realize that impact quickly.
Marvin Bagley III, Sacramento (+450): Bagley was impressive as a freshman last year, and his skills and athleticism are incredible. He's lower down on the list for two reasons, though. First, Sacramento made a big mistake taking Bagley over Doncic and should be punished for it. And second, there are just too many big guys in Sacramento right now, so sorting out a role and finding minutes could be tough. That's nothing unique for a rookie, but Sacramento has a history of doing it so badly with rookies that I can't expect anything positive from them here.
Collin Sexton, Cleveland (+2200): This pick is made assuming that LeBron James is going to leave Cleveland. If and when he does then this is going to be a bad team left behind. Sexton has no shortage of confidence, so he will be willing and able to step in and do what he can in that situation. And he is a talented and dynamic guy who can make guys around him better, too. His shooting needs to take a step up for the NBA, but there is enough that he does well that I am reasonably optimistic he will be a shining light in a very dark season.
Donte DiVincenzo, Milwaukee (+4000): DiVincenzo raised his game to a whole new stratosphere when it mattered most in the NCAA Tournament this spring, so we know he thrives under pressure and has no fear. Milwaukee has plenty of bench minutes for a guard, and they are a team that has fallen well behind the league trend when it comes to three-point shooting. The Villanova guard should have a green light to make things happen from beyond the arc, and it could be fun to watch.
Trae Young, Atlanta (+700): Young is lower on my list than he would be on most. While I have respect for his offensive skills, I am skeptical in the short term. First, he isn't going to consistently gets the looks form opposing defenses in the NBA that he was gifted with in college, so he will have to adjust. And he plays on a very weak team, so defenses won't have to worry about too much and can focus on limiting his offensive chances. Kevin Huerter was also drafted by the team, and the two shooters could be a fun and dangerous backcourt when they have the ball, but they are both so poor defensively that it is hard to imagine that they get a lot of time together in the short term. I expect growing pains for the guard this year, but he should come through the other side.
Doc's Sports has had a winning tradition for more than four decades. Don't believe us? Try us out for free, and we are convinced you will be a believer. Get $60 worth of free sports picks - members' picks just like our paying clients get - here .
Read more articles by Trevor Whenham