NBA Handicapping: Analyzing the Cavaliers after the Trade Deadline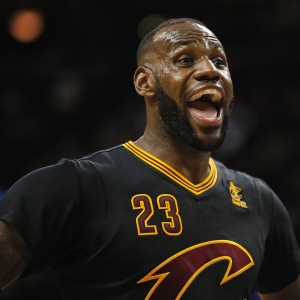 I've known for a while now that I had to write about the Cavaliers at some point this week. I figured, though, that I had better wait until after the trade deadline on Thursday afternoon in case they make a deal of some sort. Little did I know that they would trade six players and totally overhaul their roster. Hilariously, the six traded players are the most by any team in the last 30 years, tying only the 2008 Cavs - the last time the team was trying to appease LeBron and keep him from bolting. So, now we have a team that looks fundamentally different than the one they had a day before the deadline - though not as different as they likely would have liked because Kevin Love and Tristan Thompson are still in town. But is different better?
The biggest deal of the day involved doing basically whatever it took to get Isaiah Thomas out of town. Trading Kyrie Irving to Boston for the tiny point guard has been about as much of a disaster as a deal can possibly be. Thomas was hurt with a pre-existing hip injury that kept him out of the early season. And since he has returned it has been just horrible. The team was 7-10 when he played, the chemistry was so bad you could feel the oozing toxicity from 2,000 miles away, and they didn't care what they got back as long as he was gone.
His success in Cleveland was going to require some compromise to get coexistence - he and LeBron are both ball-dominant players, and there is only one ball. Neither was willing to bend even a little bit, and not bending to James is a surefire way to get shipped out of town. The team was so eager to get rid of him that they included another player - Channing Frye - and a first-round pick to send him away - even though he has an attractive expiring contract. So, the Lakers have cleared a ton of cap space - ironically to chase James, in all likelihood - and though it cost them two nice pieces in Larry Nance Jr. and especially Jordan Clarkson, neither of those guys were likely to figure in the new-look Lakers that the team dreams of. They cleared cap space, and instead of having to trade a first-round pick to do so, they gained one. Masterful. Still, you can't really argue with the deal for the Cavs. They seemed to blame Thomas for all of their current woes, so he had to go. And now they got younger and more athletic.
Then the team shipped out Derrick Rose and Jae Crowder to the Jazz, and Iman Shumpert to the Kings, and received George Hill and Rodney Hood in exchange. Getting rid of Rose is another positive; Hood is sneaky good, and Hill can fill in for the now-empty minutes on the point, so it's a solid deal. In fact, the Cavs were big winner on this set. And finally, because Rodney Hood and others were eating up whatever minutes Dwyane Wade was still capable of eating, they did him a favor and traded him back home to Miami to finish out the year and presumably then to call it a career.
So, what does this mean for the Cavs now? Are they better? Let's take that question in parts:
Defense: Thomas was an absolute mess defensively - as bad as a point guard can possibly be, pretty much. And he was fine with that. And the old guys like Rose and Wade had more desire than ability left in their legs. Hood is sound defensively, and Hill is one of the better defensive point guards out there. The Cavs are tied with Orlando for giving up the most points in the East - and are better than only New Orleans and Phoenix in the West. You can't give up more than 110 points and win a title unless you are a dramatically deeper offense team than this one. This team now can't help but be a little better defensively, and if they choose to get together and commit then they will be dramatically better.
Chemistry: The chemistry on this team was incredibly bad, so shaking up the roster in this way has to help. But there is still a looming issue - LeBron James is the best player on the planet, but as a teammate he's kind of a dick. A big one, actually. He cares about himself above all else, has no patience for others, and plays favorites. Thomas leaving will be helpful, and despite Rose being a close friend he obviously wasn't helping at this stage as a teammate. But if James continues his pouty, impatient, unwelcoming ways with this new blood then things won't get dramatically better like they need to. Either way it will take a while, but ultimately chemistry - and then defense - will decide if this team goes anywhere or not. They have the potential to be the best in the conference, or they could go home in the first round.
Coaching: Ty Lue is still the coach and still a shameless puppet for the star. This is a massive problem with this team, but it's not changing in any hurry.
James: Ultimately, this team will go just as far as James decides they will. If he is hungry and focused then he can flip a switch like he often does in February, then the team can go a long way - like into the Finals, where they will get crushed by the Warriors. But if he isn't willing to play well with others, and instead keeps playing games with the media and holding his team ransom regarding next year, then things won't get measurably better. James has done everything possible to ensure that this is only his team. So only he can decide what happens to it. And frankly I am not entirely confident in his ability to get over himself this time around.
Doc's NBA handicapping team is offering $60 of member's picks free - no obligation, no sales people - you don't even have to enter credit card information. You can use this $60 credit on any of our top NBA handicappers. Get your Get $60 worth of premium members' picks free. Also, for a limited time only get three top NBA handicappers for the price of one! Click Here . Get free NBA basketball picks today at Doc's Sports basketball predictions page .
Read more articles by Trevor Whenham